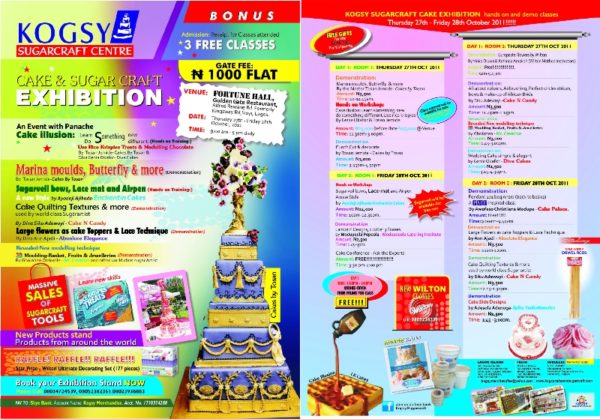 The aim of this year's edition of the Kogsy Sugarcraft Centre – Cake & Sugarcraft Exhibition is to provide a forum for the biggest & most talented cake makers to showcase their products & provide a niche marketing opportunity for participants with direct access to interact with their target audience.
It also aims at giving the participants the opportunity of experiencing the launch of the new Kogsy dowel rods and the introduction of the new wilton method of cake decorating courses.
Exhibition Programme
Demonstrations
Marina Moulds, butterfly & more
Punch Cut & decorate
Gumpaste Flower by Wilton
All about colors, airbrushing, perfect circles stripes, bows & make-up of African Bride
New Modelling Technique (Modelling baskets, fruits & jewelleries)
Wedding Cake. simple & elegant
Lambeth Designs, 1 cutter, 3 flowers
Cake conference
Fondant 101 beginners (back to basics)
Large flowers as Cake toppers & Lace technique
Cake quilting textures
Cake side designs
Hands On Workshop
Cake Illusion, Use rice krispies by Genia Okafor & Tosan Jemide
Sugarveil bows, lace mat and airpen
Please note that all demonstrations and hands on workshop come with a fee.
For more info, general enquiries on time, how to book your stands & pay for the exhibition Call 08034724539 | 08052382351 | 08023936883.

Date: Thursday 27th – Friday 28th October 2011
Time: 9 AM – 5 PM
Venue: The Golden Gate Restaurant, Alfred Rewane Road (Former Kingsway Road), Ikoyi, Lagos
Gate Fee: N 1,000
_____________________________________________________________________________________________________
Sponsored Content