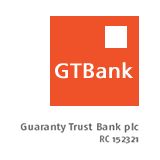 As part of efforts to continually reposition its services for enhanced and efficient customer service delivery, Guaranty Trust Bank has introduced an exclusive in-branch banking service for all its customers called 'FASTTRACK'.
The FastTrack service from GTBank, which is the first of its kind to be implemented in the Nigerian Banking industry, is a fast, secure, innovative in-branch banking service exclusive to GTBank customers that allows them perform all cash based banking transactions with only their debit cards and the PIN-PADS, a new, secure technology available in all GTBank branches. The service has been described as convenient, secure and efficient.
According to Lola Odedina, General Manager and Head, Communication and External Affairs, the FastTrack service is set to revolutionalize service delivery by significantly reducing turn-around time for walk-in customers who wish to conduct cash based deposits and withdrawals.
She further stated that the PIN-PADS have been implemented to ensure seamless operations of the Fast track service and is exclusive only to GTBank account and Naira MasterCard holders.
How to use GTBank FastTrack
To utilize the FastTrack service, any GTBank customer can simply walk into the nearest GTBank branch with a Naira MasterCard and perform a cash deposit or withdrawal using the PIN-Pad.
What is a PIN Pad?
The PIN pad is a portable electronic device with a card reader used for processing card transactions.
Features and Benefits
The PIN pad can be used conveniently between the hours of 8am and 4pm daily in our branches to deposit and withdraw cash or check account balances
It is portable and easy to use
It is safe and secure because it only accepts the GTBank Naira MasterCard which uses Chip and PIN technology.
Transaction process time is reduced significantly because authenticity of each transaction is confirmed by the customer's debit card and 4-digit PIN.
How to use the PIN pad to make withdrawals
Insert your Naira MasterCard into the PIN pad
Enter amount
Enter your 4-digit PIN
Confirm account to withdraw from
Collect and confirm cash from the teller
Collect receipt from the teller
How to use the PIN pad to make cash deposits
Insert your Naira MasterCard into the PIN pad
Enter amount to deposit
Confirm account to deposit into
Give teller cash
Collect receipt from the teller
About Guaranty Trust Bank
Incorporated in 1990, Guaranty Trust Bank has risen to become one of Africa's foremost financial Institutions with significant footprint in all Anglophone West African Countries (Nigeria, Ghana, Gambia, Sierra Leone, Liberia) and the United Kingdom. The Bank has been credited with numerous innovations in the Nigerian Banking Industry and was recently adjudged the Best Bank in Nigeria at the 2011 Euromoney Awards for the third consecutive year.
For more information, visit www.GTBank.com