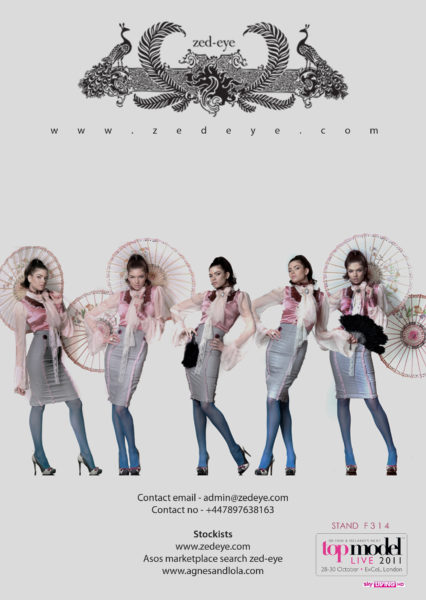 Zed-Eye is a ground breaking fashion label and lifestyle brand that redefines the modern representation of femininity through the use of structural excellence, warm colour palettes, sophisticated fabrics, intercultural visual narratives and dynamic designs. The talented Nigerian born designer Ngozi Pere-Okorotie is the creative mind that drives the brand.
Zed-Eye  specializes in bespoke couture and ready to wear pieces currently catering to the womenswear  market with a keen focus on the high street market and producing ranges 4-6 times a year alongside a biannual couture collection sold in vintage boutiques as well as online on ASOS Marketplace in the UK and internationally. Having successfully showcased her designs at Clothes Show London 2010, Zed-Eye will be making its debut at Britain and Ireland's Next Top Model (BINTM) Live show, the ultimate Girls Day Out London shopping experience from,Friday October 28th to Sunday October 30th 2011 at Excel London.
Participate in the amazing BINTM experience and purchase your own unique collection of Zed-Eye  Pieces at STAND F314 whilst rubbing shoulder with the stars at this exciting 3 day event.
For more information please visit:
http://www.bntmlive.com
www.zedeye.com
www.twitter.com/zedeye
http://www.facebook.com/pages/Zed-Eye