M-Net South Africa recently unveiled an ad campaign to celebrate its 25th year anniversary. The campaign created by Ogilvy Johannesburg, "was inspired by the great Annie Leibovitz and have created a Vanity Fair style portrait of 25 of the biggest stars from M-Net, who were chosen to reflect the past as well as the future of M-Net."
Nigeria's Eku Edewor was one of the 25 M-Net stars chosen to participate in the campaign. All the M-Net stars wore pieces by South African designers. For Eku, the stylist chose a floor-length dress by Tiaan Nagel. Other stars of  the campaign which was shot at Johannesburg's classic Old Park Station include Dineo Moeketsi, ProVerb, Elana Afrika and Lungile Radu.
M-Net: A Heritage of Magic
There's a golden thread that links M-Net's 25 years of heritage, its 30 channels, its iconic advertising campaigns and its viewers. It's a simple link that has defined everything the M-Net brand stands for, from its first broadcast in 1986 to the present day. It's magic.

Indeed, magic has always been core to the M-Net business. Becoming synonymous with the brand, it's a believable, uplifting form of magic that speaks of silver linings to viewers and employees alike.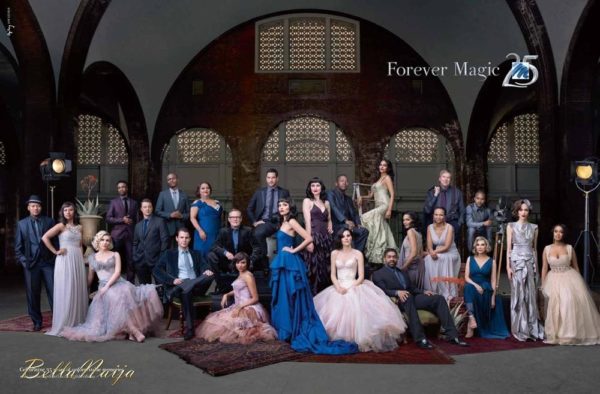 Click HERE to find out more about the campaign