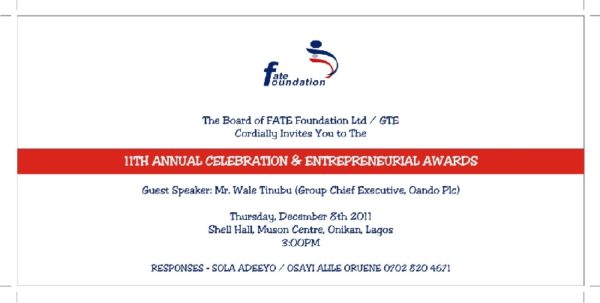 Come this Thursday 8th December 2011, FATE Foundation will hold its "11th Annual Celebration and Entrepreneurial Awards".
In the past 11 years, FATE Foundation has been imparting business management and entrepreneurial training to Nigerians with the aim of fostering wealth creation to tackle poverty and equipping enterprising Nigerians with skills, tools and networks.
Till date, FATE Foundation has graduated 2491 entrepreneurs from the FATE Aspiring Entrepreneurs Programme and 24457 trained persons from the FATE Emerging Entrepreneurs Programme at the half-day workshops and special workshops at the end of June 2011 and has reached out to over 48160 youths on the subject of Entrepreneurship.
This is event is a must attend for all entrepreneurs and aspiring business owner. The guest speaker of the day is Wale Tinubu (Group Chief Executive, Oando Plc).
This 2 hour long event will see;
Participants of the FATE Aspiring Entrepreneurs Programme in the year formally graduated
A Distinguished Nigerian entrepreneur honoured as the 2011 FATE Model Entrepreneur
An outstanding FATE trained entrepreneur honoured as the 2011 FATE Alumni Model Entrepreneur
Five devoted FATE volunteers recognised as Outstanding Volunteers
A committed SME journalist recognised as the 2011 FATE Model SME Journalist
Delivery of the Keynote Address by the Special Guest of Honour – Wale Tinubu

To attend this event, RSVP by Calling 07028204671.
Date: Thursday 8th December 2011
Time: 3 PM
Venue: Shell Hall, MUSON Centre, Onikan, Lagos
Contact: For more info and general enquiries