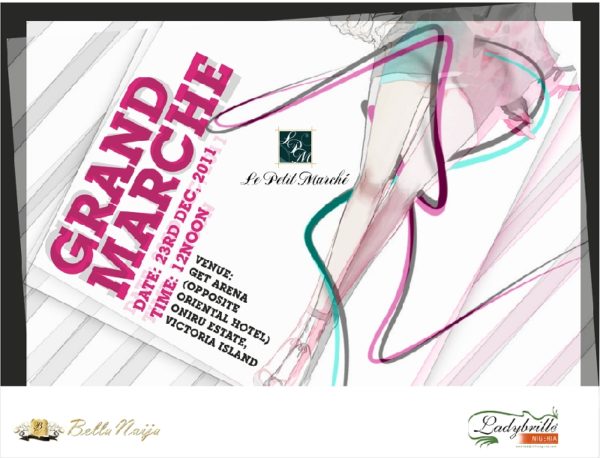 The irresistible monthly shopping fiesta – LPM is finally here!
Today, the city that never sleeps – Lagos will see the long anticipated December edition of LPM tagged the "Grand Marché"
This shopping extravanganza scheduled to take place at the GET Arena will be the biggest, most elaborate and fun loving LPM shopping event ever as attendees will get the very best of items such as jewelry, bags, purses, beauty products, lingerie, shoes, home accessories and many more from over 40 vendors stocked with items from Nigeria and beyond.
Here's the fabulous line up of vendors that will give you a run for your money at the Grand Marche;
Literati – If you're looking for a T-shirt that makes a statement, a literal statement, then the creative minds at Literati have the coolest styles and designs for men and women.
Retrospective – Vintage and retro accessories, clothing and jewellery for men and women.
Sole2Sole – Sole2Sole is a faith based company, retailing affordable shoes, bags, men and ladies apparel from brand name shops at reasonable prices.
Biddy's Mondo – Fashion apparel in retail and wholesale products such as women and men outfits, health and beauty, accessories and lingerie.
Lo'Lavita Hair – Lo'lavita hair collection offers premium virgin grade human hair in full lace wigs, lace frontal wigs, hair extensions (weaves) and accessories available in various lengths, textures, styles, and colors. Origin India, Indonesia, Brazil, Malaysia and Russia.
Bideux – Handmade ankara bags, shoes and slippers.
Kuddy Cosmetics – Make-Up and Make-Up Accessories: Black Opal, Mary Kay, MAC, Bobbi Brown, NARS, Estee Lauder, Clinique, Bath and Body Works, and Kuddy Cosmetics. Price range N500 – N5,500. Make-Up brushes and professional makeup box. Price range N700 – N18,000.
Ours by Juliada – Organic hair and skin products and hair accessories.
Duob Apparel – Highstreet fashion for women. Stylish pieces, great quality at affordable prices.
NS1463 – Young, urban apparel.
Scuup – Lingerie – Victoria Secret Bras and panties, cosmetics – Make-Up kit and body lotions, clothing for kids – leggings, jeans, T-shirts, skirts, clothing for ladies – tops,  skirts, dresses.
Ro Jewelry – Trendy statement jewellery, accessories and designer handbags. Also find exclusive jewellery designs by Lola Ro Jewelry.
Cam Cam Sweets – Confectionary UK and Retro sweets (Haribo, Swizzels, Wham Bars, Sherbet, etc) sold in a variety of selection packs of 150g and 500g ranging from N800 – N2,000.
MariamMoussa – Ladies Apparel like dresses, skirts, trousers, blouses and ankara and other print accessories – bags, bangles, neck and hairpieces, and bow ties.
Y. Craig – Stylish belts, pendants, and hair accessories.
UrbanKnit – Fashion accessories like handbags, clutches and pouches.
Little Luxuries – At Little Luxuries, our range of hand crafted earrings, necklaces and bracelets are made using semi-precious stones, crystals, silver and gold-filled findings sourced from around the world.
UnMentionables – A wide variety of gorgeous female thongs with varying styles and sizes.
Style Rebirth – Bras, night gowns, lingerie accessories like bra straps, shape wears, bra converters.
La Bennis Creations – Unisex costume jewelry and fashion accessories.
Virtue By Focuswear – A wide selection of high quality T-shirts, cardigans, polos, shirts, blazers, and y-neck shirts.
Annie Everett – Ankara clutch bags, slippers, belts and purses, adding that extra African feel to urban contemporary fashion.
Mia's Boutique – Clothing (corporate and casual etc), footwear, accessories.
Beadazzled – Jewelry, Make-Up and accessories.
Hairven – We have a 7 product range from moisturizing shampoo to silk hair serum to heat protecting styling spray. Our products are Nigerian owned but manufactured in America and have been designed to meet the need for quality hair products that will prolong the life of human hair weaves as well as keep them brand new.
TareO – TareO Designs is a label that creates beautiful, trendy and high fashion clothing both ready-to-wear and made-to-measure.
Ejiro Amos Tafiri – EAT is an emerging fashion brand on the Nigerian fashion scene. They pride themselves in the production of wearable clothing and accessories inspired by the vibrant, fun loving, joie de vivre culture of the Lagos people and the cultural diversity of its populace which spans the globe. Creativity and excellent craftsmanship is their watchword. EAT pieces include casual, formal and evening dresses, tops, skirts, pants, kaftans, boubous and laptop bags for ladies and for men, traditional tunic and pants (buba and sokoto) and biker jackets.
BebeGrafiti – Ethnic/African clothes for children, teens and young adults.
Alali Boutique – Chic, trendy, and affordable clothes.
IamISIGO – Established in February 2009 and starting off as a small independent company based in Nigeria, this clothing line seeks to create a striking awareness of how African culture can be fused with western designs around the world. Many of IamISIGO's concepts are based on her eccentric sense of style and her unique ability to mix various trends.
Treasure Box Bridals – Exclusively designed and handmade bridal gowns by TreasureBox in association with other designers from Dubai, China and U.S.A. There are also bouquets, tiaras, hair pins, engagement letters and baskets, shoes, veils and beads for all occasions for sale.
Vanity Oils – 100% natural oils, for hair and skin. We have coconut, castor, almond, avocado, grape seed, aloe vera, jojoba, olive, sunflower, eucalyptus, lemon, lavender, lemon grass, peppermint, rosemary, tea tree, cedar wood, clary sage, cinnamon oils as well as unrefined shea butter.
House 38 – House 38 is a collaboration between two sisters – D and S and they focus on fashion as both a creative and utilitarian outlet. Aesthetically, we favour creating clothes that stand the test of time through the use of classic cuts and fits that celebrate the feminine form.
So, if you are searching for a gift shop for the holidays or looking for amazing outfits to shine through out the Christmas period or an avenue to relax and mingle, then be sure to attend the Grand Marché. Do arrive early as there will be lots of good music, wonderful people, food and drinks and need we remind you, Admission is FREE!
See you all there Live!
Date: Friday 23rd December 2011
Time: 12 Noon – 7pm
Venue: GET Arena, Opposite Oriental Hotel, Victoria Island, Lagos
Contact:For more info and general enquiries
_________________________________________________________________________________________________________________________________
Sponsored Content