What Makes the Perfect Date?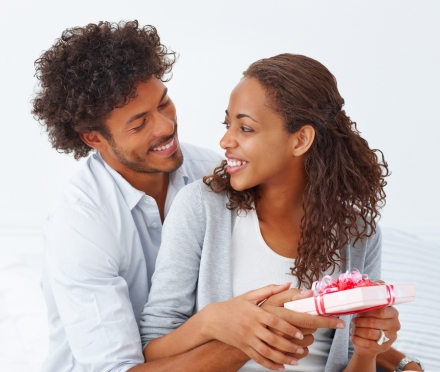 I really can't believe I am here! While half of the world and their mother are either relaxing at home or enjoying some sort of Christmas/New Year holiday bliss, I am stuck at the office trying to design projects for the New Year! The word "sucks" readily springs to mind every 5 minutes! But alas! This is what I am paid to do, so I shall be a big girl and not complain.
Its 2 days left to the end of the year and my brain is officially on rest mode. So in between signing documents and the usual work requirements, I have had to inject it with doses of excitement from online material. It was during this excitement required/ boredom eradicating sessions that I stumbled on an article by Lisa Jones on MSN's Men's Health Section.
The article, which gives pointers to men on how to achieve a perfect date, got me thinking about my own perfect date scenario. As usual, I'll be honest with you my fellow BN Reader. I have had only one perfect date my entire life. It was actually a blind date, which was set up by a cousin of mine. And although the date never materialized into anything beyond friendship (because we live on separate continents), it did leave a lasting impression which no other guy has yet been able to beat.  And no, it didn't involve flowers, an especially romantic setting or anything out of the ordinary. It was just two people, eating and talking until we realized we had been talking for 3 hours and neither of us was ready to leave.
Setting up the date was simple enough. He sent me a text message, asking if we could meet at a set time and giving me the option to choose the venue. I choose my favourite dinner location and we exchanged a few pleasant but slightly flirtatious text messages before the meet. I got there before him and I kept my driver waiting, just in case I needed to make a hasty exit. He was 20 minutes late, which off course, got under my skin but I decided to let it slide, particularly as he had sent an apologetic text message earlier blaming the well known VI rush hour traffic for his late arrival.
He was tall, fair skinned and casually dressed with knee length khaki shorts, a white and navy blue short sleeved stripped shirt and brown loafers. He had an air of confidence about him that made up for his rather laid back attire. As he sat down, he placed a pair of neatly manicured fingers on the table and the air from the air conditioning vent brought to my nostrils a cold scent of his cologne. My eyes twinkled as I recognized the scent as one of my favorite.
The date progressed easily. He didn't make the usual cliché comments about "how beautiful my eyes were" or about "my nice lips". Instead I noticed his eyes never left my face and that he paid attention to every word I said. He asked insightful questions about my career, family and hobbies. He stood up when I got up to go to the ladies and pulled out my chair for me when I returned. An hour and a half into the evening, I asked my driver to close and almost 2 hours after that my date dropped me at home. But not before he opened the car door for me and made sure he gave me a hug when he dropped me right in front of my gate. That evening he sent me a text message, telling me he had gotten home safe and that he had a good time. I replied with similar sentiments and a few days later my date left the country.
With my above experience in mind, I checked to see if any of Lisa Jones's pointers squared up with my personal account of a perfect date. Here is a summarized version of her pointers;
1. Observe the 4 p.m. Deadline: As the big date approaches, women worry that they'll be stood up. This is why there's a 4 p.m. deadline. If you call at 4:20 to confirm the 8 p.m. date, I'll have already made other plans, just to protect myself from the letdown.
2. Choose the Location Well: The first date should be closer to my place than yours. You should reach the meeting place on time or a little early. If you're driving to my place, pick me up 5 minutes late. There may be a stray hair that needs taming. And observe proper car etiquette. Always open the door for me, whether or not your car has power locks. Pressing a button does not a gentleman make
3. Money Matters: Spending too much on a date makes me think you're trying to buy my affection. Or worse. I'd rather see evidence of your personal interest than your interest-bearing accounts.
4. Pay Attention: Girls spend a lot of time getting glam. They also spend a lot of time wondering if guys notice. Respond to my efforts.
5. But Chill with the Compliments: Give me a couple of sincere snaps—but make sure they're thoughtful. If you say you like my smile or my eyes, I've heard it before. Say, "Look at that dimple," or, "Wow, you have great eyelashes." Now you have my attention. Compliment my intelligence and sassiness
6. Introduce Me: If you stop and talk to absolutely anyone, introduce me within 30 seconds without using the words "my friend." Personal details are required.
7. Don't Go All Donald on Me: Let me discover what's valuable about you, not what you've bought
8. Notice What I Drink: Ask me if I'd like a refill when I leave an empty glass behind and head for the ladies' room. This makes you attentive and thoughtful.
9. Walk Me to My Door: It's a scary world, and I want you to protect me. If you're welcome inside my apartment, I will invite you. Do not ask to use my bathroom
10. Kiss Me: If the date has gone well, lips must come into play. Even if it's just a peck.
But what about you guys? Have you had a perfect date? What was it like? Was it anything similar to mine or something much more elaborate? Do you agree with Lisa's tips for creating a perfect date? Or do you think perfect dates are overrated and it's the connection developed after the date that matters most?
The full article can be read at: http://lifestyle.msn.com/your-life/connected-life/staticslideshowmh.aspx?cp-documentid=31698303