What would you do if you had N4.56 billion meant for thousands of pensioners at your disposal? Hopefully not buy lots of property with it!
Dr. Sani Teidi Shuaibu, a former Director, Pension Administration in the Office of the Head of the Civil Service of the Federation is now standing trial in Nigeria over a N4.56 billion Pension scam. During his tenure in office, he acquired property worth millions of Nigeria, most of which was recently seized. Former Governor of Delta state, James Ibori while he was state Governor amassed properties and vehicles to himself within and outside the shores of this country with funds meant for the growth and development of the people of Delta state. And just as he is about to get punished for his wrongdoings, the extravagant spending of another former public office holder, Dr Shuaibu is now being exposed.
The Economic and Financial Crimes Commission (EFCC) last weekend seized six properties, including two choice buildings and four filling stations belonging to Dr Shuaibu. In what can be described as one of the biggest fraud investigations on an individual by the Commission, the Federal High Court in Abuja granted an order permitting the Executive Chairman of EFCC to seize and retain custody of Dr Shuaibu's properties.
The Will Nigeria lists them thus:
(a) No 24, Ahmadu Musa Crescent, Jabi, Abuja;
(b) Brefina Hotel at plot 1106, (Beside MTN) warehouse, adjacent to vines Hotel, Durumi, Abuja;
(c) A house at No 1, Shuaibu close, opposite Governor's House, Idah;
(d) Riba-ile petroleum Ltd;
(e) M.R.S Ajaka (registered as Riba-Ile oil Ltd;
(f) M.R.S Idah station, Idah, registered with Hammo oil, Nigeria;
(g) NNPC Mega station, Idah junction, Ayingba, registered with Hammo oil, Nig. Ltd.
(h) MRS Filling Station at Ganaja, Lokoja;
(i) Registered with A.Y Ted oil Ltd;
(j) A mansion at Idah, opposite Federal Polytechnic, Idah;
(k) SunTrust Properties company Ltd;
(l) Plot B59, Dawaki Extension layout, Bwari Area council, Abuja;
(m) An Estate of about 10 bungalows, lying and being at Dantata Street, Nyanyan, FCT, Abuja.
"One of the buildings located at No.1 Shuaibu Close, G.R.A. Idah, Kogi state is an imposing 8 bedroom twin duplex, a 5 units 2 bedrooms apartment, two-room security house and a mosque all scattered in the expansive compound.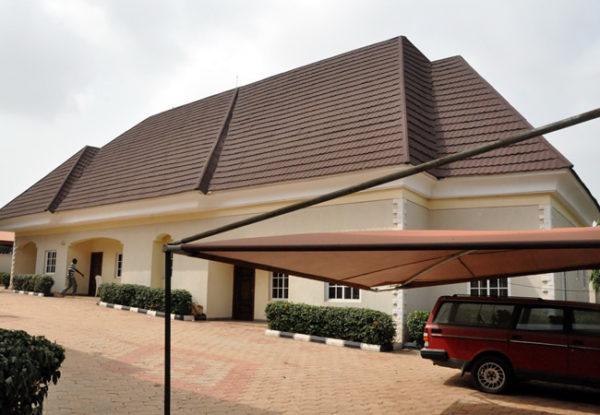 Dr. Shuaibu, Mrs. Phina Ukamaka Chidi and 30 other suspects are facing trial on a 134 count charge bordering on diversion of pension funds, abuse of office, using ghost pensioners to pay N2million and N3million into their accounts monthly and diversion of the same amount through award of fictitious contracts to companies which they manage.
Ukamaka Chidi is a former Deputy Director (Finance and Accounts), in the pension office while Aliyu Bello was a Personal Assistant to Dr. Shuaibu. Other accused persons are Garba Abdullahi Tahir, Emmanuel Olanipekun, Abdullahi Omeiza, ComputerPlaza, Essential Gadget Ventures and other companies."
Count one of the 134 count charge reads "that you Dr. Shaiubu Sani Teidi, Phina Ukamaka Chidi Computer Plaza, Essential gadget Ventures, Mobis Point Investment Ltd, Obista Enterprises, Shallow Well Ventures at various times, between 2008 and 2010 within the jurisdiction of this honorable court, conspired among yourself to induce the pension department, office of the head of service of the federation of Nigeria, to deliver to you, various sums in the aggregate N176, 910, 650 (One Hundred and Seventy Six Million, Nine Hundred and Ten Thousand , Six Hundred and Fifty Naira) property vide the medium of a contract induced by false pretences, thereby committed an offence contrary to Section 8(a) of the Advance Fraud and other Fraud Related Offences Act, 2006 and punishable under Section 1 (3) of the Advance Fee Fraud and other Fraud Related Offences Act, 2006".
The growing rate of corruption among public office holders can only be managed effectively if offenders are punished. It is sad that while thousands of pensioners hardly have money to feed themselves or pay medical bills, some "ghost pensioners" pay themselves between N2 to N3million monthly!
Hopefully, that this case will not be swept under the carpet just like Ibori's own was before he met his waterloo in London.
News Source: The Will