The Federal Government of Nigeria has declared April 6th and 9th, 2012 as public holidays to mark this year's Easter celebrations. As the country gears up for the holidays, a number of events happening across the country have however made Nigerians proud.
Ngozi Okonjo-Iweala's run for World Bank presidency for one is something most Nigerians and indeed Africans are proud of. Her nomination as a Nigerian, and as a woman, is a double chip on the shoulders of Nigerians. And with endorsements from organisations like Africa Union and ECOWAS, it is hoped she comes out successful in her bid.
In other news, the Nigerian police is offering N1,000,000 to anyone who can give them key information that will help capture kingpins of the deadly terrorist group Boko Haram and aid in the seizure of arms amassed by the sect.
Here's a recap of some of the stories that made headlines this week.
***
27year old Tibetan protester, Jamphel Yeshi, set himself on fire on Monday 26th March, 2012 and sprinted for 50m through New Delhi, in a demonstration during the Chinese president's visit to India. Yeshi was on fire for about two minutes before he collapsed, sustained burns on 98 per cent of his body. Other protesters doused him in water and took him to the hospital. Yeshi and other Tibetans protesters (who now live in India) were demonstrating against China's rule over Tibet and the Chinese President's arrival in India later this week for a summit meeting. He died on Wednesday 28th March from injuries sustained from the burns.
***
A 39-year-old man, Rozer Oladimeji was charged to the Igbosere Magistrate's Court, Lagos where he was sentenced a to a week imprisonment for refusing to pay at the Lekki-Epe Expressway toll gate. Oladimeji drove a red Toyota Jeep with number plate LND 607 AC about 3:51pm on March 18, 2012 and refused to pay the compulsory N120 toll. The accused sped past the toll collection point of the expressway before the bar blocked the way after a vehicle had passed. He was however apprehended later in the day around 8.10pm when he was returning by toll officers and security operatives on the outward bound lane of the expressway.
***
Nigeria Police will pay N1,000,000 as reward to anyone that provides key information that will help capture kingpins of the deadly terrorist group Boko Haram or aid in the seizure of arms amassed by the sect. The police said it would pay N500, 000 for useful information that will lead to the arrest of criminals, another N500, 000 for information leading to confiscation of weapons, while it promised to pay N1, 000,000 to anyone whose information leads to both the arrest of hoodlums and seizure of weapons.
***
A Malaysian high court has sentenced a Nigerian man to death by hanging for drug trafficking. Sylvester Okole was found guilty of drug trafficking two years ago but the sentence was read on Tuesday, March 27th 2012. Judicial commissioner, Mohammed AdbulWahab, announced the sentence to the 33-year-old Nigerian who was charged with trafficking 11.58kg of Indian Hemp and was arrested by local police officers at Platform 8, Shahab Perdana bus terminal in Malaysia at 9pm on October 7, 2010.
***
29-year-old Titus Ime raped his in-law, a 19-year-old woman identified as Blessing John, to death. The incident occurred in a forest at Epe. The suspect allegedly trailed Blessing to her father's farm, where he raped her to death. Ime, reporting the incident, said he assaulted Blessing due to her refusal to date him. The rapist cum murderer blamed his dastardly act on his "great love" for the deceased. Ime added that despite Blessing's refusal to date him, he had to device a means to force her to have sex with him. Blessing's corpse was discovered by her father and has been deposited at a public mortuary for autopsy, while the case has been transferred to the Homicide department at Panti, Yaba for further investigation.
***
A young man named Fatai died after falling off a moving elevator  on the eighth floor of  the 12-storey building of the West African  Examinations Council (WAEC) building in Yaba, Lagos. Fatai, came to the WAEC office to help a relative submit some  documents, had stepped out of the elevator when the doors opened midway  on the eight floor, thinking he had reached its destination.  Unfortunately he stepped out into open space and plunged to his death.  The elevator wasn't functioning well and there was no notice to warn  people. His arms, legs were almost detached from his body. WAEC officials  have expressed regret over his death but according to reports, the  family of the deceased have taken the matter to the police and might be suing WAEC for wrongful death.
***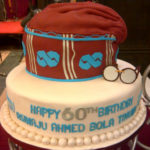 Lagos was practically shut down on Thursday 29th March 2012 in celebration of National Leader of the opposition Action Congress of Nigeria (ACN) and former governor of Lagos State, Asiwaju Bola Ahmedi Tinubu, on his attaining the age of 60 even as President Goodluck Jonathan congratulated him on leading an "exceptionally eventful and fulfilling life." As early as 8 a.m,  Lagos residents trooped out in large numbers to Teslim Balogun Stadium, Surulere, to be part of Tinubu's  birthday anniversary. Lagos State Secretariat, Alausa, government parastatals, agencies and major markets were virtually shut down, as most civil servants, prominent Nigerians, traders, well-wishers, friends, professionals and party faithfuls thronged the stadium.
***
Seven employees of a new hotel along the Ozoro-Asaba Expressway, Ellu, in Isoko North Local Government Area of Delta State, were killed in a road accident on Wednesday 28th March, 2012. The hotel said to be owned by a man nicknamed Oduduyekeyeke was deserted as the news of the death of the seven men, including the hotel manager, broke. According to eyewitness reports, the accident occurred around 8pm about a kilometre from the hotel as a vehicle conveying the employees was said to be returning from a sensitisation rally organised by the management for the newly employed workers when it ran into a stationary lorry, killing seven out of the eight passengers in the bus. A source in the family of one of the deceased said the death of the boys from Ozoro was ''suspicious''. He alleged all the boys that wore the hotel branded T-shirts died, except the one who refused to wear the shirt.
***
Robbers numbering about 25 on Friday 30th March 2012 went on the rampage at Sonola  and Muibi Streets in Ogba, a suburb of Lagos, Southwest Nigeria,  looting and raping women. P.M.NEWS gathered from the victims that members of the gang divided themselves into several groups and raided from house to house. Victims  in each of the houses were dispossessed of their valuables such as  cash, laptop, telephone sets, jewellery and wrist watches. According to one of the victims, Tunde Rasheed, residing on Muibi Street, Ogba, the robbers struck at about 5.20 a.m. Rasheed said 10 houses were raided on the two streets.
***
The Joint Admissions and Matriculation Board (JAMB) on Friday 30th March 2012 announced the release of results of 2012 Unified Tertiary Matriculation  Examination (UTME), as it withheld those of 27,266 candidates across eight states. At a news conference in Abuja, Prof. Dibu Ojerinde, the JAMB  Registrar, listed Abia, Benue, Cross River, Delta, Imo, Lagos, Nasarawa  and Rivers as the affected states, due to malpractice such as extortion  of money by some examination officials. Ojerinde said only three candidates scored above 300 mark, 72, 243  scored 250 and above, while 336,330 scored below 170.
***
How do you feel about the news that made headlines in the country this week? What other stuff happened that you would like to share?
Have a great weekend!