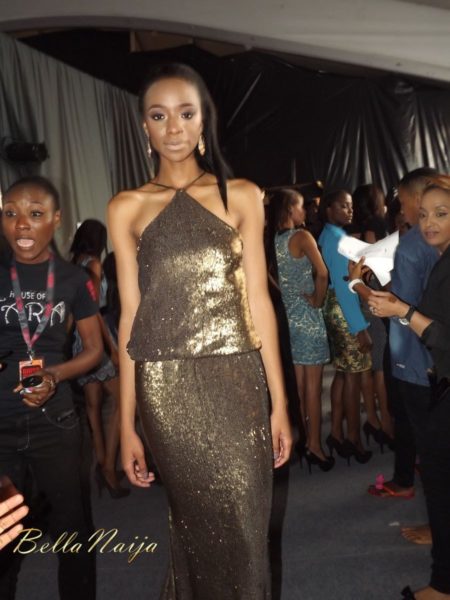 I have the opportunity of being an assistant stylist for the 2012 Arise Magazine Fashion Week in Lagos, and even though it's only been a few days gone, it's as crazy as you can imagine. I've been lucky enough to be assigned to an amazing stylist to work with and assist throughout the show. Arieta, my head stylist is a Nigerian stylist based in the UK who amongst many other head stylists works with designers to style their pieces before it goes on the runway.
Now, what many of you do not know is that working backstage either as a stylist or designer or model is very tedious, intense and crazy. In short, there is total madness and all the creativity and beauty you see on the runway, is as a result of that madness.
I could have sworn that this part of styling would be easy. But heck no! I've been nursing a headache for the past two days. Now due to some technical difficulty or the other, the fashion show started two days behind the original schedule; which only added to the tension that had already began to build but before the actual show, the models have to be fit into the various pieces from the designers, where the stylists would have to style the outfits in a way that works for both the designer and the model, and at the same time look perfect on the runway for you to appreciate.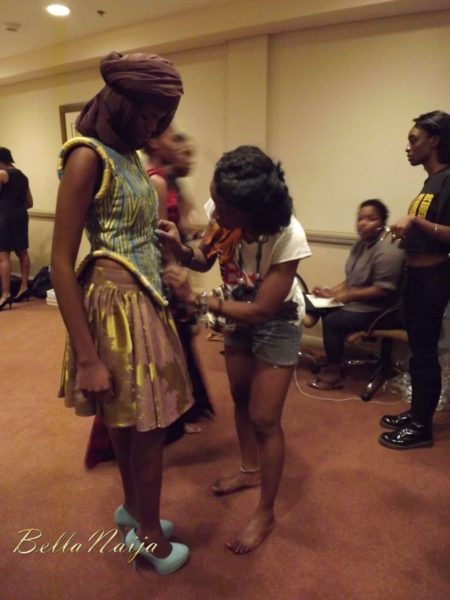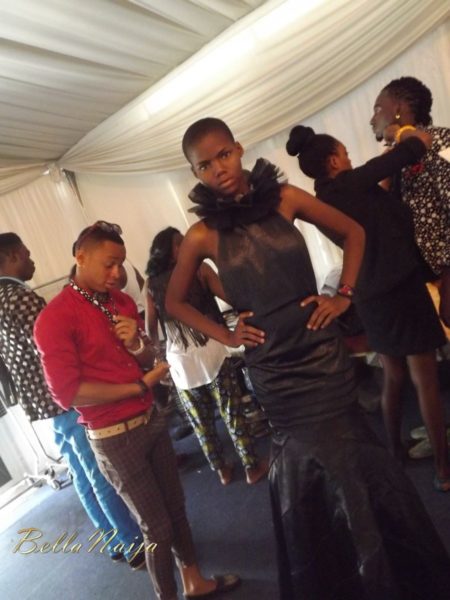 'Fittings' are actually very crazy because you have to continuously test the outfits on the models, to make sure you get the perfect outfit on the perfect model. Sometimes, it doesn't always turn out so perfectly; now this is the stylist's job to come up with tricks and styles to make the outfit work out. We clip, pin and stitch the outfit onto the model until our fingers hurt. We force models with size 41 shoe sizes into size 39 shoes just to make it work out. Sometimes we force wrong outfits on the wrong models until we hear a ripping noise and the designer screams for us to stop. We finish the first round of fittings, the second round and then the final casting which determine what outfits will actually make it out on the runway, what model would be replaced or chucked out completely.
The models have to run around half naked or sometimes completely naked while we change their outfits as many times as we want, and make them present their bodies to us whenever we demand it. A few other times, they have to remain without their clothes on, while we figure the styling for the outfit. The outfit might look good, but you have no idea how many pins are stuck in the models dress, and one false or wrong move and the model could wince out in pain. The models practice their catwalk for long hours in their outfits, but behind those strong firm faces, or false smiles are the discomfort and pain from the shoes. Honestly, I'm glad I'm not a model.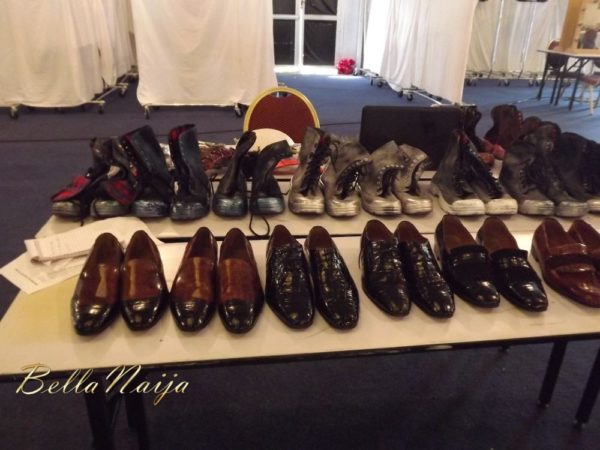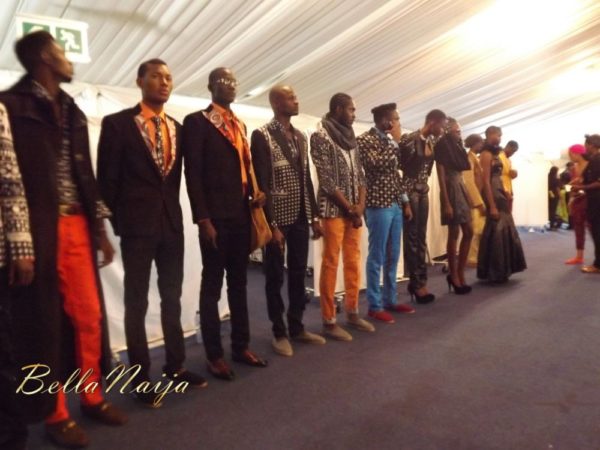 It's the official first day for the show, after all the delays. I should feel a bit relaxed. Nope, I still feel tensed as Arieta has already warned me that things are about to get crazier and so I should be on my toes, literally! The first designer, Kevike, whom we fitted for is showing, and so we dash around to find the models that made it for the final casting, put them in the right outfits, run around to get the make-up artists to touch up their makeup, run to the production and wardrobe stand to get the right shoes and dash back to the models. In about 10 minutes, the models are on the catwalk, doing their thing. I should feel a bit relaxed, but I'm still not. The models are out, and we need to get them out of their outfit in time for other designers they are to model for. LOZA is next; and as I dash down to where Loza's pieces are hanging on the rack, I realize I can't find any of the models that have been casted for the designer. Only one model is seated, waiting. Arieta is already screaming as she asks me in anger where the models are? In mind, I'm screaming back 'I don't know'. But physically, I'm running towards the door, nearly running down a half naked female model clutching her breasts and a makeup artist. I shout a sorry, but no time to waste, LOZA is up in 20 mins. I need to find those models. How could they disappear on me like that? I'm in dire need to red bull at this moment. Red bull gives you wings right? Well, I need wings now.
I find the models, hurry them off to get them into their outfits and get them in line for the catwalk. One model is still missing and we have to do last minute swaps with another model that had just come off the runway from another designer. 25 mins later, the models are on the catwalk. I hear clapping from the audience. The music sounds nice, I stop to dance a bit to get the edge off; and then I hear Arieta's voice again screaming my name. I know what that means, the models are off the catwalk so we need to get their clothes off quickly and run off to the next designer.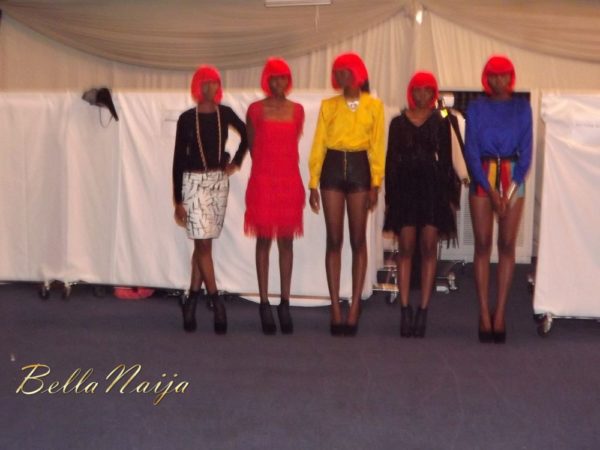 Re Bahia is next. We dash down to where Re Bahia's clothes are hanging. Thankfully the models are there waiting; but only a few of the models are there. Now where in the world are the other models that have been chosen for this designer? They're still getting their hair and makeup done. The designers don't seem pleased. Well, neither am I, but we need to get the models who are ready dressed and focus on the internationals when they come. The models are finally dressed; but there are no shoes. Some models have their shoes on, others are bare-footed. We run around scouting for shoes until we find appropriate ones. One model had to remain bare-footed until we could get from another model coming off the runway.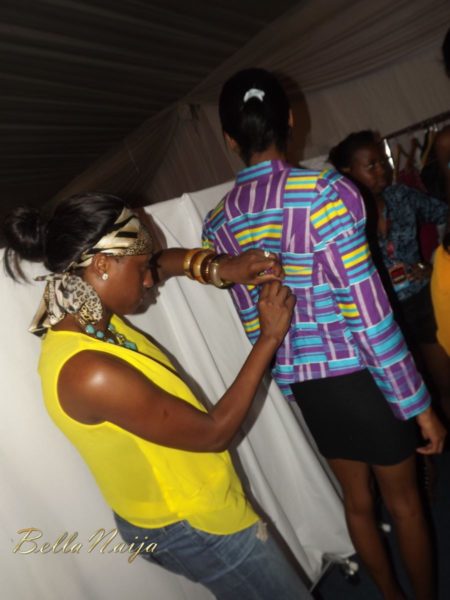 In about 30 minutes, it all over; the models are on and out of the catwalk. I exhale. But not for long, as Arieta reminds me of another fitting which we need to do for Christie Brown, which is showing the next day. I look at my wristwatch, its 9.30pm already. Wow, how time flies when you're losing your mind.
I need to get home on time to get enough rest so I can get up early for tomorrow. I might need to reset my alarm so that I wake up just in time. Or maybe not, I'll probably dream of Arieta screaming my name, and that'll be enough to get me to wake up early.
Stay tuned for more report on the backstage madness from AMFW.