Good Afternoon and How are you all doing?
We hope great! Well, it's Thursday and as you know your one source for all things Entertainment, Fashion, Lifestyle, Music and more – BellaNaija.com is proud to present exclusively to you some of the hottest places, venues and hangouts to be spotted with your friends and family this weekend.
As they say, there is no party like a Lagos Party, the city that never sleeps is surely a place to be in. We have also compiled events from Port Harcourt, Abuja all the way to Benin.
So sit back relax and see for yourself where you need to be. Have a great day, a fabulous weekend and a fulfilled year.
We Love you, Ciao!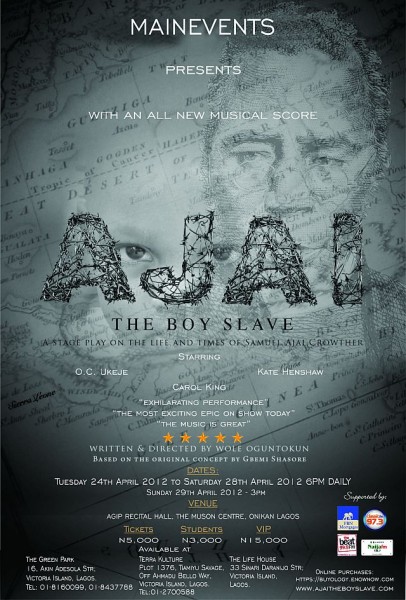 Ajai: The Slave Boy
"Ajai – The Slave Boy" – a stage play directed by Wole Oguntokun based on the original concept byGbemi Shasore, will come live on stage this weekend. It will feature an all new and first time musical score which will make this performance reflect the Nigerian culture with a mix of Anglo-African music all set in historical context and a message of morals, prejudice, life struggles, heroism and patriotism. The production features Kate Henshaw, Carol King and O.C Ukeje.
Date: Thursday 26th April 2012 – Sunday 29th April 2012
Time: Thursday – Saturday 6 PM Daily | Sunday 3 PM
Venue: Agip Recital Hall, The MUSON Centre, Onikan, Lagos
Ticket Price: Students N 3000 | Adults N 5000 | VIP N 15000
Ticket Locations: The Green Park, 16 Akin Adesola Street, Victoria Island, Lagos | Terra Kulture, Plot 1376, Tiamiyu Savage, off Ahmadu Bello Way, Victoria Island, Lagos | The Life House, 33 Sinari Daranijo Street, Victoria Island, Lagos | Https://buyology.EnowNow.com
____________________________________________________________________________________________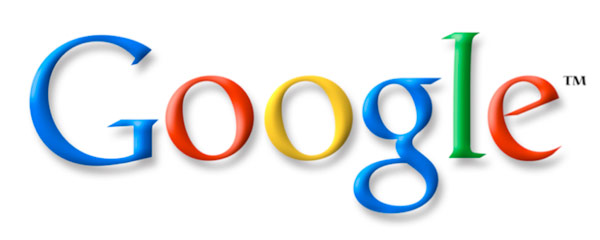 Get Nigerian Businesses Online 2012 Web Fair
Today, Google Nigeria will bring together thousands of entrepreneurs for the Get Nigerian Businesses Online (GNBO) 2012 Web Fair under one roof in Lagos. GNBO is a Google intiative launched in September 2011, aimed at helping small and medium sized enterprises (SMEs) create free websites. For details on the fair and how to register, log on to www.GNBO.com.ng/event 2012 and fill the form.
Date: Thursday 26th April 2012 – Friday 27th April 2012
Venue: City Hall, Catholic Mission Street, Onikan, Lagos
________________________________________________________________________________________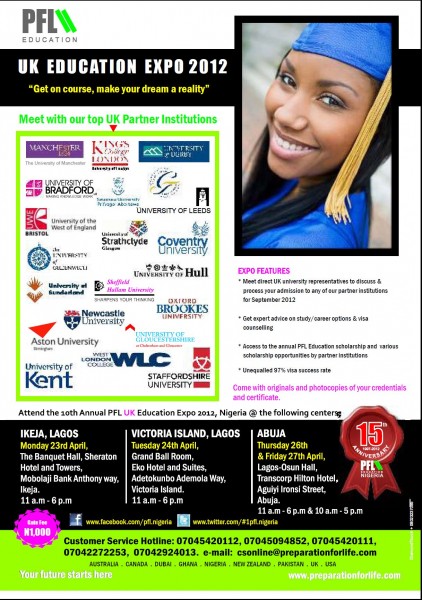 PFL UK Education Expo 2012
The 10th annual PFL Nigeria Education Fair will take place today and tomorrow at Transcorp Hilton, Abuja. The event will see representatives of some of the top UK institutions give advise on courses, scholarships, accommodation facilities, cultural activities and they will also give on the spot admission offers. Brochures which will include individual university profiles, contact details and a comprehensive list of the courses, will be made available at the event.
Date: Thursday 26th – Friday 27th April 2012
Time: 11 AM – 6 PM
Venue: Transcorp Hilton Hotel, Lagos-Osun Hall, 1 Aguiyi Ironsi Street Maitama, Abuja
Contact: For more info and general enquiries, Call 07045420112 | 07045094852 |  07042924013 | Email [email protected] | [email protected] | [email protected] | Log on to their Website
_______________________________________________________________________________________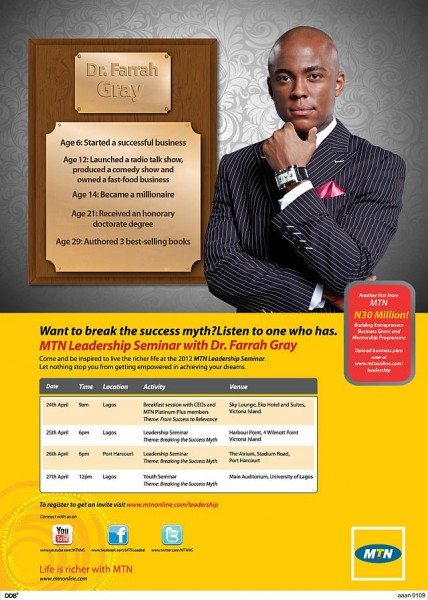 Break the Success Myth this 2012 with Self Made American Millionaire – Dr. Farrah Gray
This weekend will see MTN's Leadership seminar with Dr. Farrah Gray in Port Harcourt and Lagos. Tagged "Breaking the Success Myth", this event will feature lots activities including a first-of-its kind initiative called the MTN Budding Entrepreneur Business Grant – where 3 entrepreneurs will go home with the sum of N20 Million for the best idea and N5 Million each for 2nd and 3rd great ideas respectively in order to pursue their business ventures. To register for an invite to any of these Seminars and to upload your business plan, Log on to www.MtnOnline.com/Leadership
Port Harcourt
Date: Thursday 26th April 2012
Time: 6 PM
Venue: The Atrium, Stadium Road, Port Harcourt, Rivers
Lagos
Date: Friday 27th April 2012
Time: 2 PM
Venue: Main Auditorium, University of Lagos, Akoka, Lagos
___________________________________________________________________________________________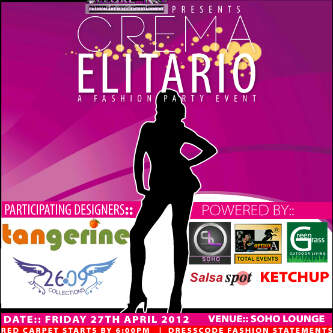 Crema Elitario
There's no party like a fashion party, that is why an Abuja based fashion house is throwing a one of a  kind tagged Crema Elitario. Admission is free for all and you are advised to dress your best.
Date: Friday 27th April 2012
Time: 6 PM
Venue: Soho Lounge, Plot 2022 Aminu Kano crescent, Wuse II, Abuja
___________________________________________________________________________________________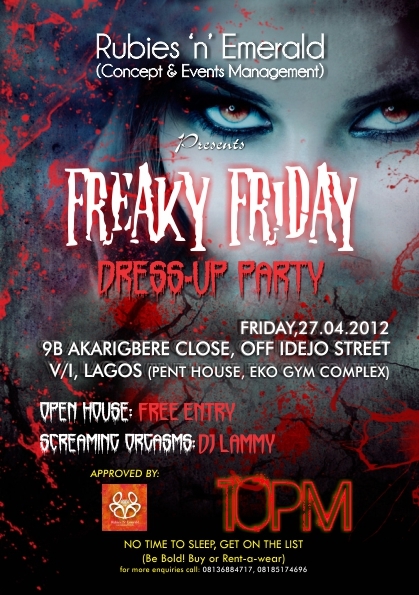 Freaky Friday Dress Up Party
This weekend has officially gotten freaky as Concepts and Events Management Outfit – Rubies 'n' Emerald presents a dress up party tagged "Freaky Friday". DJ Lammy will be on the wheels of steel to deliver the best of freaky music. Admission is free for all!
Date: Friday 27th April 2012
Time: 10 PM
Venue: 9B, Akarigbere close, off Idejo Street, Victoria Island, Lagos
Contact: For more info and to buy or rent an outfit, Call 08136884717 | 08185174696
_________________________________________________________________________________________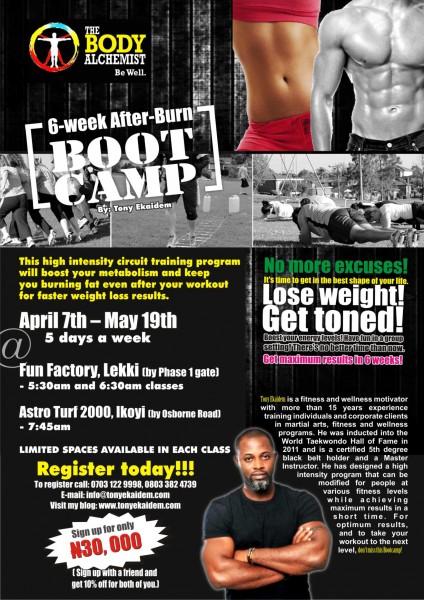 Stay in Shape and Get a toned body this 2012 at the Body Alchemist 6 Week  "After Burn" Boot Camp
Another day, another month and yet another exciting way to lose weight and get a toned body this 2012. Register today for The Body Alchemist 6 Week  "After Burn" Boot Camp – a  highly intensive circuit training program set to boost your rate of metabolism and keep you burning fat all day long. This boot camp is organized Tony Ekaidem – a master instructor of World Taekwondo and a consultant on self defence and unarmed combat for security companies and other corporate bodies. For payment details, be sure to contact them.
Date: Saturday 28th April 2012
Time & Venue: Fun Factory, Lekki Phase 1 (By Phase 1 Gate on Admiralty Way), Lekki, Lagos – Time: 5:30 AM and 6:30 AM | Astroturf 2000, (By Osbourne Road), Ikoyi, Lagos – Time: 7:45 AM
Contact: For more info and general enquiries, call 07031229998 | 08033824739 | E-mail [email protected] | Log on to Tony Ekaidem's Website
__________________________________________________________________________________________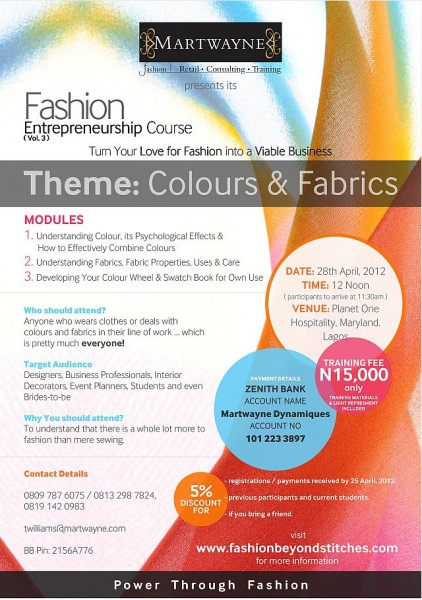 Martwayne presents Colours & Fabrics
Fashion retail, consulting and training outfit – Martwayne will be having its training on Colours & Fabrics this weekend. This event will see fashion designers, business professionals, interior decorators, brides to be and event planners learn more extensively about colours and fabrics and how to combine them.The course fee is N 15,000 and it comes with training materials and light refreshments, contact them for payment details.
Date: Saturday 28th April 2012
Time: 12 Noon
Venue: Planet One Hospitality, Mobolaji Bank Anthony Way, Maryland, Ikeja, Lagos
Course Fee: N 15,000
Contact: For more info and general enquiries, Call 08097876075 | 08132987824 | 08191420983 | BB Pin 2156A776 | E-mail [email protected] | Log on to www.fashionbeyondstitches.com
________________________________________________________________________________________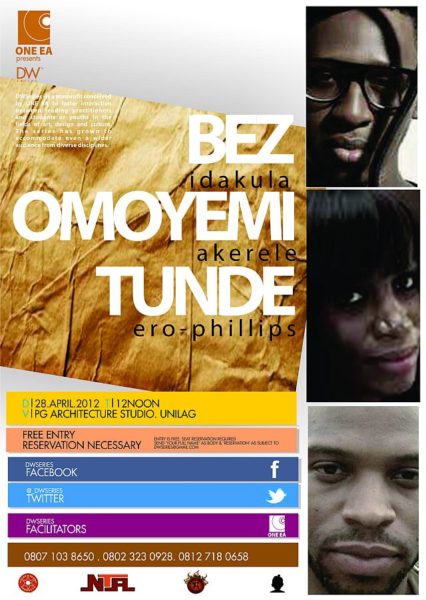 Design Workshop Series
Get yourself prepared for Design Workshop Series, an event to foster interaction between leading practitioners and students in the fields of art, design and culture. Scheduled to attend are music act Bez, Omoyemi Akerele and Tunde Ero-Phillips. Admission is free for all but you have to RSVP by sending an E-mail to [email protected]
Date: Saturday 28th April 2012
Time: 12 Noon – 3 PM
Venue: PG Architecture Studio, University of Lagos, Yaba, Lagos
Contact: For more info and general enquiries, Call 08127180658 | 08023230928 | 08071038650
_______________________________________________________________________________________
Book N Gauge 11: No Holds Barred
This Saturday at the Debonair Bookstore, the 11th edition of the sensational monthly book reading – Book N Guage will hold. Scheduled to attend are some of Nigeria's best authors including Kenneth C. Madiebo, Ukamaka Olisakwe and Babatunde Sule. Performing also at the event are Aramide and Olumide Holiday. Be sure to arrive early and bring your friends along as the organizers will be giving out free books if you bring 5 friends along.
Date: Saturday 28th April 2012.
Time: 2 PM – 5 PM
Venue: Debonair Bookstore, 294, Herbert Macaulay Way, Sabo, Yaba, Lagos
_____________________________________________________________________________________
Kakafoni Arts Foundation & IITA present Reforestation Fund Raising Ball
You are cordially invited to Reforestation Fund Raising Ball  – an event organised by Kakofoni Arts Foundation in conjunction with International Institute of Tropical Agriculture (IITA) to boost the ongoing fight against deforestation and depletion of greenery in Nigeria. The event in support of Mother Nature, will kick off at 7 PM and will be compered by Renowned environmental activist – Desmond Majekodunmi. It promises to be a lively and entertaining event from beginning to the end with refreshing drinks and canapés, a sumptuous 3 course dinner, a fashion show by upscale label – OOSUA featuring plant dyed materials and non stop music by celebrated piper Norman C. MacLeod and more artistes who will blend Scottish essence with African ambience. Tickets cost N 25,000.
Date: Saturday 28th April 2012
Time: 7 PM
Venue: La Scala Restaurant, MUSON Centre, Onikan, Lagos
Contact: For more info and general enquiries on Tickets, Call 08060486022 | 08073641231 | 07029346482 |  0803272778 | 08085865200 | 08023049622 | E-mail  [email protected]
_____________________________________________________________________________________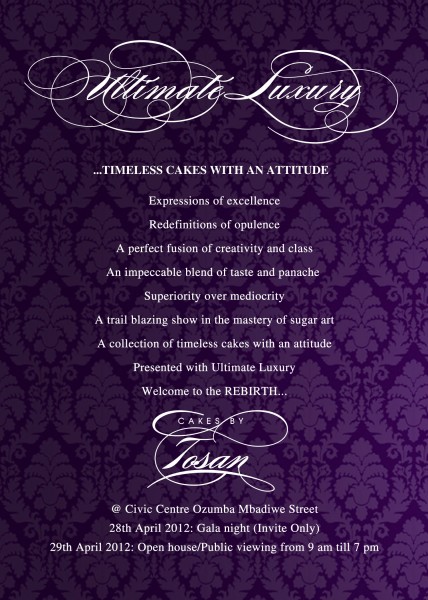 Cakes by Tosan presents Ultimate Luxury
Nigerian cake maestro and CEO of Cakes by Tosan (CBT) – Tosan Jemide is set to host a deluxe cake exhibition tagged "Ultimate Luxury". The exhibition which is designed to reinforce the premium brand's position and stamp it's authority as the most creative cake outfit in Nigeria, will feature various sugar craft master pieces. An exclusive viewing and Gala Night will take place on Saturday 28th April 2012 as a prelude to the public exhibition which will hold on Sunday 29th April 2012. Both events will be held at the Civic Centre.
Date: Sunday 29th April 2012
Time: 9 AM – 7 PM
Venue: Civic Centre, Ozumba Mbadiwe Street, Victoria Island, Lagos
Contact: For more info and general enquiries, E-mail to [email protected]
____________________________________________________________________________________________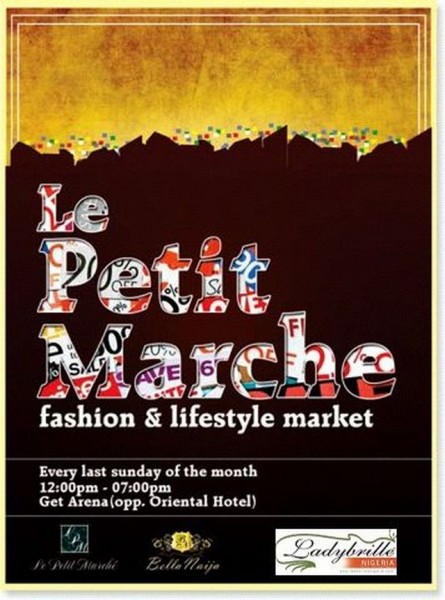 LPM April Edition
You've seen the photos from the March edition here on BN, now get yourself prepared for the April 2012 Edition where you'll get to shop for clothes, shoes, bags, accessories, sweets and lots more from numerous vendors stocked with items from Nigeria and beyond. If you will like to find out how to book a stand at the April edition, be sure to contact them.
Date: Sunday 29th April 2012
Time: 12 Noon – 7 PM
Venue: GET Arena, Oniru, Lagos
Contact: For more info and general enquiries, E-mail [email protected] | [email protected] | Visit L'Espace, 19 A Olosa Street, off Karimu Kotun, Victoria Island, Lagos | Log on to their Website | Check out their Facebook Page
___________________________________________________________________________________________
Faith Meets Fashion
This Sunday 29th April 2012, Abuja will play host to the 2nd edition of the Islamic International Fashion Show tagged "Faith Meets Fashion". The only female event organised by Muslim Identity (MID), will see leading International Islamic designers such as Silk Route, Aab and Modesty Active from the UK, Al-Farah, Artizara from America, Bokitta from Egypt and Ostora from Lebanon showcase some of their most creative pieces. Three domestic brands – Emerald MO, Eyesha and Twinkletowne will also unveil their fashion outfits on the D-Day. Amina Sambo (Wife of the Vice President of the Federal Republic of Nigeria) will be the special guest of honor. Also scheduled to attend are top Muslim female dignitaries such as wives of state governors, female Muslim ministers, female Muslim National Assembly Members and wives of Muslim National Assembly members and many more top Muslim female faithfuls.
Date: Sunday 29th April 2012
Time: 1:30 PM – 3:30 PM
Venue: Abuja International Conference Centre
Ticket Prices: Gold (VIP) N 10,000 | Silver N 5,000 | Bronze N 3,500 | Students N 2,000
Ticket Locations: Studio 24, 8-10 AP Mall, (Opposite Transcorp Hilton) Maitama Abuja | Drumstix, Wuse II, Abuja | Afamar, Shehu Shagari Plaza, Area 1, Abuja | Muslim Identity (MID), Suite GF3, A.G.A Memorial Complex, Beside Investment House, Plot 1217 Nkwere Crescent, Area 11, Garki II, Abuja
Contact: For more info and general enquiries, Call 08023329239 | 08031113598 | E-mail [email protected] | Log on to their Website
_____________________________________________________________________________________________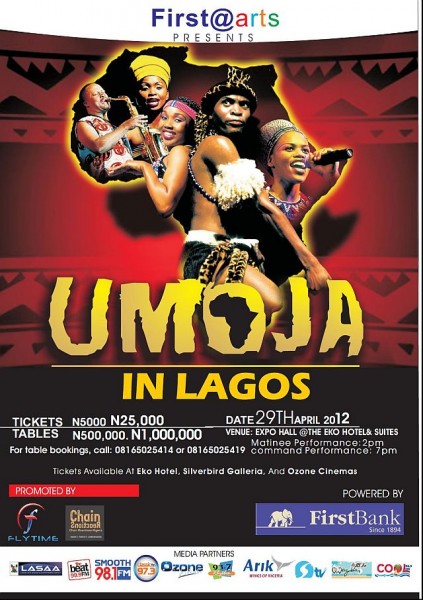 Umoja in Lagos
Lagos get ready to experience the best of art through dance as First Bank of Nigeria Plc will be bring live on stage Internationally acclaimed South African based dance troupe – Umoja. This colourful performance is aimed at celebrating heritage and performing arts and ultimately restoring the culture of theatre, arts and stage performance in Nigeria.
Date: Sunday 29th April 2012
Time: Martinee Performance 2 PM | Command Performance 7 PM
Venue: Expo Hall, Eko Hotel & Suites, Victoria Island, Lagos
Ticket Price: Tickets – N 5,000 | N 25,000 | Tables – N 500,000 | N 1 Million
Ticket Locations: Eko Hotel & Suites, Victoria Island, Lagos | Silverbird Galleria, 133 Ahmadu Bello Way, Victoria Island, Lagos | Ozone Cinemas, E-Centre, 1-11 Commercial Avenue, Yaba, Lagos
Contact: For more info and general enquiries on table bookings, Call 08165025414 | 08165025419
_____________________________________________________________________________________________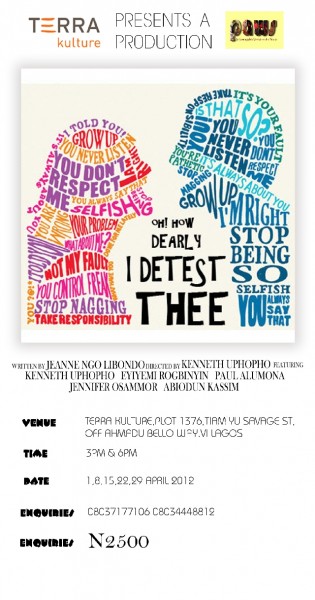 Oh! How Dearly I Detest Thee
Terra Kulture and Paws will be showing a mind blowing stage play – Oh! How Dearly I Detest Thee this Sunday. The play which was written by Jeane Ngo Libondo and directed by Kenneth Uphopho is a must watch for every Nigerian man and woman.
Date: Sunday 29th April 2012
Time: 3 PM & 6 PM
Venue: Terra Kulture, Plot 1376, Tiamiyu Savage Street, off Ahmadu Bello Way, Victoria Island, Lagos
Ticket Price: N 2,500
Contact: For more info and general enquiries Call 08037177106 | 08034448812
________________________________________________________________________________________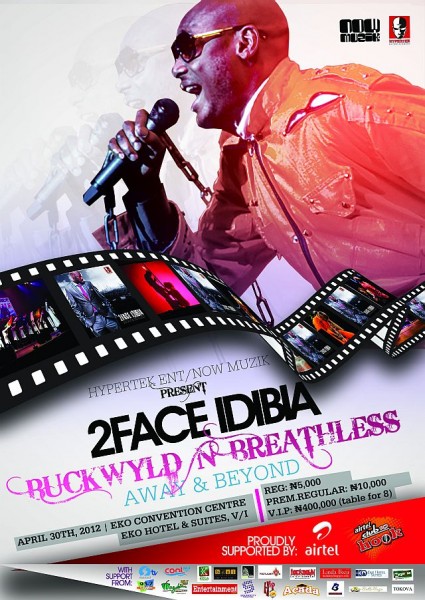 Buckwyld and Breathless: Away & Beyond
2Face Idibia is back with the 3rd edition of his concert series tagged "Buckwyld and Breathless: Away & Beyond". This edition, will see 2Baba perform all his new singles that you and I can't get enough of and also see the launch of his 5th studio album – "Away and Beyond".
Date: Monday 30th April 2012
Venue: Eko Hotel & Suites, Victoria Island, Lagos
Ticket Prices: Regular N 5,000 | Premium Regular N 10,000 | VIP N 400,000
Contact: For more info about tickets and general enquiries, Call 08165711986 | E-mail [email protected] | Check out 2Face's Official Facebook Page
___________________________________________________________________________________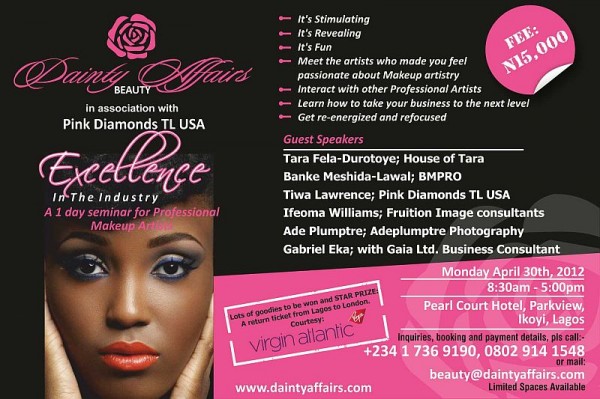 Dainty Affairs Beauty & Pink Diamonds TL USA present Excellence in the Industry
Just before the month of May, aspiring make-up artists get yourself prepared for Excellence in the Industry – a one day make-up seminar where Tara Fela-Durotoye, Banke Meshida Lawal, Ifeoma Williams and more will speak and advise you on how to be the next big thing in the Nigerian beauty industry. The fee is N 15,000 and it comes with a light breakfast and buffet lunch, be sure to contact them for payment details.
Date: Monday 30th April 2012
Time: 8:30 AM – 5 PM
Venue: Pearl Court Hotel, Parkview. Ikoyi, Lagos
Contact: For more information and payment details, Call 01-7369190 | 08029141548 | Email [email protected] | Log on to their Website  | Check out their Facebook Page
___________________________________________________________________________________________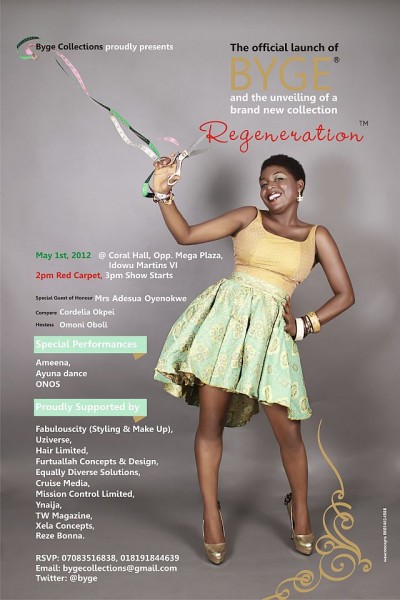 The Official Launch of Byge & the Unveiling of Regeneration
On Workers Day, the city of Lagos will see the official launch of Byge and the unveiling of its brand new collection "Regeneration". The 4hour event will kick off by 2 PM with a red carpet session and a mini exhibition of Byge's past creations at the Coral Hall, Victoria Island, Lagos. The main show will begin with unveiling of the brand by the Special guest of Honor – Adesuwa Onyenokwe (Publisher of TW Magazine). Immediately after the unveiling of the brand, the fashion presentation of Regeneration – Byge's new collection, will begin. The glamorous and unique catwalk show, will introduce Nigeria to Byge and its unique style of clothing which has tremendously evolved through its 8 year existence in the fashion industry.
Date: Tuesday 1st May 2012
Time: 2PM
Venue: Coral Hall, Opposite Idowu Martins, Victoria Island, Lagos
Contact: For more info and general enquiries, Call 07083516838 | E-mail [email protected] | Follow them on [email protected]
____________________________________________________________________________________________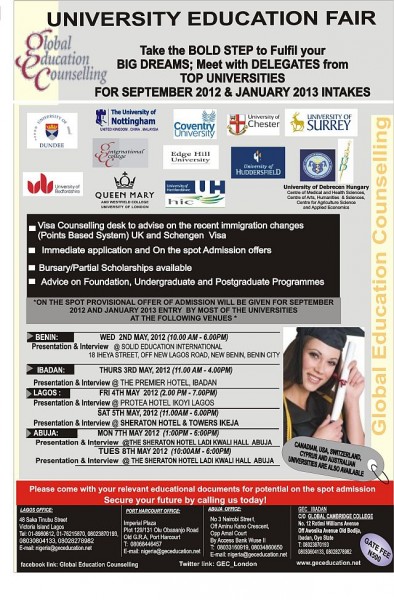 Global Education Counselling Exhibition
Global Education Counselling (GEC), will hold its bi-annual exhibition in Benin this Wednesday, where top leading foreign Universities offering over 1000 courses from foundation, undergraduate to postgraduate degrees will be present. Through this exhibition, GEC will give parents, students and schools the opportunity to meet International Office Directors of 11 top leading universities.Attendees are advised to come along with relevant educational documents for potential on the spot admission.
Date: Wednesday 2nd May 2012
Time: 10 AM – 6 PM
Venue: Solid Education International, 18 Iheya Street, off New Lagos Road, New Benin, Benin
Contact: For more info and general inquiries, call 08023870193 | 08030804133 | 08023608385
_____________________________________________________________________________________________
BellaNaija.com is not responsible for the organization or further promotion of these events, neither do we have a stake in their sales or popularity. Inclusion in "Events This Weekend" is Free. Contact – adsales @bellanaija.com if you will like your event to be included. Note that BN reserves the right to choose which events are featured. "Pay to attend" parties attract a fee