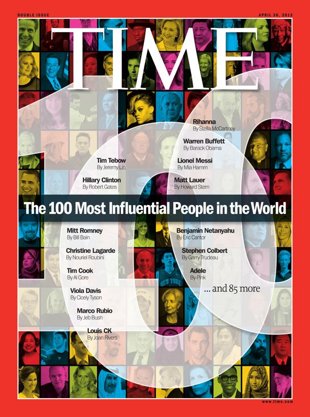 TIME Magazine, a US Weekly News magazine today released its annual list of the '100 Most Influential People in the World' for the year 2012.
Making this list is Nigeria's President, Goodluck Jonathan.
According to TIME,"they are the people who inspire us, entertain us, challenge us and change our world."
The citation on Jonathan was written by Ellen Johnson Sirleaf, President of Liberia:
Goodluck Ebele Azikiwe Jonathan exemplifies the African political renaissance at a time when the people of the continent are starting to reap the fruit of their resources and their hard work. President Jonathan, 54, possesses the qualities needed at this moment of great challenges, having come to power at a crucial moment in the history of Nigeria. The country has grown out of its past of corruption, mismanagement and brutality, but the foundation of good governance is still fragile.
In two short years, President Jonathan has shown the same dexterity he demonstrated as governor of Bayelsa, the same ability to find the remedies to the many complexities of running a nascent democracy. He has spearheaded the fight against corruption and turned Nigeria into an example of good governance. He has also made a significant impact on consolidating peace and security in West Africa. From the onset of our own crisis, Liberia has benefitted from the support of Nigeria. President Jonathan not only upheld the trend but added to it. With leaders like President Jonathan, Africa is sure to move toward prosperity, freedom and dignity for all of its people.
The list also contains names like United States of America President Barack Obama; U.S Secretary of State Hillary Clinton, American Republican presidential candidates, Mitt Romney and American billionaire Warren Buffett. Singers Adele and Rihanna, footballer Lionel Messi and the world's youngest self-made female billionaire and founder of Spanx, Sara Blakely also made the list.
There are 38 women on the 2012 list, more than any other year. The list was chosen by through voting by TIME readers from around the world.
Here's a look at the names that feature in the TIME 100 list:
Jeremy Lin- Basketball Player, America
Christian Marclay- Visual artist and composer, Swiss-America
Viola Davis- Actress, America
Salman Khan- Educator, America
Tim Tebow- Football quarterback, American
EL James- Author, America
Louis CK- Comedian, Mexican-American
Rihanna- Recording artist, actress, US
Marco Rubio- United States Senator from Florida
Ali Ferzat- Cartoonist, Syria
René Redzepi- chef, Denmark
Kristen Wiig- Television actress, comedian, America
Anthony Kennedy- Associate Justice, United States Supreme Court
Novak Djokovic- Tennis player, Serbia and Montenegro
Ben Rattray- Founder, Change.org, US
Jessica Chastain- Actress, America
Yani Tseng- Golfer- Republic of China (Taiwan)
Raphael Saadiq- Singer- America
Elinor Ostrom- Economist, US
Samira Ibrahim- Plaintiff, Egypt
Jose Andres- Chef, Spanish
Ann Patchett- Writer, America
Dulce Matuz- President, Arizona Dream Act Coalition
Henrik Scharfe- Professor, Director, Centre for Computer-mediated Epistemology, Denmark
Freeman Hrabowski- Educator, America
Maryam Durani- Member, Kandahar Provincial Council, Afghanistan
Manal al-Sharif- Women's rights activist and computer security consultant, Saudi Aramco, Saudi Arabia
Anjali Gopalan- Advocate, India
Rached Ghannouchi- Tunisian Islamist politician and co-founder, The Ennahda Movement
Barbara Van Dahlen- Founder and President, Give an Hour, US
Ron Fouchier- Scientist, Erasmus Medical Center, The Netherlands
Donald Sadoway- John F Elliott Professor, Materials Chemistry, Massachusetts Institute of Technology, US
Hans Rosling- Statistician, Sweden
Asghar Farhadi- Filmmaker, Iran
Sarah Burton- Fashion Designer, UK
Anonymous- Self described hacktivist group, Voluntary association, Global
Pete Cashmore- Social News Guru,Scotland
Cami Anderson- Superintendent,Newark schools
Ali Babacan and Ahmet Davutoglu- Neo-Ottomans
Ai-jen Poo- Director, National Domestic Workers Alliance, US
Marc Andreessen- Kingmaker, America
Preet Bharara- Prosecutor, America
Robert Grant- AIDS Researcher, San Francisco
Andrew Lo- Harris & Harris Group Professor Director, MIT Laboratory for Financial Engineering
Sharmeen Obaid-Chinoy- Pakistani-Canadian journalist, documentary filmmaker
Alexei Navalny- Russian lawyer, politician, and political and financial activist
Ray Dalio- American businessman and founder of Bridgewater Associates
Hamad bin Jassim bin Jaber al-Thani- Prime Minister of Qatar
Chelsea Handler- American stand-up comedian, actress, best-selling author, and producer
Harvey Weinstein- American film producer and movie studio chairman
Chen Lihua- Chairperson, Fu Wah International, China
Warren Buffett- Chairman & CEO of Berkshire Hathaway
Alice Walton- Heiress, Walton family fortune
Harold Hamm- CEO, Continental Resources
Sheryl Sandberg- COO, Facebook
Sara Blakely- Founder of Spanx, and world's youngest self-made female billionaire, US
Eike Batista- President, EBX Group, Brazil
Tim Cook- CEO, Apple, US
Daniel Ek- CEO and Founder, Spotify, Sweden
Virginia Rometty- CEO, IBM, US
Barack Obama- President, USA
Goodluck Jonathan- President of Nigeria
Xi Jinping- First Secretary of the Central Secretariat of the Communist Party of China
Fatou Bensouda- Chief Prosecutor of the International Criminal Court, Gambia
Christine Lagarde- MD, IMF, France
Mario Draghi- President, European Central Bank, Italy
U Thein Sein- President of Burma
Ayatullah Ali Khamenei- Supreme Leader of Iran
Mitt Romney- Candidate, 2012 Republican Party presidential nomination
Juan Manuel Santos- President of Colombia
Timothy Dolan- American Cardinal of the Roman Catholic Church
Portia Simpson Miller- Prime Minister of Jamaica
Mario Monti- Prime Minister of Italy
Wang Yang- Secretary, Guangdong Committee of the Communist Party of China
Maria das Gracas Silva Foster- CEO of Petrobras, Brazil
Andrew Cuomo- Governor of New York, US
Iftikhar Chaudhry- Chief Justice of Pakistan
Mamata Banerjee- Chief Minister Of Indian state of West Bengal
Walter Isaacson- President and CEO, Aspen Institute, US
Ron Paul- Member of the US House of Representatives
Benjamin Netanyahu- Prime Minister of Israel
Dilma Rousseff- President of Brazil
Erik Martin- Founder and editor, Muschelhaufen
Cecile Richards- Democratic Party activist, President, Planned Parenthood Federation of America
Angela Merkel- Chancellor of Germany
Lionel Messi- Footballer and Captain of Argentinian national team
Tilda Swinton- British actress
Hillary Clinton- United States Secretary of State
Catherine- Duchess of Cambridge, and Pippa Middleton, her sister
Adele- Recording artist and songwriter, UK
Matt Lauer, TV journalist, Host, NBC's The Today Show
Oscar Pistorius- sprint runner, South Africa
Claire Danes- American television, stage and film actress
Stephen Colbert- American political satirist, writer, comedian, television host, actor; Host, Comedy Central's The Colbert Report
Rogues
Kim Jong Un- Supreme leader of North Korea
Mullah Mohammed Omar- Spiritual leader, Taliban, Afghanistan
Sheik Moktar Ali Zubeyr- Emir, Harakat Al-Shabab Mujahideen, Somalia
Bashar Assad- President of Syria
News Source: www.time.com