On Tuesday 1st May 2012, budding new fashion brand – Byge officially unveiled its brand and launched its new collection – "Regeneration" at the Coral Hall, Victoria Island, Lagos.
The well attended event which kicked off at 2 PM was hosted by the ever gorgeous Nigerian actress – Omoni Oboli, who gave a brief speech of how Obijie (Byge) got her to audition for her role in Figurine, even though she hadn't met her. After her speech, she and Obijie cut the ribbon and officially declared the event open.
The special guest of honour – Adesuwa Onyenokwe (Publisher, TW Magazine) encouraged upcoming designers to take bold steps and ended her speech by commending Byge. The fabulous event also saw performances by Onos, Ayuna Dance Troop and Ameena who performed on stage with Ashionye Ugboh Raccal's son.
The MC – Cordelia Okpei called Byge on stage and interviewed her. Byge gave insights on her journey so far and the inspiration behind the regeneration collection. The Regeneration collection came out in 6 different categories, first was the organza pieces called Kijie – named after Byge's niece meaning love or precious in her local dialect, followed by the Law Series inspired by her university days, then the Utsu Collection meaning chic in her language comprising of contemporary outfits made of ankara and damask, then their bustiers collection. The fashion presentation came to an end with the Skeske collection, after which byge's bridal gown was shown.
Missed the event? Not to worry, here are all the exclusive photos.
Photos
Arrivals
Inside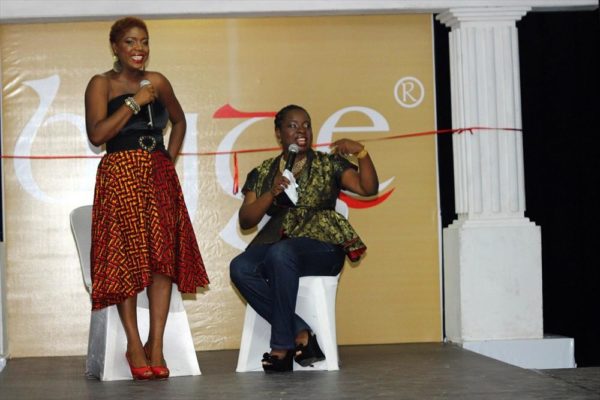 Check out some outfits from the Regeneration Collection

Contact: For more info and general enquiries, Call 07083516838 | E-mail [email protected] | Follow them on [email protected]
_____________________________________________________________________________________________
Sponsored Content