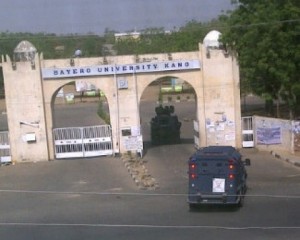 An attempt to kill and destroy was thankfully averted at the old campus of Bayero University, Kano (BUK) as the police uncovered three multiple high calibre time bombs planted in three locations of the campus this morning.
The bombs were found at the Faculty of Science, Sports Complex and in front of the Sub-Dean's office, Faculty of Law of the school.
Upon discovery of the bomb, the police was alerted and quickly deployed its men to the scene. People around the area were evacuated to safety, however, the action caused confusion on the campus as students, lecturers and non-academic staff were seen running out of the campus.
Today's incident is the second in recent weeks as similar high calibre bombs was uncovered two weeks ago at the Sociology Department of the institution.
Confirming the incident, the police image maker in the state, ASP Magaji Musa Majia said that the police were alerted by the authorities of BUK.
Magaji Musa Majia revealed that the Command has deployed anti Bomb disposal squad to the scene.
This incident, coming just days after about 15 people including two professors and several students were killed in an attack on the campus has further heightened tension around the campus and most higher educational institutions in northern states. On Sunday, April 29 2012, 15 people were killed while several others sustained various degrees of injuries in the attacks at St. Stephen Catholic Chaplain, Bayero University, Kano. The attacks occurred early in the morning as Christian worshippers gathered at Theatre Two near Sport Complex, at the same old Campus of the institution.
Thankfully, the attempt to cause further destruction was foiled.
News Source: Vanguard News