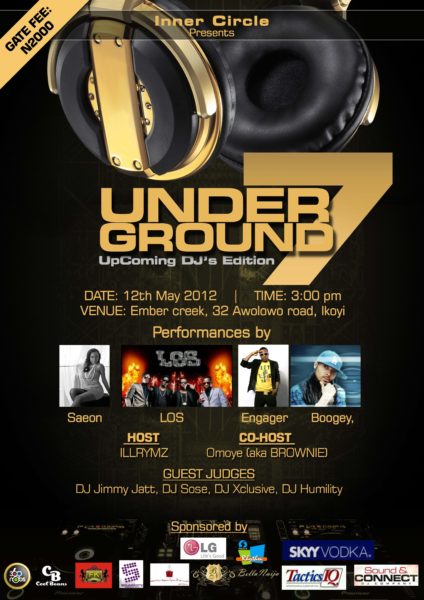 On Saturday 12th May 2012, the 7th edition of Underground Competition tagged The Upcoming DJ edition will take place at Ember Creek, Lagos. Previous editions of this competition has led to the discovery of talented acts including Boogey, Oye Smith, Saeon and  LOS and it is definitely one of the fastest growing reference points for upcoming acts in Nigeria's ever burgeoning entertainment Industry.
This year's edition which will focus primarily on discovering upcoming DJ's, is organised by Inner Circle and  will be hosted by Illrymz and Omoye "Brownie".  The winners will be chosen by open votes from a live crowd and these renowned Nigerian DJ's – DJ Jimmy Jatt, DJ Xclusive, DJ Humility and DJ Sose, who will be judging on the D-Day.
Speaking on the anticipated DJ Competition, (CEO, Inner Circle) Shayo Oke said "We decided to give the underground a fresh new twist. Nigerian DJ's are doing amazing work, both in and out of the country. What we want to do is create a platform where talented upcoming DJs can be spotlighted and given a chance to be seen by people who appreciate their talent. It's going to be a fun event, with good music and good food and drinks in a wonderful atmosphere. What better way to usher in the summer"
The Winner of this competition will win lots of prizes including LG Sound Appliance, Cool Beans Accessories, Media Profiling and will also be crowned the official DJ for the Tactics IQ Soccer event in August and Basketball event in December 2012.
Meet the Judges!
DJ Jimmy Jatt

Born and bred in Lagos Island, Jimmy Amu, popularly known as Cool DJ Jimmy Jatt is a renowned Disc Jockey who is an icon in the Nigerian entertainment industry and a veteran who has survived the test of time. Formerly, known as Master J, Dj Jimmy Jatt came into the music industry as a rapper with lot of demos but after a fruitless search getting a record label, he started deejaying with the support of his brothers. The stage name DJ Jimmy Jatt came in honour from the initials of his brothers who long passed on the touch to him. Dj Jimmy Jatt, prides himself in giving back to the society, particularly his role in grooming new talents.
DJ Xclusive

Award winning Nigerian DJ – DJ Xclusive has a degree in Financial Computing but he decided follow the path he loves the most – Music. Over the last 7 years, DJ Xclusive has fused the individual musical identities of Urban Funky house, Urban Chart, RNB, Hip-Hop, Pop and Soca into his own creative and now inimitable hybrid sound. He began his Career as a DJ in various Mayfair/celebrity clubs including Vendome Night club-Mayfair, Aura-Mayfair, Penthouse, Funky Buddha, Jalouse, Rehab, De Marquee, Penthouse and Tribeca Nightclub and in the same time frame he completed a course in music production. DJ Xclusive is now an On Air Radio DJ for Cool FM Lagos
DJ Humility

One of Nigeria's premier DJs – DJ Humility (Real Name: Benedict Afagwu) started making waves when he clinched the 1st place position at the Benson & Hedges DJ Championsip in the early 2000s. Since then, DJ Humility who is the official DJ for Rhytyhm FM, Lagos, has performed at some of the biggest concerts in Africa and is currently working on breaking into the international music scene
DJ Sose

Until you see this spin doctor in action one would not be able to fully appreciate what is meant when it is said, 'What DJ Sose brings is not just an image, it is in fact a God given talent'. The origin of his stage name DJ Sose short for Soseneyayi is Ishan deriving from his tribe in Nigeria. Sose, meaning. Besides playing popular commercial or contemporary music, Sose is no musical snob. If the track is a good sound, he'll play it, and if you haven't heard it before, be assured he will be one of the first DJ's to bring it. Dj Sose's experience in travel has given him the opportunity to manage music projects overseas.
Meet the Hosts
Illrymz

If you've been paying attention to Nigerian Idols you might have noticed Illrymz on the mic. He's the current host of Nigerian Idol along side Tiwa Savage. ILLrymz is a Nigerian television host, radio personality, writer, producer, and Hip Hop & RnB artist. Illrymz cut his teeth on television in 2007 as the host of the now rested Nokia First Chance. In late 2007, the now-in-demand TV host signed on to popular urban Nigerian music and lifestyle channel – Nigezie. He was also presenter of the hugely popular Global Countdown Show, Sprite Triple Slam and One on One – the celebrity interview show. He also produced and presented Soundcity's most popular program in 2008 – The Nokia Express Music show.
He is the Producer and host of Radio Outloud with Nokia & ILL, a PAN Nigerian syndicated reality radio show that airs on Beat FM and Cool FM in Lagos, Rhythm FM in Abuja and Portharcourt, BCA Umuahia and Freedom FM Kano.
Omoye "Brownie"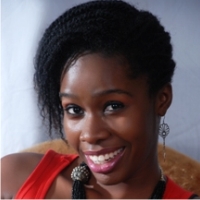 Omoye Uzamere is a performer with a background in theatre and television presenting. In September 2005, she became the host and co-producer of a weekly music video program, "Positive Vibes" in Port Harcourt, which ran for over two years in all local stations in Rivers State and 6 surrounding states.
In 2009, Omoye moved to Lagos, to attend the Lufodo Academy of Performing Arts (LAPA), where she won the award for best student and then moved to Lufodo Productions Ltd. for an internship. In June, 2010, she joined Rhythm FM, co-hosting the Morning Drive and has hosted and co-hosted a variety of shows on the station. Brownie currently hosts the Rhythm Of The Night and the Sunrise Sunday shows. Omoye is also an actor, producer, writer and singer.
Date: Saturday 12th May 2012
Time: 4 PM
Venue: Ember Creek, 32 Awolowo Road Ikoyi, Lagos
Ticket: Tickets will be sold at the venue for N2,000
Contact: For more info and general enquiries, Visit their Website – The-Underg.Blogspot.com
The event is supported by LG, Skyy Vodka, Cool Beans, FK Management, Sound & Connect DJ Company, Tactics IQ, Trezolandia, 360Nobs.com, Sound City and Rhythm FM
__________________________________________________________________________________________
BellaNaija.com is an official media sponsor of the Underground's 7the Edition