Reports of an explosion in Rumuokoro area of Port Harcourt, the Rivers State capital this morning has caused an unrest across the nation, with many fearing it was another bomb blast.
While some versions of the report say it was a bomb blast, others say the fire explosion was caused by a petrol tanker.
Information about the nature of the blast is still sketchy, however, there are reports that some people died with others getting injured in the explosion.
The loud explosions caused a lot of tension in the area with people scampering about for their safety.
May the souls of those who died in the explosion Rest In Peace.
UPDATE:
The explosion this morning has been attributed to a commercial bus carrying suspected armed robbers. The incident which occurred about 10.30 -11pm caused tension in Rivers state as people speculated it was Boko Haram that had invaded the state.
A suspected armed robber was killed when explosives his gang was transporting accidentally went off in the centre of Nigeria's main oil city of Port Harcourt this morning.
The blast ripped through a minibus carrying at least three suspected robbers, four AK-47 rifles and a large amount of ammunition, Rivers State Police Commissioner Mohammed Abdulkadir Indabawa told Reuters.
Two people in the bus and a woman who was nearby were injured in the explosion, he added.
"We suspect they were armed robbers going (on) an operation, and things went wrong for them," said Indabawa.
He ruled out terrorism, stressing that occupants of the vehicle were probably going for a robbery operation when the explosion occurred. Though he could not explain how the explosion came about but he said he was sure they were on a robbery mission because some riffles and huge catch of ammunition were recovered in the bus which burst into flames  immediately after the explosion.
Here are some pictures from the scene of the blast.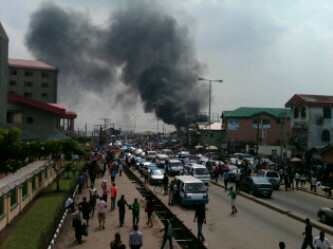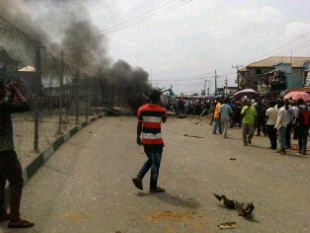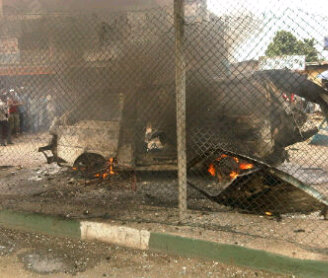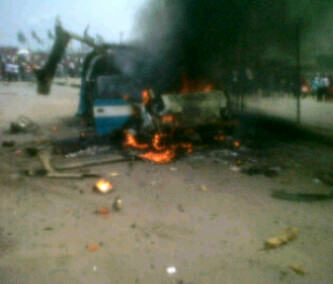 News Source: Vanguard | Reuters
Photo Source: Twitter