Yeah, Yeah, It's Thursday!
We at BN are super glad and excited that all you BellaNaijarians around the world have decide to join us here once again. As you know, this is the slot where yours truly brings exclusively to you some of the hottest places, venues and hangouts to be spotted with your loved ones this weekend.
We searched high and low and compiled an exciting list of events that will make your weekend a fantastic one with never ending fun. From Lagos to Abuja to Enugu all the way to the UK and US, we have got you covered. So sit back, relax and see for yourself the places you need to visit this weekend.
It is a beautiful sunny day, we hope you get all your heart desires and remember the best life to live is one that positively affects others, try everything possible to be a blessing to someone this weekend.
We LOVE you, see you all next week!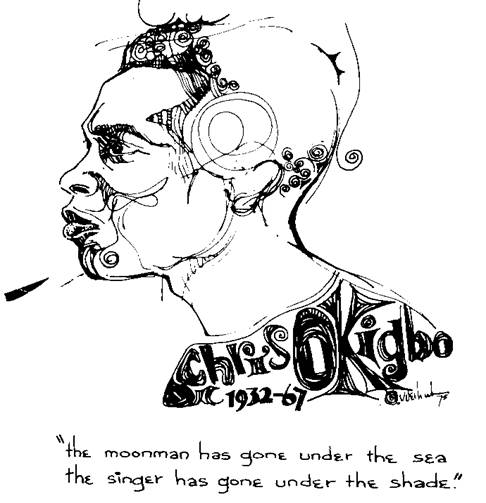 Celebrating Christopher Okigbo – Poetry Night with Odia Ofeimun and Friends
Renowned poet Christopher Okigbo will be live at the Life House this Sunday. The event organised to celebrate the accomplished soldier and writer, will be anchored by Odia Ofeimun and will feature a tribe of poets and writers including Patrick Oguejiofor, Akeem Lasisi, Austyn Njoku, Jumoke Verissimo, Chuma Nwokolo, Ivori, Dagga Tolar, Maxim Uzoatu, Tolu Ogunlesi, The children of Oasis Montessori School Ota and more. Admission is free for all, to attend send a text to 07034030683 with your basic info.
Date: Sunday 20th May 2012
Time: 6 PM
Venue: The Life House, 33 Sinari Daranijo Street, Victoria Island, Lagos.
_____________________________________________________________________________________________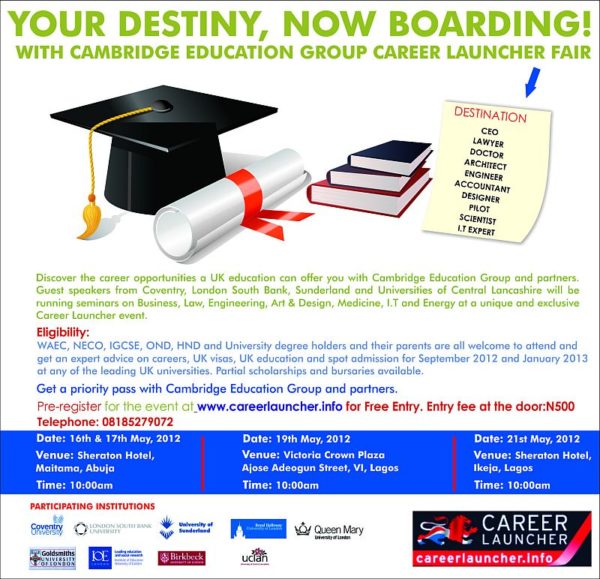 Cambridge Education Group Career Launcher Fair
Discover the career opportunities a UK education can offer you with Cambridge Education Group and partners at their fair taking place in Lagos and Abuja this weekend. Guest speakers from Coventry, London South Bank, Sunderland and Universities of Central Lancashire will be running seminars on Business, Law, Engineering, Art & Design, Medicine, I.T and Energy at the event. This fair is open to all WAEC, NECO, IGCSE, OND, HND and University degree holders and their parents. Prospective students will get an expert advice on their careers, UK visa, UK education and on the spot admission for September 2012 and January 2013 intakes at one of the leading UK universities. Register today at www.CareerLauncher.info for free entry or pay N 500 at the gates of the venue.
Date: Thursday 17th May 2012
Time: 10 AM – 6:30 PM
Venue: Sheraton Hotel, Maitama, Abuja
Date: Saturday 19th May 2012
Time: 10 AM – 6:30 PM
Venue: Victoria Crown Plaza Hotel, 292 B Ajose Adeogun Street, Victoria Island, Lagos
Date: Monday 21st May 2012
Time: 10 AM – 6:30 PM
Venue: Sheraton Hotel, 30 Mobolaji Bank Anthony Way, Ikeja, Lagos
Contact: For more info and general enquiries, Call 08185 279072
_____________________________________________________________________________________________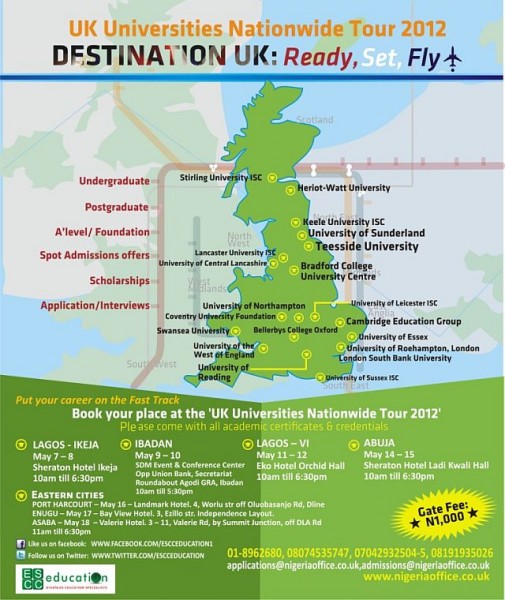 ESCC Education Fair
As part of their on going tour, overseas education recruitment organization – ESCC Education will visit Lagos, Ibadan, Abuja and Port Harcourt this weekend. This education fairs will see top UK universities delegates visit the various designated venues and speak one-on-one with prospective students on how they can apply for the University of their choice, get admissions and scholarships.Be sure to arrive early as attendees stand the chance to win tuition fee scholarship through their raffle draws.Gate fee at the venues is N 1,000
Enugu
Date: Thursday 17th May 2012
Time: 11 AM – 6:30 PM
Venue: Bay View Hotels & Resort, 3 Ezilo Street, Indepence Layout,(Close to Unicef/ W.H.O Zonal Office Enugu), Enugu
Asaba
Date: Friday 18th May 2012
Time: 11 AM – 6:30 PM
Venue: Valerie Hotel, 3-11 Hotel Valerie Road, off DLA Road (By Summit Junction), Asaba, Delta
Contact: For more info and general enquiries, Call 018962680 | 08074535747 | 07042932504-5 | 08191935026 | E-mail [email protected] | [email protected] | Follow them on [email protected] | Like their Facebook Page | Log on to their Website
_____________________________________________________________________________________________
The Private Screening of Naij: A History of Nigeria
As part of  their debut historical month long project – Remember for Tomorrow, the Life House presents Naij: A History of Nigeria. This film directed by Jide Olanrewaju, tells the story of Nigeria's tumultuous transition from British colony to an Oil state. Using a combination of rarely seen archive footage, historical papers and interviews, the film attempts to explain how Nigeria has developed into the country it is today while shining a light on some of the individuals whose actions have helped shape the nation. To attend, RSVP by sending a text to 07034030683 or simply send an E-mail to [email protected]
Date: Thursday 17th May 2012
Time: 6 PM
Venue: The Life House, 33 Sinari Daranijo Street, Victoria Island, Lagos
_____________________________________________________________________________________________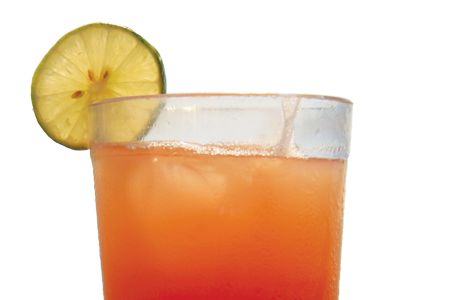 Sundown at Abule Cafe – Happy Hour!
Relax this Friday at the Life House after a stressful week with their special Happy Hour drinks which when you buy two you get the next one free. There will be lots of music by World House Beats, so be sure to come with your friends and family. For more info and general enquiries, E-mail [email protected]
Date: Friday 18th May 2012
Time: 5 PM – 7 PM
Venue: The Life House, 33 Sinari Daranijo Street off Ligali Ayorinde Street Victoria Island, Lagos
_____________________________________________________________________________________________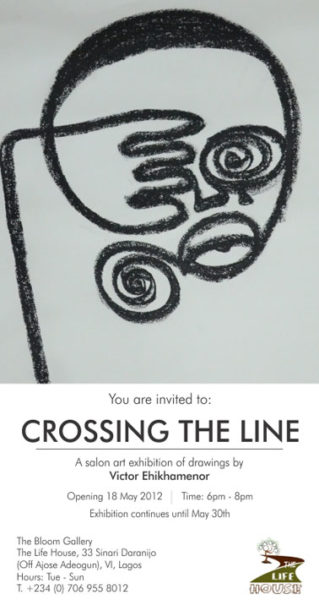 Crossing the Line
This Friday, acclaimed Nigerian artist Victor Ehikhamenor will showcase a selection of pen and ink drawings at the Life House, Lagos. According to the organizers, the artworks will make attendees ponder on and through the milestones of our history while also referencing the multi-faceted lines that were crossed during pivotal events like the Kano riots of the 50s and the Nigerian civil war which lasted from 1967-1970. Admission is free for all.
Date: Friday 18th May 2012
Time: 6 PM
Venue: The Life House, 33 Sinari Daranijo Street off Ligali Ayorinde Street Victoria Island, Lagos
___________________________________________________________________________________________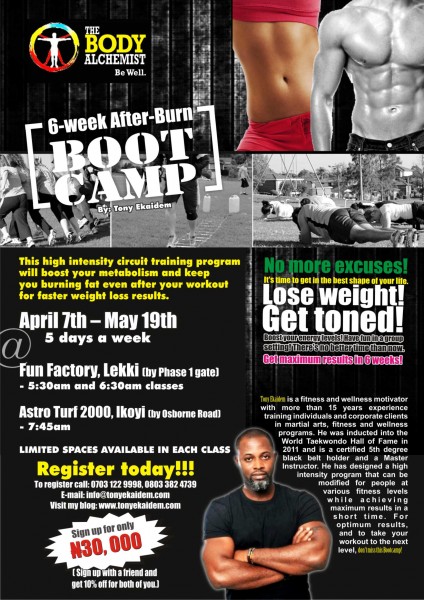 Stay in Shape and Get a toned body this 2012 at the Body Alchemist 6 Week "After Burn" Boot Camp
Another day, another month and yet another exciting way to lose weight and get a toned body this 2012. Register today for The Body Alchemist 6 Week "After Burn" Boot Camp – a highly intensive circuit training program set to boost your rate of metabolism and keep you burning fat all day long. This boot camp is organized Tony Ekaidem – a master instructor of World Taekwondo and a consultant on self defence and unarmed combat for security companies and other corporate bodies. For payment details, be sure to contact them.
Date: Saturday 19th May 2012
Time & Venue: Fun Factory, Lekki Phase 1 (By Phase 1 Gate on Admiralty Way), Lekki, Lagos – Time: 5:30 AM and 6:30 AM | Astroturf 2000, (By Osbourne Road), Ikoyi, Lagos – Time: 7:45 AM
Contact: For more info and general enquiries, Call 07031229998 | 08033824739 | E-mail [email protected] | Log on to Tony Ekaidem's Website – www.TonyEkaidem.com
_____________________________________________________________________________________________
The Epic Runway Show
This Saturday, fashion house – Franc-Majay will unveil its new collection that will cater for men and women. This one of a kind runway show will be hosted by CEO,Franc-Majay – Nguvan Stephanie Tsegba and Muhammad Sadiq.The event promises to be fun and colorful with a new concept of runway along side musical performances and comedy with free give away pack courtesy the hosts.
Date: Saturday 19th May 2012
Venue: 28 st Ebbe's Street, Oxford, OX1 1PU, UK
Tickets: Regular £20 | VIP £30
Contact: For ticket purchase, Call 07765104176 | 07821184581
_____________________________________________________________________________________________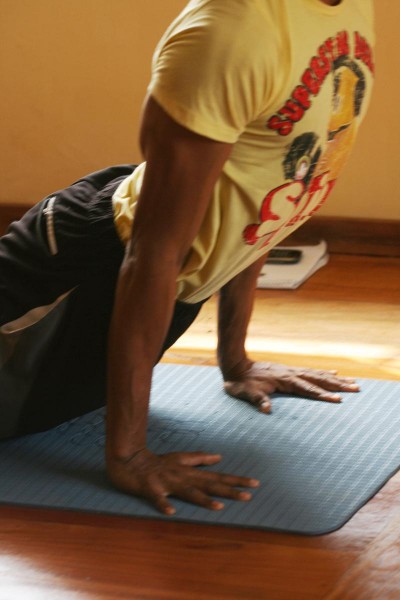 Stretch Your Muscles at DaYoga Studio
Get prepared for a brand new week by taking part in the never ending fun and excitement of Yoga and Pilates at the DaYoga studio this Saturday. The fee for each of the classes per person is N 2,000.
Date: Saturday 19th May 2012
Time: Beginners Yoga 9 AM | Immediate DaYoga Classic 10 AM | Pilates 12 PM
Venue: DaYoga Studio, The Life House, 33 Sinari Daranijo Street off Ligali Ayorinde Street Victoria Island, Lagos
Contact: For more info and general enquiries Call 07034030683 | E-mail [email protected]
_____________________________________________________________________________________________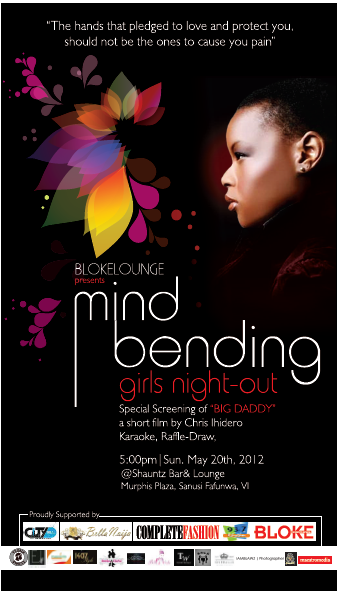 Bloke Lounge presents Mind Bending Girls Night Out
The 4th edition of Bloke Lounge – a bi-monthly music and mingling event hosted by Bloke Magazine will take place this Sunday. This edition themed Girls Night Out will feature a high panel of discussants including Bukky George, Josephine Chukwuma , Fela Durotoye, Chris Ihidero and Uche Jombo and also feature a private screening of Big Daddy – a short film on rape by Chris Ihidero. Joseph Benjamin, Lala Akindoju and Kome are also scheduled to attend. There will be a raffle draw with a variety of gifts from an array of designers including TTDalk, Ejiro Amos Tafiri, Akpos Okudu, Tosho Woods and many others. Admission is free for all.
Date: Sunday 20th May 2012
Time: 5 PM
Venue: Shauntz Bar & Lounge, Murphis Plaza, Sanusi Fafunwa, Victoria Island, Lagos
_____________________________________________________________________________________________
Open Day at Lagoon Hospitals' Medical Weight Loss Clinic
Lagoon Hospitals' sports medicine service cordially invites you interact with Dr. Adedayo Osholowu and enjoy a comprehensive approach to wellness as he explores new technology in delivering and improving on achieving weight loss goals. The Weight Loss Clinic offers programmes customized to suit your health history, metabolism, and lifestyle needs.
Date: Monday 21st May 2012
Time: 12Noon
Venue: Lagoon Specialist Suites, 13B Idejo Street off Adeola Odeku Road, Victoria Island Lagos
_____________________________________________________________________________________________

Bez to Perform Live in The Shrine, USA
Nigerian soul singer and guitarist – Bez will perform live in The Shrine, New York this Wednesday. The alternative soul singer will perform some of his hit tracks including That Stupid Song.
Date: Wednesday 23rd May 2012
Time: 10 PM
Venue: The Shrine, 2271 Adam Clayton Powell Jr, New York 10030, USA
_____________________________________________________________________________________________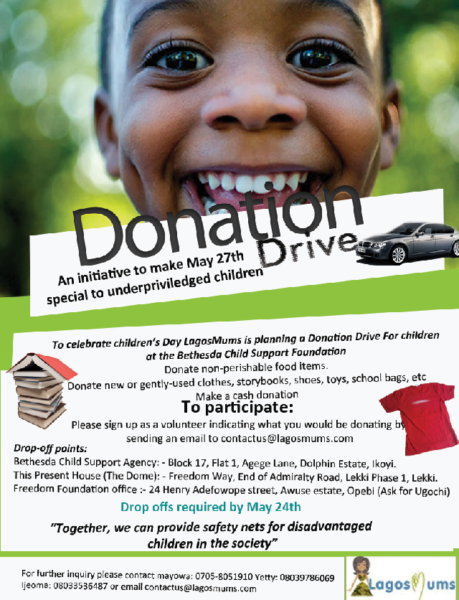 Lagos Mums presents Donation Drive for Children's Day
To celebrate yet another Children's day, Lagos Mums is planning a donation drive for the less privileged children in our communities and schools, they are currently accepting donations of non-perishable food items. To donate, send an E-mail to [email protected] informing them what you would like to donate and they will get in touch with you on where to drop off the items.  All donations are to be sent to them on or before Thursday 24th May 2012. For more info, click the flier above.
_____________________________________________________________________________________________
BellaNaija.com is not responsible for the organization or further promotion of these events, neither do we have a stake in their sales or popularity. Inclusion in "Events This Weekend" is Free. Contact – adsales (at) bellanaija.com if you will like your event to be included. Note that BN reserves the right to choose which events are featured. "Pay to attend" parties attract a fee