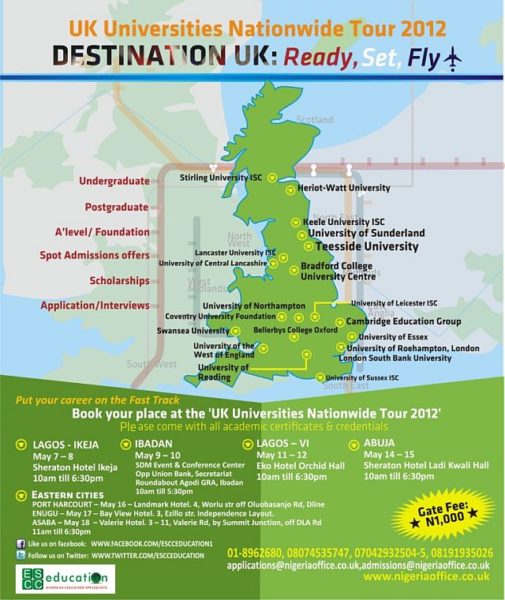 The highly reputable Overseas Education Recruitment Organization – ESCC Education has announced its UK Universities Nationwide Tour to take place in Lagos, Ibadan, Abuja, Port Harcourt, Enugu and Asaba from Monday 7th May – Friday 18th May 2012.
This tour will see top UK universities delegates visit the various designated venues and speak one-on-one with prospective students on how they can apply for the University of their choice, get admissions and scholarships.
Temitayo Ogunsanya (Director of Operations, ESCC Education) said "We will help you make informed choices about your future and career by guiding you on courses and institutions that best match your academic ability and career aspirations and desired location".
So book your place now at the exhibition to put your career on the fast track, simply Log on to their Facebook Page to Pre-Register. Be sure to arrive early as attendees stand the chance to win tuition fee scholarship through their raffle draws.
The  ESCC Education Nationwide Tour Dates, Time & Venues
Lagos
Ikeja
Date: Monday 7th May – Tuesday 8th May 2012
Time: 10 AM – 6:30 PM
Venue: Sheraton Hotel, 30 Mobolaji Bank Anthony Way, Ikeja, Lagos
Victoria Island
Date: Friday 11th May – Saturday 12th May 2012
Time: 10 AM – 6:30 PM
Venue: Orchid Hall, Eko Hotel & Suites, Kuramo Waters, Victoria Island, Lagos
Ibadan
Date: Wednesday 9th May – Thursday 10th May 2012
Time: 10 AM – 6:30 PM
Venue: SDM Event & Conference Centre, Opp Union Bank, Secretariat Roundabout Agodi G.R.A., Ibadan, Oyo
Abuja
Date: Monday 14th May – Tuesday 15th May 2012
Time: 10 AM – 6:30 PM
Venue: Sheraton Hotel, Ladi Kwali Way, Maitama, Abuja
Port Harcourt
Date: Wednesday 16th May 2012
Time: 11 AM – 6:30 PM
Venue: Landmark Hotels, 4 Worlu Street, D/line Off Olu Obasanjo Road, Port Harcourt, Rivers
Enugu
Date: Thursday 17th May 2012
Time: 11 AM – 6:30 PM
Venue: Bay View Hotels & Resort, 3 Ezilo Street, Indepence Layout,(Close to Unicef/ W.H.O Zonal Office Enugu), Enugu
Asaba
Date: Friday 18th May 2012
Time: 11 AM – 6:30 PM
Venue: Valerie Hotel, 3-11 Hotel Valerie Road, off DLA Road (By Summit Junction), Asaba, Delta
Gate Fee: N 1,000
Contact: For more info and general enquiries;
About ESCC Education
ESCC Education is a fast growing Overseas Education Recruitment organization with head office in Lagos, Nigeria.  With offices staffed with very knowledgeable team members, they provide help and guidance to prospective Nigerians intending to study abroad. Speaking on why you should choose ESCC Education as your partner on your journey to obtaining an overseas education. Temitayo Ogunsanya (Director of Operations) said "We can boldly declare that ESCC Education is unique, our competitive advantage is not only that, we are a "Proudly Nigerian" organization. Most essentially, many staff members, including our decision makers, have themselves studied abroad and have been in the shoes of prospective students that we are assisting". Not only do we have close links with the British Council and the British High Commission. We have ourselves, applied to study overseas, personally gone through the visa application processes for ourselves and have undergone the journey of being an international student in a foreign country. We therefore, have a better understanding of our prospective students and have absolute empathy for their situations"
__________________________________________________________________________________________
Sponsored Content