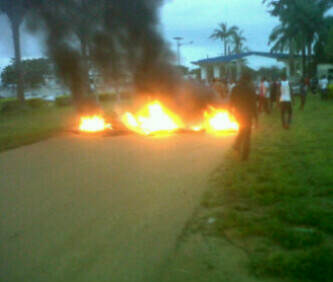 Yesterday's unprovoked attack on the campus of Igbinedion University in Okada, Edo State where two students were reportedly beheaded has sparked an uproar across the country.
According to media reports, the students were killed when former militants who are also students, clashed with other students believed to be cult members. Several people were also injured.
The incident, which started at about 5a.m on Sunday 17th June, 2012 continued into the afternoon, with properties worth millions of Naira destroyed in the process.
Some students said an earlier attack on a former Niger Delta militant by a local cult group on campus caused the clash. The ex-militant reportedly mobilized his boys to the university to avenge a humiliating experience as early as 7am.
So many of the students on campus were sending distress calls to their parents and guardians, while a few other fled the campus as police did not arrive on time to stop the carnage.
There are about 200 ex-militants on admission at Igbinedion University under the Federal Government's amnesty and retraining programme.
When the news first went viral, there were no reports of dead students, only vandalization of property and injured students. As disturbing as this was, it didn't end there as later on, two students were later reported dead, beheaded.
I cannot even begin to imagine how the atmosphere on the campus would be at a time like this.
While some people have linked the attack to a political tussle of power in Edo state, others have said it was a clash between ex-militants and cult members.
Activities in Igbenidion University have been under the media spotlight recently, and not for laudable reasons. Some days ago, reports of a bloody fight between two female students went viral and following shortly is this sad news.
I pray for peace and normalcy to be returned back to Igbinedion University.
May the souls of the departed Rest In Peace.
News Source: Sahara Reporters