Jacob's Cross actress and 53 Extra co-presenter Dolapo Marcy Oni was recently spotted in France for the 2012 French Open and Moet & Chandon's VIP Experience in Epernay, France. The petite Nigerian TV presenter was selected by the champagne house to join other International VIPs for an exciting experience where one of the world's largest champagne houses is based.
Dolapo and other selected VIPs were treated to the full Moet Experience which included a tour of the Moet cellars, an invitation to participate in a Grand Vintage 2012 tasting Jardin Anglais session and a gourmet session with Caveau Napoleon.
Also during her stay at Epernay, Dolapo joined other international dignitaries for a Gala Dinner at the world famous Chateau de Saran known for entertaining visiting royalty, vacationing business executives and top notch dignitaries. The Sommelier (Wine Steward) paired the finest wines with tasty looking food in an entirely unorthodox combination. On Day 2, all VIPs were taken to the Roland Garros Stadium to watch the 2012 French Open Women's semi-finals matches in Court Phillipe Chatrier where Maria Sharapova and Rafael Nadal emerged Champions in the Women's and Men's draws respectively.
Photos
Moet & Chandon Epernay Event
Day 2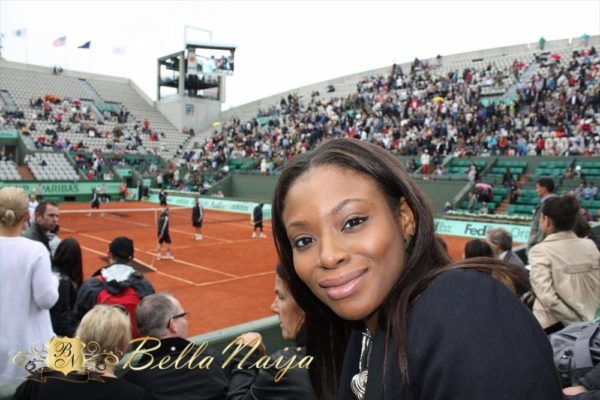 Looking gorgeous in Bridget Awosika and  Viv La Resistance pieces, Dolapo speaks on her fondest memories, hobnobbing with the international jet set including world famous tennis stars and top personalities from the world of media and entertainment. Here is an exclusive 10 minutes interview about her Moet & Chandon Experience.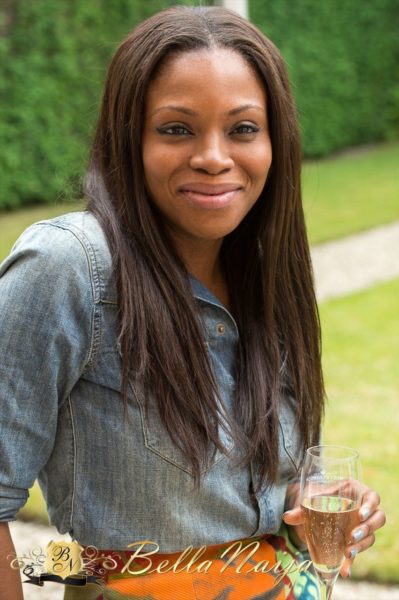 A. Welcome back from the French Open, how was the City of Love?
It was amazing. Beautiful food, people, conversation and of course, fantastic champagne.
B. Next, we are curious to know, how did you earn the chance to represent Moet & Chandon at Roland Garros and what can I do to get a chance to wine and dine with the international jet set this time next year?
Well I was approached by a representative of Moet & Chandon, who asked if I'd like to take part in the Moet et Chandon experience, as a VIP guest. Obviously it took me a millisecond to say yes! As for how one can get to wine and dine at Roland Garros this time next year? Think you'll have to buy a ticket! But even with a ticket, the Moet & Chandon experience is strictly by invitation only so, I have no idea really.
C. What was it like being in the home of Champagne? What did you do during your day in Epernay, France?
Epernay was truly breathtaking and as you drive through its streets, past the various champagne houses, you get a real sense of the town's history. We had a jam packed itinerary. Once we arrived at the hotel, we were driven straight to the Moet & Chandon headquarters for a picnic lunch. Of course this is Moet & Chandon so this was no ordinary picnic. The food was delightful, the champagne virtually on tap and there were other VIP guests enjoying the Moet experience, mostly from Switzerland and Brazil; it was fascinating meeting people from such far flung corners of the world. After lunch came the wine tasting with head wine maker Marc Brevot, who told us more than we will ever remember about the process of creating the different types of champagne and in particular the difference between the vintage and non-vintage champagnes. Then it was time for our cookery lesson with michelin chef Pascal where the focus was on how to pair champagne with different dishes. After filling our stomachs, the next stop was a tour of the wine cellars. This was mind blowing – over 18 kilometers of underground cellars across 3 levels. We only saw a fraction of the wine caves but it was definitely one of those occasions when you have to see it to believe it. It was incredible.
D. We understand that Moet & Chandon arranged for you to spend an evening at the Chateau de Saran. Is it true and, if so, how was that experience?
Yes they did and I felt so lucky and privileged to have been able to spend an evening there. The Chateau de Saran, former residence of the Moet family, is a beautiful 19th century manor house nestled on a hill overlooking sprawling vineyards. A visit to the Chateau is a truly special occasion indeed as the only way you can dine or stay here is by invitation from Moet & Chandon. We were lucky with the weather and the company and the whole evening just felt magical. We were treated to a three course dinner – scallops and vanilla sauce, roast chicken, seasonal vegetables and foie gras, macaroons with fruit – and each course was accompanied by a different vintage of Moet & Chandon champagne. So we ate, we drank, we made merry and even we even headed to the games room where I won a game of pool with my swiss partner Marcel!
E. Were you a champagne lover before your trip? And has this experience changed your perception of champagne in anyway?
Before my trip I liked Champagne, but now I love it and I have also found a new appreciation for it. I don't think I can ever take good champagne for granted now, having witnessed, first hand, the amount of time and effort that goes into producing each bottle. Quite frankly most people don't know how lucky they are to drink this stuff and I'm surprised the champagne houses don't charge a higher price. I'll certainly be toasting all the people involved in the winemaking process the next time I'm sipping on a glass of Moet.
F. Did you get to meet any Tennis heroes at Roland Garros – Serena Williams, Maria Sharapova, Chris Evert, etc.?
Unfortunately not. It rained a lot during the women's semi finals and at one point I was worried we wouldn't see any tennis at all. But finally the rain did stop, conveniently after lunch and the sun came out. Our seats were fantastic and we had great views of both women's semi-finals and got some great pictured. I would have loved to have seen the Williams sisters but they had been knocked out of the tournament in earlier rounds.
G. What was it like watching such great tennis stars live? Any key memorable highlights or moments from the match?
It was great. The court seems a lot bigger on TV funnily enough. Seeing the power and physicality of the players so close up is quite incredible. Of the two matches we watched, my favourite was the first semi final between Sara Errani of Italy and Australia's Samantha's Stosur. It was a close 3 set match. Errani was the underdog, but played such a smart and intelligent game, really mixing up her shots. It was not metronomic tennis. There were many points when I literally couldn't watch as it could have gone either way. It was exciting to have been at Roland Garros on a day that many will look back on and say, that was the day Errani the tennis star was born.
H. How does the French Opens rank next to the US Opens and Wimbledon?
Well I've never been to the US Open or Wimbledon, but I'm always glued to the television when the slams take place. Each of the Grand Slams has their own personality. The US and the Australian I think are quite informal but Wimbledon and Paris, being back to back, two weeks apart and on such different surfaces are really quite special. They are part of what makes their host cities, London and Paris, such global cities and people come from all over the world to attend these events. The clay of Paris is especially tough. Players have to slide a lot on the surface and it's hard to hit winners or overpower opponents. It's a great leveler. You have to really construct points in a way that you may not necessarily do on faster surfaces like grass and hard court. It means that you see different players flourish, players who may not have the biggest games but with really good technique and consistency. It can only be good for a spectator sport.
I. Finally, you are a beautiful lady, with refined taste. Is there any tennis personality that you admire or closely identify with?
There are some great women's tennis players but the biggest names tend to be those with the biggest games but little variety. That was what was so exciting about Sara Errani – not especially tall, not especially powerful, but with superior technical ability and a tactical mind. Big things really can come in small packages!. The other player I love is Kim Clijsters. She won a grand slam, retired to get married and have a baby, then came back to win another 3 grand slams. And she's always a got a smile on her face. Who said you can't have it all!