Yeah, Yeah, It's Wednesday!
Good Morning BellaNaijarians, how are you all doing? We hope great. It is yet another fantastic day and we are so happy that you all have decided to join us once again this beautiful morning.
If you are new to Africa's pace setter for all things Lifestyle, Entertainment, Fashion, Music and more – BellaNaija.com, this is the slot where we keep you updated with all the most affordable bargains and freebies taking place right now.
Nigerian fashion label Recreations is giving you all a fantastic opportunity to shop for its creative and high quality shirts at a discounted rate. So if you are searching for shirts to make you stand out this month of July, be sure to head down to the slot and find out how.
Do you love shoes? Then jump for joy as another edition of the Lagos Mega Shoe Sale event will take place this Saturday and they are giving all BN readers a discount on over 1500 brand footwear they have on sale. Don't waste any more time, head down to the slot and find out how you can get a good pair of shoes this month.
When the movie Act Like a Lady, Think Like a Man based on Steve Harvey's best selling book hit cinemas worldwide, it became an instant hit and everyone wanted to watch the movie and find out where to buy the book. No need to send a friend to help you buy when travelling abroad because Nigerian online retail site Kasuwa is giving you a chance to buy the book at a discounted rate and guess what? It's going to be delivered right on your door step. Head down to the slot to find out all the details.
Life is all about giving, renowned American motivational speaker Les Brown said "We learn, we earn, we pass it on". What's that thing you have that you don't need that you know someone out there does. Try and reach out to them and give it to them because the best life to live is one that positively affects others.
We LOVE and adore you, see you all next week!
Get a 20% discount off Shirts from Recreations
This month of July, Nigerian fashion brand Recreations is giving all BN readers a 20% discount off orders made for its range of high quality shirts from its International Collection both online and their flagship store.
To get this discount;
Log on to their website – www.RecreationsNg.com
Select any of the shirts you want
And you will get your 20% discount
or simply visit their store, 89A Badagry Road (Off Ikeja Road), Dolphin Estate, Ikoyi, Lagos and buy any of the shirts . This offer lasts through out the month of July.
__________________________________________________________________________________________________________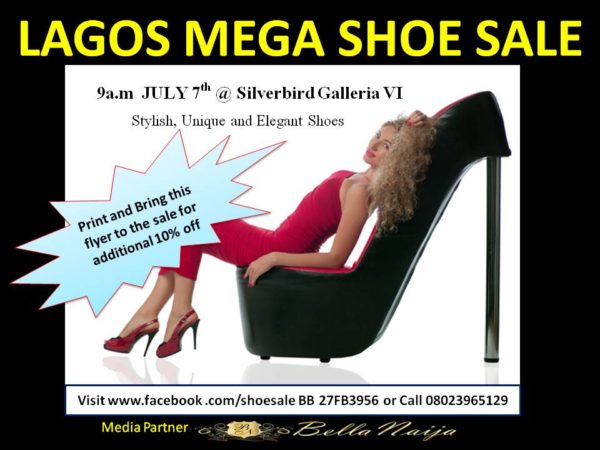 Get a 10% discount off Shoes from the Lagos Mega Shoe Sale Event
This is one is for all shoe lovers. On Saturday 7th July 2012, another edition of the Lagos Mega Shoe Sale will be held at Silverbird Galleria, Victoria Island, Lagos and the team behind the shoe sale event is giving all fashionistas a 10% discount on over 1500 brand named shoes which include flats, pumps and stilletos. To get this discount, print this flier and bring to the venue.
To stay in touch with the Lagos Mega Shoe Sale team, add them on BB  289B9EF2 | 27FB3956 | Follow them Twitter @MegaShoeSaleInc and Like their Facebook Page – www.Facebook.com/ShoeSale
__________________________________________________________________________________________________
Get a 5% Discount off Steve Harvey's Best selling Book "Act Like a Lady, Think Like a Man" on Kasuwa
Nigerian online retail site Kasuwa.com is giving all BN readers a chance to read Steve Harvey's best selling book "Act Like a Lady, Think Like a Man" for an affordable price.
To get the 5% discount that they are offering;
Log on to Kasuwa.com
On the shop by category, click on family and relationships slot
Choose the book
Add to your cart
And use this code NMNBNBA2XU at check out
After payment, the book will be delivered to you for free.
___________________________________________________________________________________________________
Sponsored Content
Will you like to have bargain to be featured on BN Bargains? Email us via adsales (at) bellanaija (dot) com