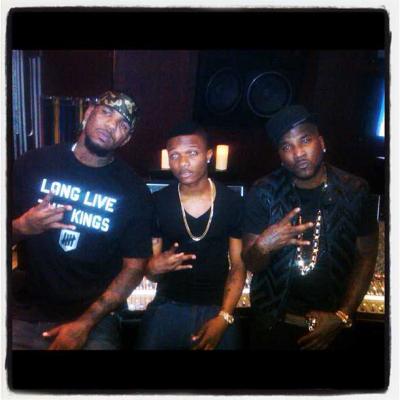 Sometime before the 2012 BET Awards on July 1st in Los Angeles, Wizkid got in the studio with veteran American rappers, The Game and Young Jeezy.
This was what he tweeted:

And, sometime yesterday, July 2nd, 2012, he tweeted:

With Konvict Muzik and Pepsi affiliations, I'm not surprised with how much exposure Wizkid is getting in the international music scene; I wonder if an international album, with massive collaborations from the US and UK, is coming up next.
For now though, I wonder what these three are going to cook up for the airwaves because Young Jeezy sounded very ecstatic about the studio sessions:
Young Jeezy mentioned that Wizkid and Chris Brown would be heading over to his studio… I wonder what a Chris Brown and Wizkid collaboration would sound like.
Here's a video of Wizkid before the 2012 BET Awards in a short Ms. Royalty Interview.
Check on it.