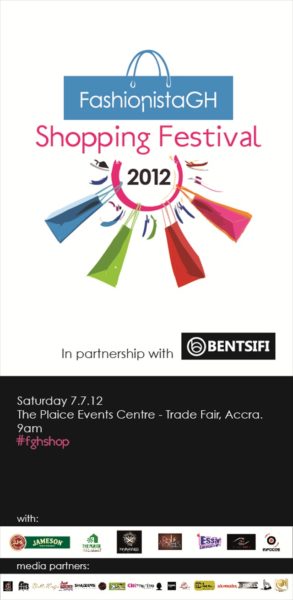 It's definitely going down in Accra, Ghana this Weekend!
On Saturday 7th July, the maiden edition of FashionistaGH Shopping Festival will take place in grand style at the stylish international trade fair Center The Plaice.  The anticipated shopping event will bring together hundreds of the best fashion brands and see Ghana's hottest designers unveil never before seen lines as well as trending fashion statements.
Attendees at the festival will get to shop for lots of items like shoes, bags, jewelry and so much more from these vendors – Mina Evans, mSimps, The Body Butter Co., BDI by Amitibey, N'kya Designs, Dapper Collections, ajePomaaDesign Gallery, Akataasia and so many others for a good bargain and it will also serve as a unique opportunity for them to spot up coming trends and new designers and guess what? You will also get custom made versions of popular designs by leading brands, where you can also add your own personal touch.
So whether you just want to shop, network with the vendors, interact with major Ghanaian lifestyle brands or you just want to have a fun filled day, the FashionistaGH Shopping Festival is the one for you. See you all there and be sure to arrive early, so our BN glam cam can take photos of you and your pals. Admission is free and yeah, don't forget your wallets.
Watch the Promo Videos with the Vendors that will be at the shopping festival

The FashionistaGH Shopping Festival is supported by Bentsifi, Jameson, The Plaice Events Centre, RoleModels Agency, Awfis Consult, Possible Image, Infocos, Kaylers Communications, Bulhaus Entertainment, Golden Eye Studio and Akuchi Clothing.
Date: Saturday 7th July 2012
Time: 9 AM
Venue: The Plaice Events Centre, Trade Fair, Accra, Ghana
_______________________________________________________________________________________________________________
BellaNaija.com is an official media sponsor of the maiden edition of  FashionisaGH Shopping Festival