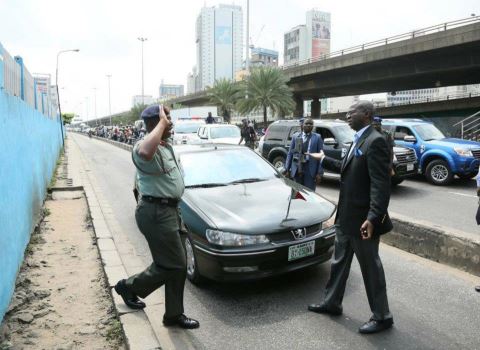 Governor Babatunde Fashola of Lagos state has been commended for accosting two military officers yesterday who were driving on the lane reserved for the Bus Rapid Transit buses.
The Governor's convoy was supposedly driving past along the same time Colonel Ki Yusuf was driving on the dedicated BRT lane illegally. He was driving an Army Green Peugeot 406 with registration number BO1-150 NA at the Outer Marina in Central Lagos. Another officer, Staff Sergeant Adeomi A.J. drove in a black Toyota Camry on the BRT lane.
News reports say that he later ordered their arrest. Surely, the confrontation must have been embarassing for the Military officer.
I kinda like what Governor Fashola did too. Most Governors in Nigeria would have just looked the other way and not accost the man. But he got down from his car and did that out in the open.
Realizing that the game was up, Colonel Yusuf came down from his car, saluted severally and kept muttering "I am sorry, very, very sorry", with the Governor enquiring why, as a senior military officer, Yusuf would choose to break the law instead of preserving it.
Governor Fashola later said, "I don't use the BRT lane, I sit down in traffic and I expect everyone who wants to drive his car to do the same. The alternative is to use the bus. The bus is for those who cannot afford to buy cars. They have the right also to use the road and we cannot encroach on that lane which we have reserved for them. This is democratisation of the road and I will defend it."
Hopefully, this would serve as a deterrent to other military officers.
And speaking about military officers, there is something I've noticed on the streets of Lagos twice in recent times and I really don't know how to make sense of it.
It happened that a commercial bus driver hit the car of a military officer, slightly I must add without any major dent to the vehicle, and the military officer simply got out of his car and ordered the bus conductor to bring out his spare tyre from the bus and put it inside the boot of his car. And then he drove off.
This happened twice, within a space of a few weeks around Maryland, Ikeja.
When I discussed it with a friend of mine, he said it was now the norm among military officers. Instead of getting into arguments with bus drivers when they hit their vehicles, they simply take the spare tyre and probably use the money gotten from selling it to fix their vehicles.
Now what do we call this? Use of power? Abuse of power? Power of a military uniform? It just doesn't sit right with me.
There should be other ways of punishing the offender or getting him to pay for his mistakes? It's not that I think the bus drivers are right, it's more like what would a 'non-uniformed' person do if he was caught in a similar situation? Shout, argue, and then go back into his car because he has no right to take the bus driver's spare tyre.
Let's discuss this. Do you think military officers in the country abuse the powers of their ranks when driving? Do they sometimes act like they have more authority than the rules or the people who set the rules?
What do you think about Governor Fashola's action? Is it commendable? Please share your thoughts.