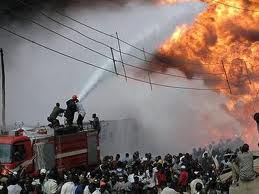 The Federal Road Safety Commission says it has so far recovered 95 burnt bodies from the Okobe tanker crash scene in Ahoada West Local Government Area of  Rivers State.
Kayode Olagunju, the FRSC sector commander in Rivers said, in an update on his Facebook page, that 93 of the victims died on the spot while two died on the way to hospital.
Eighteen others were seriously injured.
The fuel tanker had fallen on Thursday morning on the Ahoda-Mbiama Road on the East-West Road. It burst into flames as villagers scooped fuel.
In a first information report on the incident, Mr. Olagunju said the incident occurred at about 6.30 a.m. after a tanker laden with petrol crashed into three other vehicles – a Toyota Corolla, a Hummer bus and a Mitshibushi bus.
The four vehicles and 34 motorcycles were burnt.
Villagers then trooped to the scene to scoop fuel. The fuel tanker exploded shortly afterwards, burning scores beyond recognition.
"The fire is still raging hence the exact number of victims not yet ascertained," Mr. Olagunju had said. "Casualty figures definitely high as many were dead."
About 20 injured persons were immediately taken to hospitals as the FRSC, the police, fire service and personnel of the Joint Task Force raced to the scene for rescue operation.
What a sad news. People dying while scooping fuel from a petrol tanker.
What are your thoughts on this incident?
News Source: Premium Times