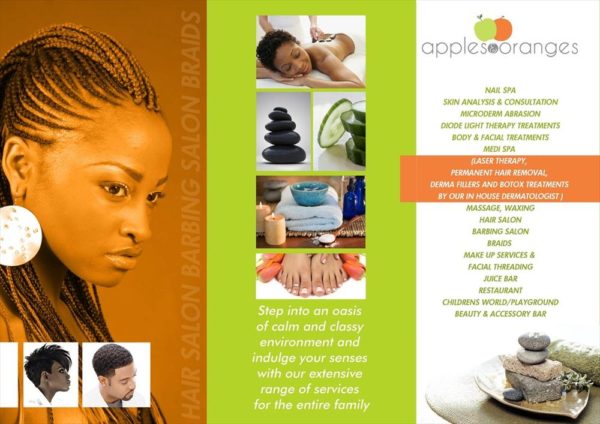 BN is excited to introduce Apples and Oranges! No we are not talking about two of the world's most popular fruits. It's a brand new spa in Victoria Island, Lagos. Read all about it below.
**
Apples and Oranges Salon and Spa is established and operated by a team of professionals to provide a one stop destination for beauty and wellness needs for "the Family". In a world of hectic schedules where stress levels are on the rise, Apples and Oranges is a little paradise in the middle of your busy day. Spacious and soothing, we offer a healthy combination of beauty, relaxation & wellness. Every service has been designed to restore calm, rejuvenate your body and nurture your spirit and well-being.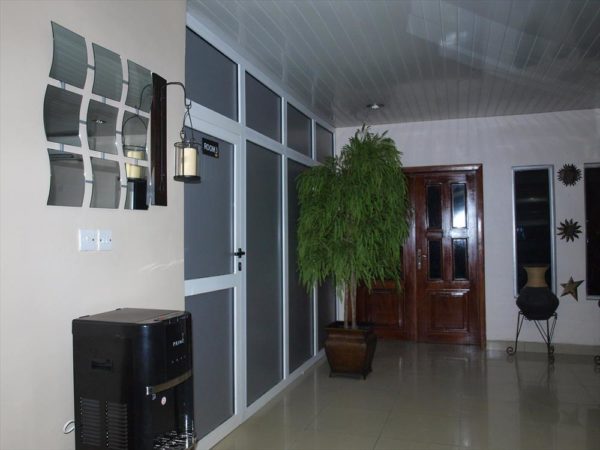 Lose yourself in one of our signature spa treatments especially designed to reconnect your mind, body and spirit or take advantage of our cutting-edge salon services, nail spa or make up services – our promise is your money's worth. Located at 10 Balarabe Musa Cresent, Off Samuel Manuwa, Opposite 1004 Flats, first-class services await you in an incredible environment.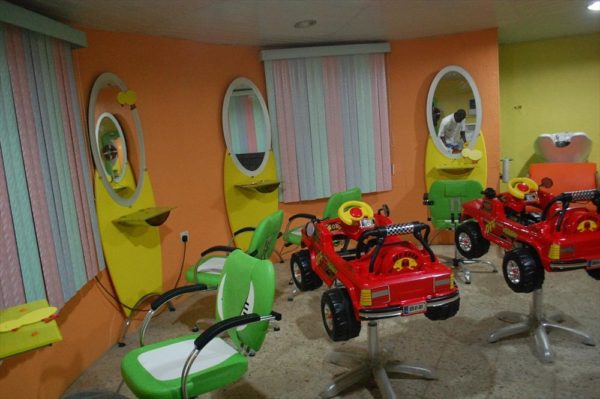 Children's World
A pleasant place for kids, equipped with educational materials to engage the kids while they cut their hair, have it braided or texturized. We understand that child hair care must be done differently with attention to their delicate scalp and hair line. Consequently, professional barbers and stylists are at hand to cater to their needs. The children's world has a mini library, TV channels for children and toys. For outdoor play, a trained nanny oversees the bouncy castle and slides. They will also be treated to light refreshments from our spa cuisine, which makes Apples and Oranges a favorite salon for kids.
Hair Salon
Your hair speaks volumes about you. Taking into consideration who you are and the look you want is the precise expertise of our hair professionals.
Our stylists understand the science of hair care. We differentiate ourselves through our products and services for grooming a natural and healthy hair even when you have braids, weaves or extensions. Our guarantee is to ensure our service delivers a perfect and healthy hairline and groom your hair until you achieve that comfort level you desire from your natural hair. By so doing, we provide a perfect balance to your health, beauty and inner peace.
We have searched the world over for unique products and applications in order to offer you the finest possible selection of services. You'll find a wide array of treatments for both women and men. Products used for natural hair care ranges from, Castor Oil, Shea Butter, Olive Oil, Avlon -Kera Care, Design Essentials, Syntonics, Carols Daughter, Elasta, Tresseme,  Ojon and more. Services range from natural hair care to extensions, strands or braids. Overall, our focus is to ensure that we work together to deliver a flawless look!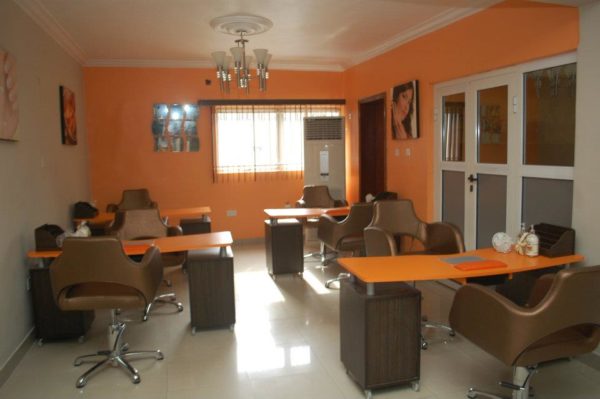 Nail Spa
The hardest working parts of your body are often the most neglected – your hands and feet! Apples and Oranges promote safe nail care by new tools for every client. Highly skilled technicians are trained to recognize possible skin and nail disorders and can provide guidance on proper treatment. Watch your tension disappear as we soak, scrub, soften and massage you to achieve beautiful results. What we guarantee is a second look whenever you expose your feet or wave your hands.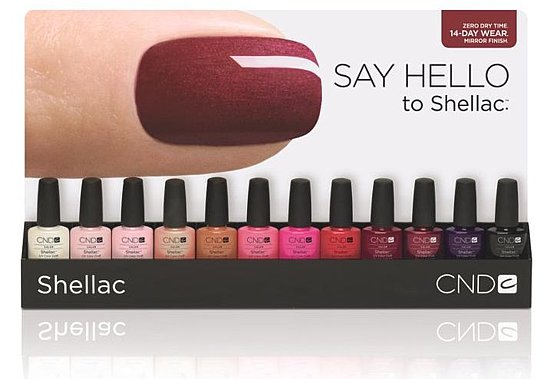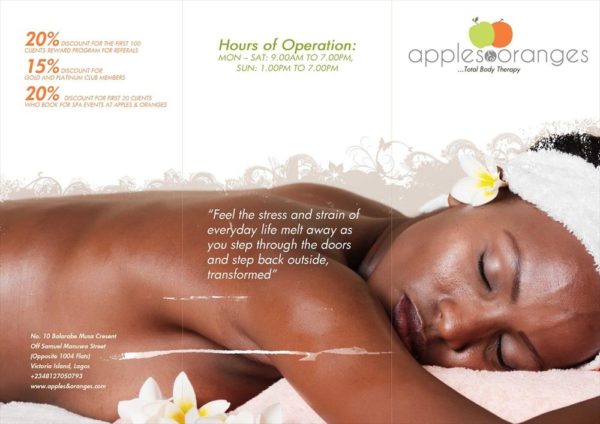 Massage
Elicit a deep sense of relaxation, loosen tight muscles and transport yourself into a state of bliss with Apples and Oranges massage sessions. Settle the mind and center the soul as you experience our Balinese, Ying Yang, Deep Tissue, Hot Stone, Reflexology, Swedish or Acupressure massage. Undertaken by professionals who understand the 10 vertical zones of the body and the various pressure points.
Make-up Services
Our make-up artist (Stella of Stella's Addiction) will select your true colors and professionally apply make-up to create the look you want for day, evening, work or play. Professional service undertaken using a variety of high end products tailored to various skin tones/type. We make you flawless all day, no matter the weather condition. Apple and Oranges's make-up service includes but is not limited to threading, tinting, individual lash application and makeovers.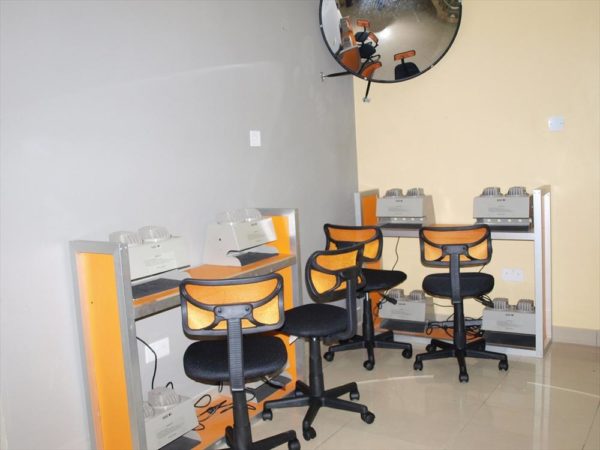 Waxing Services
From brows to bikini, you'll love the results. Our professionals are fully trained using a technique unique to Apples and Oranges to ensure you have the relaxation and comfort. We understand different skin types are will apply the right temperature and products are used for you. Our aestheticians will help you feel at home using professional techniques and products to ensure the best hair removal results. One of our specialties is the Brazilian Bikini Wax. To thank our loyal customers, we offer NGN 500 off, for our regular clients who pre-book their Brazilian Bikini Waxes.
Facial Treatments
An experience can best describe the best in class facial care at Apples and Oranges, what is worth mentioning is the use of the right balance of natural and chemical products. From cucumbers, honey and eggs to glycolic, salicylic and alpha hydroxyl acid. Our trained technicians will work with you to accomplish your dream skin. Try out our green science, peel, Vitamin C, exfoliating, Bioelements Acne Clearing, Enbrightenment, Botanical Skin Resurfacingor Caviar facial to give that WOW look!
What We Do Differently – Our Technology and Service
Signature Body Treatments
Body Cavitation: At apples and oranges, Ultrasonic cavitation is used for effective cellulite reduction and local fat loss. This equipment has 3 applications (body cavitation, Photodynamic Therapy and Vacuum). The application ensures body tone sculpture and firmness is done to give you the perfect curve.It also brightens and gives the skin an instant radiant glow. Clinical practice has proved that RF can effectively compact and regenerate skin. Using the unique deep-heating technology (radio frequency plasma technology), it can activate the deep collagen and promote new growing of collagen, to fill collagen contraction and vacancy loss, thus to tighten skin and recover skin elasticity.
Ultrasonic Cavitation Slimming Instrument (Ultrasound Liposuction): This latest scientific and technological device can be the effective treatment for stubborn cellulite and orange peel fat.An ultrasonic cavitation generator is based on the resonance of pressure waves in continuous transmission.
This produces micro-bubbles that implode adipose cells, destroying and processing of fat in a liquid substance, which will be eliminated by the lymphatic system and excretory route. Cavitation is effective to dissolve fat, improve cellulite tissues, tighten and enhance skin elasticity. Our Ultrasonic cavitation is applied with advanced treatment protocols and is the strongest and best cavitation treatment available today.
Photodynamic Therapy
Photodynamic therapy has been the most fashionable trend in medical cosmetic industry. LED can improve blood circulation and stimulate cell activity, promote collagen, promote muscle relaxation and speed up physiological recover, accelerate nutrition into the body.
Vacuum
This is usually used to reduce cellulite and tighten skin.
Main Application: It can be used for fast fat dissolving, skin tighten and lifting, wrinkle removal, improve pigments such as aging spots or freckles, reduce cellulite and stretch marks and body massage.
Microdermabrasion
At Apples and Oranges, Microdermabrasion is done after consultation with our in house Dermatologist. This may require lab test by our partner Diagnostic Center depending on medical history and skin type.
Microdermabrasion is a form of exfoliation of the outer dead layers of skin. It is carried out as an alternative to Chemical Skin Peels. At Apples and Oranges, we have two types of Microdermasion – Nature peel and Mechanical Microdermabrasion. Nature Peel Microdermabrasion uses soluble, non toxic salt crystals drawn over the surface of the skin to act as a gentle natural abrasive to remove the dead dull top layers of skin cells, thereby accelerating the renewal cycle of the skin. The treatment leaves skin fresh, bright and youthful, with a smoother appearance and natural glow – often seen in younger skin.
Nature peel effectively treats lines and wrinkles, acne, scarring, hyperpigmentation, mature stretch marks, poor skin tone and texture.
Mechanical Microdermabrasion on the other hand, exfoliates the skin using fine metal particles on the handle tips which will remove dead layers in back and forth movements on skin surface, and then the layers will be sucked into the filter bottle by vacuum. Cold and hot hammer is usually used to open the pores, activate the cells before some kinds of operations and calm down the skin and shrink pores after.
Diode Light Therapy
Diode Light Therapy is an anti-aging, rejuvenating and healing treatment which harnesses the positive effects of both red and blue light to replenish and repair skin cells. The RejuvaLight on offer, provides a safe painless treatment, which is easily administered, non- ablative, non-thermal and non-invasive. It is ideal for combination therapy and an affordable treatment for all skin types. At Apples and Oranges, we use an instrument combining red and blue light emitting diodes, the Rejuvalight provides specific wavelengths and can be part of a strategy of combined therapies to achieve desired results. Specific light wavelengths stimulate the regeneration of elastin and collagen fibres to tighten sagging skin and reduce the appearance of wrinkles and scar tissue.
Light emitting diodes (LED's) are now at the forefront of aesthetic dermatology. The advantage of using LED's as the light source is that they produce no heat and is therefore "kinder" to skin tissues. The treatment of acne vulgaris, pain management, wound healing, rejuvenation of photo-aged skin are being enhanced by the use of specific wavelengths delivered by LED's.
Skin Analysis
Skin Analysis is carried out using the VISIA technology. Using the breakthrough innovation of digital skin analysis, we can customize a skin care program just for you. Targeting problem areas on your skin, this multi-dimensional imaging system is the first tool to provide precise measurements of skin irregularities and pigment conditions.
VISIA's photographic technology can capture key visual information to analyze eight areas that affect your skin's health and appearance, including skin tone variations such as surface pigmentation, wrinkles, texture, pores, UV spots, inflammation/redness, photo damage (typically from the sun) and Porphyrins (evidence of bacteria)
The Visia analysis is an easy and painless process that will take just a few minutes to capture your images. Once the skin consultation and review of the Visia results has been completed, we will then focus on your specific problem area(s) and develop a treatment protocol specific to your skin and your goals. Your images are stored in the Visia database for comparison from session to session so we can evaluate the effectiveness of the treatment program selected.
14 in one Facial Machine
This treatment includes but is not limited to Diamond Microdermabrasion, Galvanic, High Frequency, Massage Brush with Natural Bristles, Vacuum Extractor, Spray Diffuser, Ultrasonic Massage (Sonophoresis), Hot and Cold Hammer, Ultraviolet Sterilizer Cabinet, Hot Towel Cabinet, 5x Diopter Magnifying Lamp, Herbal Aromatherapy Facial Steamer and Wood's Lamp Skin Analyzer.
Permanent Hair Removal – IPL
The Intense Pulsed Light is a technology aimed at producing light of a high intensity in a short period of time. The light emitted during the flash is absorbed by the melanin contained in the hair follicle, which is then converted in thermal energy. The heat produced will then destroy the hair by cauterizing the vessels connected to the base of the hair, causing falling out of the hair, which never grows again.
As far as hair removal is concerned, the most important part of the hair is its pigment, the melanin, which gives the hair its color. There are as many pigments as there are individuals. Every pigment type requires a certain wavelength of light. Contrary to the laser which produces a monochromatic light (single wavelength), the flash lamp produces a multitude of wavelengths. This allows many different hair pigments to be targeted by one pulse of light.
Capsule Treatment
Our capsule treatment is a Multiple Therapy System which cleanses skin and beautifies complexion. It reduces water retentions and enhances detoxification, accelerates blood circulation, promotes metabolism and anti-aging. The treatment soothes sore muscles, increases metabolic rate and rejuvenates the entire body systemically. It's a steam/sauna cabin with medicinal bath as an option for weight loss using herbs available in Nigeria. Settings can be made to undertake aromatherapy bath.
Signature Facial Treatments
Oxygen Therapy: Oxygen Therapy is used to renew the skin, through the high-pressure separation system, a 98% pure oxygen is infused so that oxygen molecules and biological role of pure sodium chloride molecule for skin remodeling the new environment, and mixed for 5 – 200um of water oxygen molecules, with special designed nozzle spray gun, so the speed of 200m per second injection to the skin, the epidermis or dermis layer, make the skin very rapidly and absorb nutrients, increase skin cell activity, for the skin to add moisture and stimulate collagen regeneration, re-arranged increase in the number instantly loose skin, wrinkles are taut.
Main Application: Hydration, oxygen injection, oxygen mask, oxygen peel and bio skin care.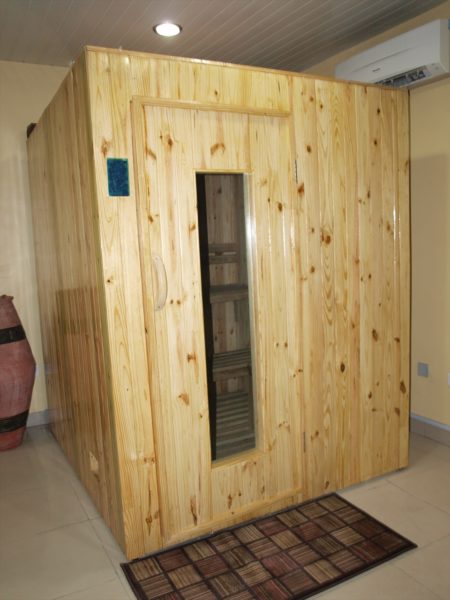 Medi Spa
The dermatologist will explore your concerns and expectations, make a full assessment of your medical history (past & present), including current medication, to ensure that treatment provided is suitable for you. This will include a computerised skin analysis (skin check) using our imaging system which demonstrates the condition of your skin by assessing the following key elements;
Surface spots
Sun damage
Hyperpigmentation
Red areas
Wrinkles
Skin texture
Pores
Skin's bacterial status
At the end of the consultation you will be given a treatment plan/advice as well as an easy to follow home care routine. At Apples and Oranges we believe it is important to have a computerised skin analysis (skin check) carried out yearly to track progress.
Our UK Trained dermatologist from the Steiner beauty school in London with various hospital rotations in General Medicine, Dermatology, Psychiatry, Accident and Emergency, Medicine for the elderly and Obstetrics & gynaecology will be available to undertake medi spa services such as botox injections, Derma Fillers, Mole assessment, Skin peels, medical acupuncture, light therapy, Acne and Anti-aging treatments and more
Services that also require pre booking are Teeth whitening and Physiotherapy.
Events and Specials
Grand Opening: On Saturday 4th August 2012, Apples & Oranges Total Body Therapy will have its Grand Opening. The event promises to be fun from beginning to the end with loads of activities, free services, entertainment and freebies. Nigerian R&B singer Obiwon will also be present at the grand opening to thrill you with all his melodious songs as you sip on refreshing glasses of wine. Admission is free for all.
Referral Program: N200 will be credited to your account when your referral guest checks out from their first visit at Apples and Oranges. The guest must write your name on their client profile for proper credit to be given. No retroactive referral credit will be given.
Reward Program: Experience 5 services and get the 6th FREE! Please ensure your reward card is stamped and information updated on our database.
Birthday Reward: Register your profile on our database to receive a gift certificate and spoil yourself at our cost.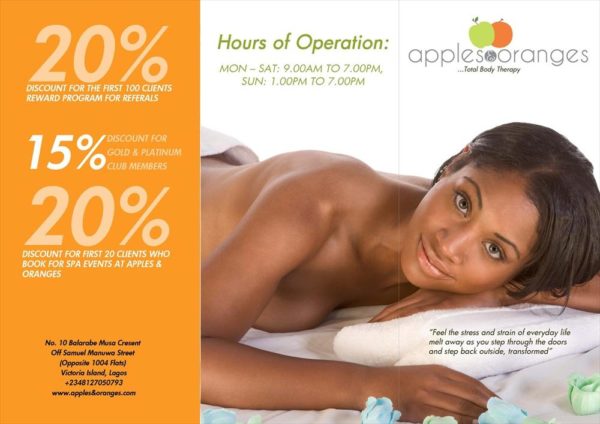 The Apples and Oranges Club Membership
In appreciation of our loyal guests, we created The Club at Apples and Oranges for a spa membership program designed to provide valuable savings to guests who visit Apples and Oranges most often.
Join and Save Today! Now you can experience the health benefits of the spa at a fraction of the cost. With a Apples and Oranges Spa Club Membership, you can enjoy the endless therapeutic and stress relieving benefits of spa treatments as often as you would like. More information available during your visit.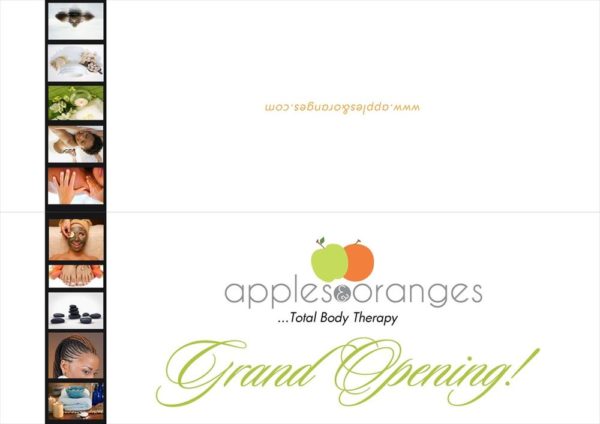 Contact: For more info and general enquiries;
_____________________________________________________________________________________________
Advertorial – Sponsored Content