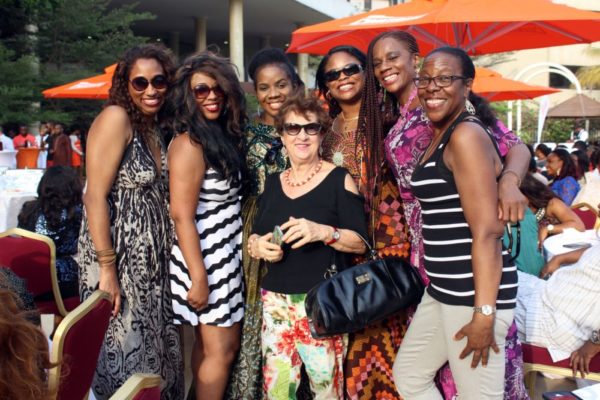 Eko Unisex Salon & Spa – the Beauty and Wellness location operated by Apples and Oranges Total Body Therapy, was launched at Eko Hotels & Suites on Sunday 18th January 2015.
The event, which was held by the poolside  of the hotel, was attended by dignitaries from a cross-section of society, from Eko Hotels VVIP guest list, bank managing directors, business owners, top professionals and expatriates, who had fun mingling, dancing and enjoying the ambiance.
Guests were entertained by guest artists Nikky Laoye, Obiwon, Yhumie & Platinum Blazers to which they danced the evening away. The cocktail event, co-sponsored by Cointreau, was charged with lively music, talks on fitness and wellness by Vivian Oputa before guests were led to the indoor area for the the official opening via the cutting of the ribbon. The spa was officially declared open for business!
Speaking at the event, General manager of Eko Hotels & Suites, Danny Kioupouroglou said the hotel is pleased to offer a holistic hospitality experience.
Earlier, Vivian Oputa spoke on the need for regular exercise, in addition to drinking adequate water and taking balanced diet for proper body fitness. She noted that the Eko Spa, apart from being well equipped to meet the needs of customers in the business of beauty, fitness and wellness, was also an approved center for therapeutic products from Biologique Recherche Skin Instant Lab.
Queen Ahneva, on air personality at Classic FM, who also spoke at the event, admonished Lagosians to take time off from the 'hussle and bussle' of the city life and give themselves a good treat.
Inside
More Fun & Games!
The event was spiced up with complimentary services for the first 20 guests, canapes , free skin consultation and prizes via a raffle draw, which included a trip to Dubai, just as promised.
We see Uti got into fitness mode at the event.
______________________________________________________________________________________
Sponsored Content