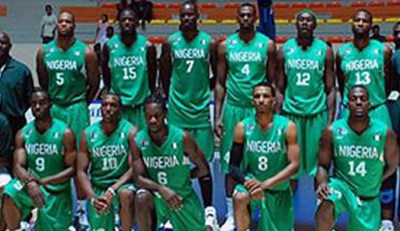 The Nigerian Basketball team D'Tigers  will today play against world Basketball champions from the United States of America at the London 2012 Olympic Games. This by all indications is going to be one of the most challenging games for the team.
Nigeria is making its first appearance at the Olympics in Basketball, whereas, the United States team has won 12 gold medals out of the 15 Olympic basketball competitions in which they've participated.
Nigeria pulled off a 60-56 win in it's first game against Tunisia on Sunday and followed up with a less favorable result against Lithuania, losing 72-53 on Tuesday.
Despite this, D'Tigers are still optimistic about today's game.
Coach of the Nigerian team, Ayo Bakare told Punch "You can bring on the US now. We know whom we are playing and we are taking it in our strides. As long as it is going to be five players on five players all through then we shouldn't have any worry."
Although D'Tigers would be coming up against world basketball stars like Kobe Bryant, LeBron James and James Harden, the Nigerian team also boasts of players like Al-Farouq Aminu, Ike Diogu and Olumide Oyedeji who are, or have been, employed by NBA teams, along with a host of others who played college basketball in the States.
Ike Diogu, a former top-10 NBA draft pick who has played 225 NBA games told the AP  "We will not be intimidated by those guys. A lot of us went to school in the U.S. and have played against those guys. We have no reason to feel overwhelmed."
Tony Skinn agrees saying "I mean, listen, man, I've been playing ball for a long time. At some point in time, I played against those guys or seen those guys play. A lot of us, obviously we're Nigerians, but we play in the States and I don't think we have that mentality to just come in the game and just, you know, get our (butts) whooped."
The game will start by 10.15pm tonight, Thursday August 2nd, 2012.
NIGERIA'S ROSTER
Guards: Tony Skinn, Derrick Obasohan, Richard Oruche, Ade Dagunduro, Chamberlain Oguchi
Forwards: Ike Diogu, Al-Farouq Aminu, Kiki Archibong, Ekene Ibekwe, Ejike Ugboaja
Centers: Olumide Oyedeji, Alade Aminu
USA'S ROSTER
Guards: Chris Paul, Kobe Bryant, Deron Williams, Russell Westbrook, James Harden
Forwards: LeBron James, Kevin Durant, Carmelo Anthony, Kevin Love, Andre Iguodala
Centers: Tyson Chandler, Anthony Davis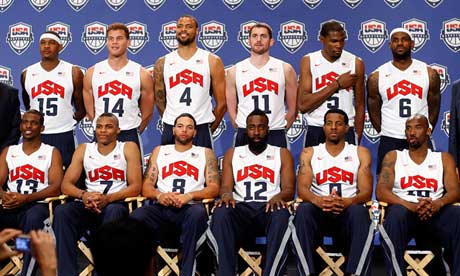 I just love the optimism of the Nigerian Team.
So guys, what do you think? What are your expectations for the game?
Photo Credit: CBS Sports | Game