BN Cuisine With Chef Fregz: Digging Into the Archives for Bella Bella
Salut A Touts!
As usual my week has been crazy especially with the planning for the last edition of Chef Fregz Special this month. I hope you had a great and fulfilled week so far. Thank God its Friday!
While planning today's post I wanted to do something in the spirit of Chef Fregz Special coming up I'd share one of the recipes from the second edition of the Special at CafeLicious,
Bella Bella is delicious creamy chicken pasta with vegetables and it's relatively easy dish but the twist is in the making of the roux.
I used shell and elbow pasta so it soaks up a lot of the creamy goodness in the holes and crannies of the pasta. Where you can't find the shell and elbow pasta, you can also use farfelle or "bowtie" or any pasta that has curves and crannies that can take up the sauce. If you have linguine pasta or a wider one like fecctune it's ok to use it. Please note that fresh cracked black pepper is an essential element of this dish as well.
This is the recipe below
Pasta
1 cup elbow pasta
1 cup shell pasta
1/2 cup bowtie pasta
Roux
50g butter
50g flour
1 glass white wine
1 cup full fat milk
1/4 cup cream
Garlic to your taste
1 onion finely chopped or finely ground
1 large Green Pepper (medium chop)
Carrots chopped semi finely
Spring onions finely sliced
1 tablepsoon Parsley finely chopped
few parsley sprigs for garnish
Salt and freshly cracked black pepper to taste
How To
In a deep pot, place some water to boil and sprinkle some salt.Gently place the pasta in and cook according to packet instruction, then drain. Keep the pasta warm and reserve some of the cooking water to help separate it when it sticks together.
While the pasta is cooking, you can start making the roux. In a saucepan, put the flour and butter and use a whisk to stir around till the flour and butter start to dry out and look like mass lump or crumbs then add the wine and cook for half a minute. Gently work in the milk a little at a time. The mixture will thicken as you cook it. Add all the milk, the ground onions and garlic and leave to cook out on a low heat. Confirm that it's done by tasting that the raw flour taste has been eradicated. At this point add the cream and stir till mixed through and set aside.
In a hot pan, sear the chicken cubes you've made on all sides for about a minute and set to one side. the same pan use to stir fry all the vegetables in that pan. Turn off the pan and add the vegetables and chicken to the pasta and pour the cream sauce you've made and mix everything through. Finish with a sprinkling of parsley and a spring for garnish. At the end you may want to indulge more and grate over some parmesan or whatever cheese you fancy.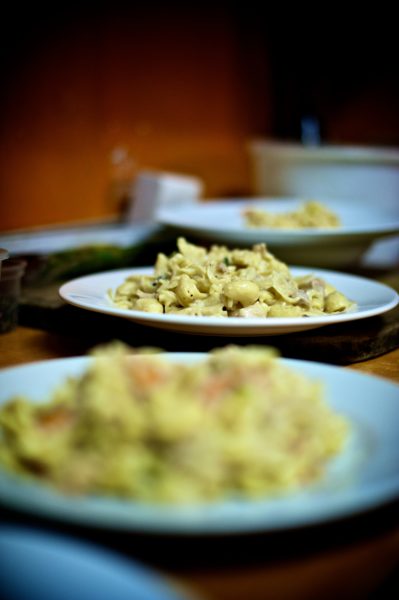 This recipe also works if you add some shrimp marinated in garlic/celery salt at the mixture to cook stage. Chicken shrimp pasta are friends!
Please try this recipe this weekend of a loved one or your enemy send me the picture:  features(at)bellanaija(dot)com.
This is a recipe that's homey and plain delicious. Remember recipes are guidelines use your intuition and discretion when cooking.
So let's talk about next weekend! I really look forward to seeing your beautiful faces at Chef Fregz Special on the 30th! It is brought to you by Galant Wines; makers of Fine Chilean Wines. All Wines are 50 percent off! So come wine and dine at a bargain. I recommend the Sauvingon Blanc with the Prawn Dish it's cooling for all that Spice and the Merlot for the Steak dish.
This edition of Chef Fregz Special is also supported by DemiladeR Photography, EgofixTv and NACK clothing.
The menu for this edition of Chef Fregz Special
Alhaji Alhaji
Chicken Breasts brined with Suya Pepper Breaded in Rice flour and more. Suya Pepper nestled between crisp. Lettuce, Fresh Tomatoes,Cucumbers, Topped with a Spicy Mayonaise all pressed together by a Soft Brioche Bun. Served with Potato Crisps. – N3000
Like to Party
A fusion style noodle dish. Spicy Prawns in a Spicy Pesto Sauce served with Spaghetti Finished with a julienne of fresh vegetables. – N4000
Bad Pass Tony Montana
Juicy T-Bone Steaks Marinated with. Rosemary Black Pepper and Basted with a Rich Whisky BBQ Sauce. Served with. Homemade Fries and a Salad. – N3500
How Deep is Your Love?
An Decadent Orange Flavoured French Toast with Fresh Cream and a Warm Orange Liqueur Caramel Sauce – N1500
Brown Sugar
A Malted Milk Biscuit Icecream With a Vanilla Cream Cake Roll – N1500
_____________________________________________________________________________________________
Fregz loves to cook! He is a graduate of Le Cordon Bleu Paris Culinary Arts School in France and hosts monthly "Chef Fregz Specials" where he whips up a yummy menu with a different theme each time then everyone enjoys a taste.He also caters special events and private dinners. To find out more, visit theskinnychefthatcould.com