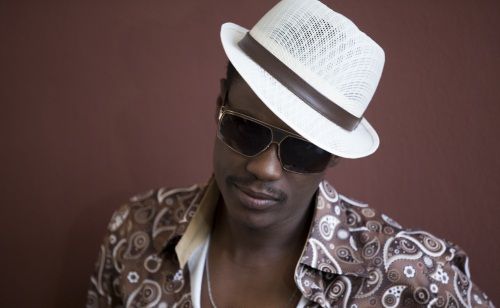 Olanrewaju Fasasi, popularly known as Sound Sultan is one of the pioneers of the new generation of music artistes in Nigeria. The Geography and Regional Planning graduate from Lagos State University delved into his music career 12 years ago shortly after completing his studies and hasn't looked back ever since.
He is a United Nations Peace Ambassador and has five successful albums to his credit. Also known as Naija Ninja, Sound Sultan's long career has produced a number of hits. From 'Jagbajantis' to 'Prayer' to 'Orobo' and more, he has delivered over and over again. He has also featured on some massive collaboration such as 2face Idibia's 'Enter The Place' and Chidinma's 'Jankoliko' amongst others.
In this exclusive interview with Bellanaija's Adeola Adeyemo, Sound Sultan speaks about his career, his family, his expectations and the experiences he has gathered over the course of his career.
Tonight, September 15, 2012, Sound Sultan would be celebrating his 12-year music career in a highly anticipated concert scheduled to hold in Lagos. The build up to the concert gave me a chance to meet with the well respected music star. I got to his rehearsal venue at Eko FM Studios in Ikeja, earlier this week to meet a flurry of activities but before rehearsals began properly for the day, he took time out to speak with me. He was real, down to earth, and his infusion of jokes and Pidgin English made it a thoroughly interesting interview.
Hi Sultan, it's good to see you. How is the preparation for your concert going?
Great, I've been working tirelessly for months. Right now it's getting more intense but we thank God for everything.
The Early Years
You've spent 12 years on stage. That's really impressive. How has your journey been so far?
I must thank God first. The journey would not even be there if there was no life, no good health, no hope, no voice to listen to. First and foremost, the journey for me is growth, the experience is life. Along the line, I lost my parents and I had to pick myself up. It's just like a soap Opera; there were down sides, there were very interesting times. I got married and had lovely kids. For me, I'd just say it's something worth celebrating.
Why 12 years? What is significant about 12 that you feel the need to celebrate now?
Even if its 12 seconds, you have to celebrate. People ask me why it's 12 and not 10 but I tell them, I don't follow the crowd, I just do what comes to my mind.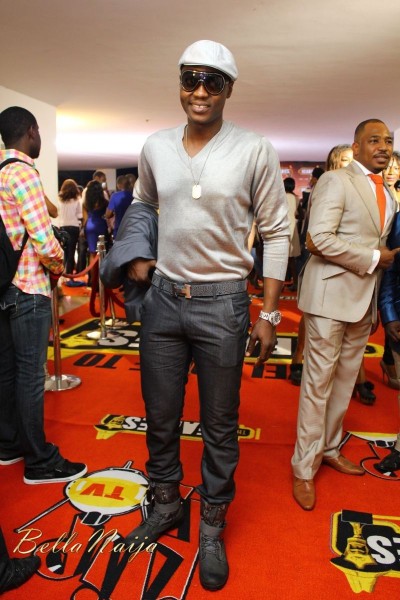 You've spent a long time in the music industry. Some people come in and we hear of them for a few years and they fade out but you've been there for over a decade. What has kept you for so long?
If I know the remedy, I won't be here trust me. Na people wey know too much na dem dey fail (It is people that know too much that often fail). It's been God really. Put God first and always stay humble. When you are too heavy weight on yourself, you will fall fast. But when you are light on your feet and your head, everything is weightless.
Take me back to the beginning of your career. What were you doing 12 years ago?
I was still hustling. I had just finished NYSC so I was hustling to get some deals. I was recording a Demo at this same Eko FM Studios. I used to sit down here everyday from morning till evening, cold will catch me, and they won't answer me. I would sit and wait for so long but luckily after a while, I struck a deal with the person in charge. I wrote two songs and got a free rehearsal session which I used with my band and then recorded it on tape.
Oh, the cassette era. Tell me more about that period.
That time we were using cassettes and the best then was Maxell. I'd say "please o, record it on Maxell so e go clear well well". After then I took the tape and started performing with it at shows. At a point, they stopped using tapes, they started using CDs so that transition was another challenge for me. I'd go to shows and they'll tell me they don't use tape players so I can't perform.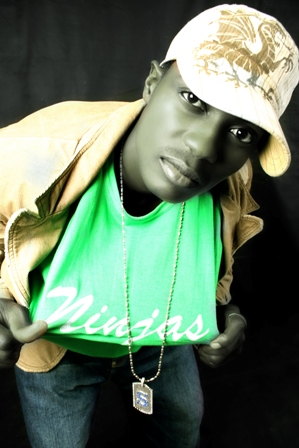 How did you make the transition from Cassettes to CDs?
One day, I met Jimmy Jatt and over time he became a big brother to me. He told me he loved one of my songs and he took my tape and dubbed it on to a CD for me. That is why I always shout Jimmy Jatt's name anywhere because he gave me my first CD. This was around 2000, 2001.
The way you talk about your early experience, it sounds like it was really tough. Despite that, what was the attraction for you. Was it probably fame or money?
Back then money won't attract you, trust me. You might want to get by but not the flashy kind. It was the flair for me. I loved music, we had music all over us in the family. My brother Baba Dee had already started his career and I knew that I could do it too. That is why I really started. I am more of an introvert but when I get on stage, I have this split personality I could work with.
What is the difference between the kind of music making waves now and that of 12 years ago and how have you been able to move with the flow?
Back then it wasn't more of hip hop, it was more of Reggae and traditional music. Now, Reggae has been played to the rear by Hip Hop, R&B and Afro Hip Hop. The good thing is I was able to move with the transition and I was able to write music just for the fun of it. I could write Reggae, Rap, R&B, anything.
With internet and modern technology, would I be correct to say it's now easier to get your music out there than before?
Even to use email address at that time, you had to go to a Cyber Café and somebody would have to open your email for you. I remember, the attendant would say "type your password" and would look away for you to type it. But now, from the comfort of your toilet, you can get access to new music. So it's much easier for people to reach out to the world and spread their music.
Speaking about your music, you've released 5 albums so far. Which has been your favourite or most successful from your own point of view.
It's always my latest album at that time I'd call my most successful.
You recently released a video of a song, People Bad which you featured Wyclef Jean. And this is not the first time you've worked with him. How did you come about working with Wyclef?
Wyclef is someone I respect a lot. Even before I met him, I used to say if Wyclef ever came to Nigeria, I'd make sure I work with him. He came in 2004 and he saw a few artistes that he liked and he called us to come into the studio to work with him. He and his sister told me I looked like his cousin and they put me on the phone with their Mum and said "Mum this dude looks like…". We stayed in touch even after the record was released. When he came back in 2008, we recorded my own song, King Of My Country. The first one we did was his song. After that, we recorded another song in Kenya, People Bad.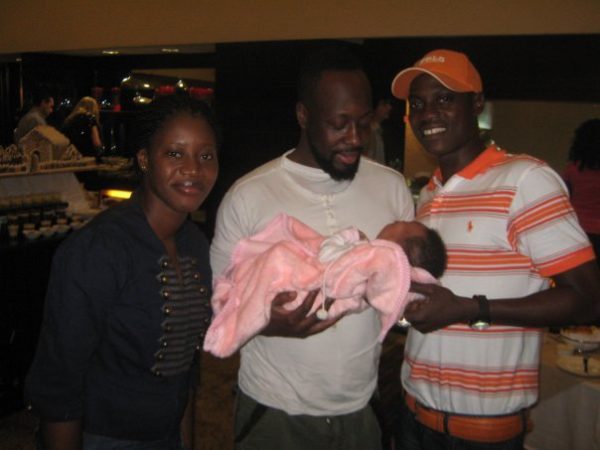 Family
Let's talk a bit more personal. You are married with kids. How have you been able to strike a balance between your music and your family commitments?
Unlike the cliché notion that when you get married, your family will spoil your market, that is very wrong. As far as you can keep your family off the Paparazzi radar, that is fine. Let your family be your family and let your business and paparazzi life be totally different. If you can strike that balance, then it's OK. To me, my family is my cushion from all the stress I face with work.
How many kids do you have and how old are they?
I have two. My girl is 3 and my boy is 1.
They must be a handful. Tell me something interesting about your kids.
They are very interesting, trust me. My daughter is 3 and she can play with instruments. When she touches them, she always brings out good rhythm. She is very funny, you'd know she's a funny human being already. She is never shy. She gave me an inspiration to one of my song and we created the dance together. My little son is a comedian, I already know that.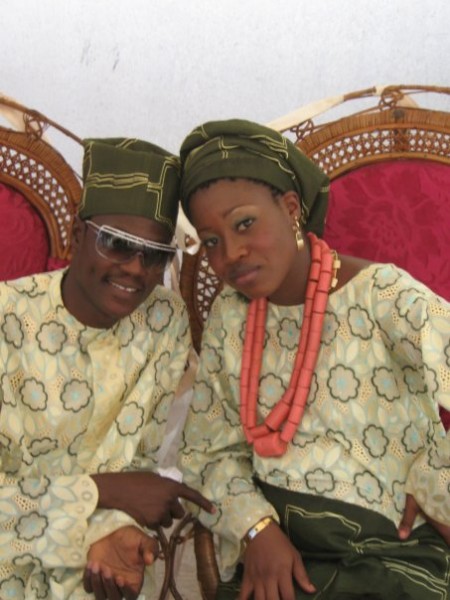 You tend to keep your family away from the media. Ever since you got married, I haven't seen any pictures of your wife splashed on the internet or magazines. Is this deliberate?
My wife is just like that, she doesn't like all this publicity. If you want to snap her picture, she'd cover her face and say "oya snap now".
It was reported in the media around the time you got married that she converted from Christianity to your religion, Islam. Was this her decision and would you still have married her if she didn't convert?
Oh yes, love is strong. My wife is someone that follows her mind. She loves Islam, she loves everything about it, the way of life, the belief. You see, we don't have to look at religion in a manner of dividing ourselves. It concerns me a lot the way people regard religion. It's just a way of trying to divide already without knowing what kind of person he or she is and what the person can do to you or for you positively.
I agree with you on that. But it's rare to see people change their religion for their spouses. Has her conversion ever been an issue in your marriage?
No, never ever.
That's great. So tell me Sultan, what else do you do apart from music?
I also do music. That is to tell you everything I do is music.
With all due respect, having had a long career, many would have expected you to have more international recognition, awards and endorsements by now. What is your take on this?
I tell people when they ask me such questions that of course I've gotten some recognition. I'm a UN Peace Ambassador, Oxfam food ambassador and I'm OK with it and that is the kind of value I want to add to people's lives. I'm not really the Glitterati kind of person. When you choose this kind of course in your music career, singing against the ills of the society, you shouldn't be too popular. For me to be this commercial and singing about societal ills, I think I'm very lucky. For me, I'm enjoying myself.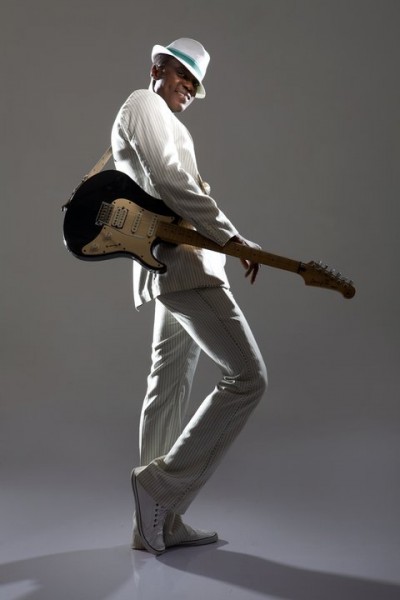 And Pause! Phew! Just when I was really beginning to enjoy our chat, he gets whisked off into the hall for rehearsals. "Come inside and enjoy the show," he says. "I'd take a break soon and we can continue." I was reluctant but I hadn't finished my interview so I had no choice but to wait. And I didn't regret it. I got a preview of the performances for tonight's show and with the Crown Troupe of Africa infusing drama and comedy into almost every song, I had fun time almost forgetting that it was a work day. I didn't realize when the minutes turned into a couple of hours. Within that period, some of the stars performing at tonight's show stepped in to rehearse with his live band – elDee, 2face Idibia, Adewale Ayuba, Tiwa Savage, Timaya and Yungsix. I particularly enjoyed the part where he sang some of his older songs and I found myself singing along. By the time he was able to take a break, I had a different set of questions for him.
12 Years On Stage Concert
While watching your rehearsals, I noticed you paid tribute to the late Fela Anikulapo-Kuti and sang one of his songs. Is he one of your musical influences?
Oh of course I'd say a big yes. He is someone a lot of artistes idolize and we'd never be ashamed to say "we dey copy am"(we are copying him).
I also noticed that you're going to perform most of your songs live as opposed to many artistes who just mime their studio recorded songs.
I started off with a live band. I can't mime at my concert.  It is like I'm short changing my audience. You say a regular seat is N5000 and you want them to pay that kind of money to come and hear you mime? That is fraud. I believe I have to give them more than what they hear on TV. They could have just played my VCD at home.
I've seen a lot of comedy and drama infused into your songs with the performances by Crown Troupe of Africa. Why do you perform with them?
My kind of music is Satire. It is a musical. This is what they do on Broadway. We've been rehearsing for four months. Segun Adefila is the leader of Crown Troupe and he is a very fantastic person. We were together on Campus Queen.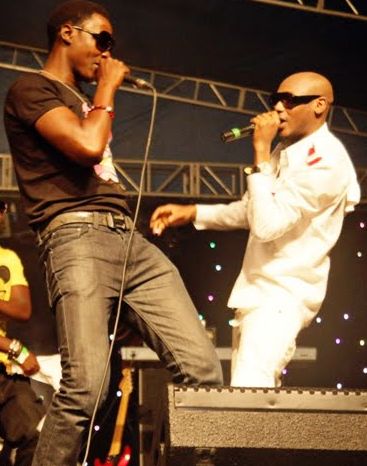 It's good to see 2face Idibia at your rehearsals. I notice you guys have been friends for quite a long time. Tell me about your relationship?
2face is my brother. I get all emotional when I talk about that guy. I think he was supposed to be my blood brother. We are very alike in different things so we always blend well. For more than 12 years we've been close friends. We've shared our griefs, our triumphs. Our families are very close. He is a very humble person, very witty. I like it when you don't have to be too serious and up tight and 2face does it with so much ease.
What are the highlights of the upcoming show?
I think it would be better for people to decide what their own highlight is. That is why we have a lot of highlights.
Are you going to be releasing a new album at the concert?
My album is dropping on the 1st of October, 2012 so you gotta go get my sixth album. It's called "Me, My Mouth & Eye".  Anything my eye see, my mouth must say am. I won't release it at the concert but the concert would usher it in and I'd be performing some new songs from the album.
Looking ahead, are you still going to be doing music for a long time?
I enjoy it. That is the first thing, you should enjoy what you do. And I have a lot of people coming up under Naija Ninja. I have Karma, Yungrace, Sean. I brought in Seyi Shay from the United States. She is with Flytime now and she is my protégé. She used to be with Beyonce's dad and it's a big deal to mentor such a person. She is so vast. I want continuity. I won't be here forever so I'm mentoring younger artistes now.
Having come this far, would you say you are fulfilled?
I'm always fulfilled with everything about me. Na only fool wey no dey get filled, because him be fool. (It's only a fool who doesn't get filled because he is a fool).
It was great chatting with Sound Sultan and from Bellanaija, we wish him the very best! After my interesting sneak peek, I'm sure you know where I'd be tonight *wink*.
Sound Sultan feat. X'Cel 'Orobo'

Sound Sultan feat. 2face Idibia & W4 'Bush Meat'