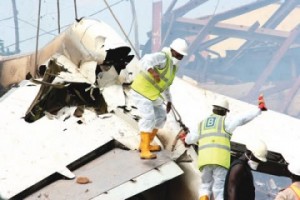 The Coroner's inquest into the cause of June 3, 3012 Dana Air Crash in Lagos which claimed the lives of over 150 people has been suspended and postponed indefinitely.
This development comes following a suit challenging the powers of the coroner to investigate deaths arising from aviation accidents.
The coroner's jurisdiction in the matter is being questioned by a Non-Governmental Organisation, 'Civil Aviation Round Table Initiative' and its President, Captain Dele Ore.
Their counsel, Dr. Joseph Nwobike, a Senior Advocate of Nigeria, stated that the deaths which occurred from the Dana Air crash of June 3, 2012 was not such "that falls within the contemplation of Coroners' System Law of Lagos State, 2007 in particular Sections 14 and 15 thereof."
In his statement, Ore accused the coroner of delving into technical issues relating to the crash and prayed the court to stop the proceedings of the inquest and nullify the steps taken by the coroner to invite witnesses to testify or give evidence. He added that the coroner had also wrongfully ordered the Accident Investigation Bureau (AIB) to produce the crashed plane's Black Box and Technical Log Book.
According to him, investigation into such technical issues should be better left to "the experts in aviation technology that apply scientific investigation techniques that can ascertain the probable or exact cause of each air crash," Daily Times reports.
In July 2012, a preliminary report of the Dana Air Crash was released stating that the pilots of the ill-fated plane noted problems with the engine 17 minutes after takeoff in Abuja among other things.
As the family and friends of victims of the crash await the report of the inquest, it must be sad to hear that it has been suspended. But if the reasons for the suspension are in the best interest of all, then it is hoped that the inquest is reopened soon enough.
The plane crash no doubt brings back unplesant memories. However, the reports of the crash is necessary in order to avoid a reoccurence of such fatal accidents.