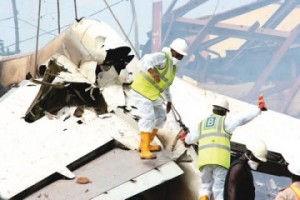 The wounded hearts are still bleeding and not being taken into consideration. Families had to wait for 2 and a half months before they were able to collect their respective corpse , due to the fact that a DNA testing process had to be done , this was also a very devastating period because it prolonged and delayed the healing process for the families involved. Most families are yet to bury their beloved ones and are still in the shock of it all.
These are the touching words of Obi Ajuonuma, son of NNPC spokesperson, Dr. Levi Ajunuma who died on the ill-fated Dana Air Crash of June 3, 2012 in Lagos. He has initiated a petition seeking to boycott Dana Airline from operating again in Nigeria.
On a website, change.org, his petition has already gotten 500 signatures. He is just one of the thousands of people protesting the lifting of Dana Airline's suspension.
Following the Federal Government's announcement yesterday of the immediate lifting of the suspension order on the operating licence of Dana Airlines, a slew of protests and petitions have greeted the lifting.
The operating license of Dana Airlines was temporarily suspended following the crash of one of its aircraft in Lagos, on June 3, 2012 which claimed the lives of over 150 people on board.
The Minister of Aviation, Stellah Oduah, in a statement released by her Special Assistant (Media), Joe Obi yesterday said that the government decided to rescind its order following the government's satisfaction with the air-worthiness of the airline after a rigorous technical, operational and financial audit of the airline.
Her statement was quoted thus: "The Federal Government has lifted the suspension of the operating licence of Dana Airline. By this development, Dana Airline is free to resume its normal commercial flight operations."
The lifting of the suspension came as a shock especially since the coroner's inquest into the cause of the death has not reached a conclusion. Also not all the families of the 153 victims who passed have not been paid their full compensation.
How do you feel about the lifting of Dana Airline's suspension? Do you think it was inconsiderate to the families to lift the suspension at a time like this? Would you fly Dana Air again?