BN Cuisine With Chef Fregz: The Sun Rises in the East
Sometime in 2011 I got a call form a marketing/event company asking me to do a job for a Guinness Nigeria and in a meeting I was with some other caterers. There was this pretty young and feisty lady who said she was representing an outfit called "Goat Hunters" . The name was oddly the only thing that kept me from embarrassing myself because I'd been staring. I thought "hmm interesting name". I asked her about the name and apparently they had been around for  28 years.
They specialize south-eastern cuisine. It was an interesting discovery for me because hitherto, the height of my knowledge of South-Easter cuisine was Nkwobi and Isi-Ewu. Meeting Chiz was a real eye opener and I was so excited at the depth of culture and the rich delightful secret that is deep down in the East.
After the gala, I decided to go find out more about Igbo food! They were  kind enough to give me access to their kitchen and sample and talk about the food they do.   In my life I had never experienced native food that looked so amazing and awesome. The menu seemed almost endless and the flavours were mind blowing. From the Ugba, to the native Jollof rice, some fish and off course the Isi-ewu I was in food heaven!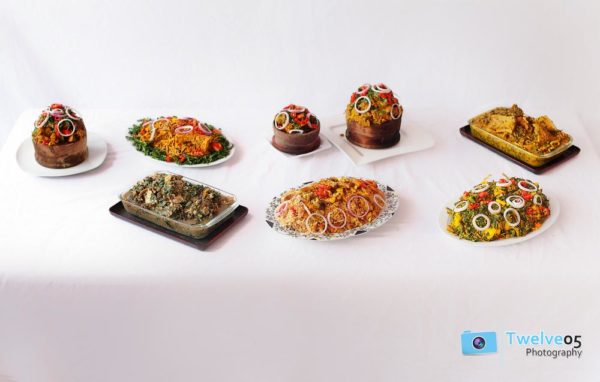 For the first time, I wasn't in the Lagos food trance of Egusi and Efo. My taste buds were taken on an exotic adventure into a deeply fascinating world. I travelled to the east and back without leaving my seat.
Nigeria is a country of diverse cultures and I'm certainly going to be exploring meals from other parts of the country and I'm hoping we can go on this trip together.  So if you have any exotic recipes from your part of the country please share it with us and we'd make it. There's really nothing as unifying as food and honestly in Nigeria today, I'm sure we can all agree that we need some Unity and Flavour!
Check out the pictures of my experience at Goat Hunters. I had a chat with Chizzy on the history of the restaurant, the different recipes and what made South Eastern Cuisine amazing. I'll put up the video of the chat as soon as I get it from the video guys.
Don't forget to share your recipes with me and I'll make it and share my version with you guys.
Have a flavour-filled weekend and make sure you try something different in your kitchen.
Ciao!
_____________________________________________________________________________________________
Chef Fregz loves to cook! He is a graduate of Le Cordon Bleu Paris Culinary Arts School in France and hosts monthly "Chef Fregz Specials" where he whips up a yummy menu with a different theme each time then everyone enjoys a taste.He also caters special events and private dinners. To find out more, visit theskinnychefthatcould.com