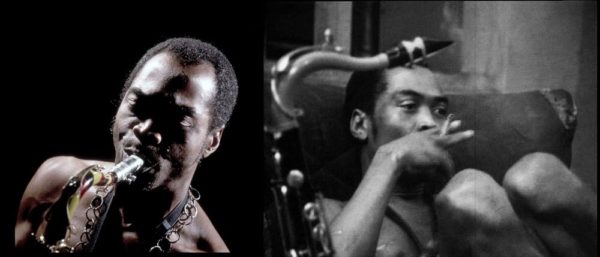 I would if I could hike the rungs of the tallest ladder. Heaven bound.
There, leaning against the pearly gates, saxophone strapped 'round his neck, joint smoldering between his fingers, head cocked to the side in coolness…the king of afrobeat. Fela Anikulapo Kuti.
But I can't so I shan't. So, I've written a letter.
Dear Mr. Anikulapo Kuti

Dearest Fela,

I suspect that God has you composing new tunes for the heavenly choir but I hope you find time to indulge in my letter.

Now it's been 15 years since you left us. Your legacy is stronger than ever.

Your house has been converted into a museum. It was inaugurated a few days ago in honor of your 74th birthday. I even read that the Lagos State Government provided $250,000 for the remodeling project. The Kalakuta Museum is at No 8, Gbemisola Street, Allen Avenue in Ikeja and by this time next year, I plan to be there.

I think it's a good thing, don't you? Kingston's got the Bob Marley Museum; Tennessee has Elvis Presley's Graceland, so I applaud the Kalakuta Museum. The global community recognizes your contribution to humanity and it's refreshing to see your legacy honored in Nigeria.

Dearest Fela, you were a grassroots pioneer here on Earth. You never backed down. How did you do it? The courage, no doubt, was passed down. Your mother, what does she think about the inclusion of her image on the proposed N5000 note? I watched your son Femi in an interview with the BBC. He said that in numerous encounters, you confronted Nigerian soldiers and police officers yelling: "Shoot me! Kill Me!" Maybe by then, you had been engulfed in the power of the name you had chosen. Anikulapo.

You know, yours is the kind of fortitude that people want today. Your other son Seun, an eloquent artist in his own right, embodies that fortitude with grace and dignity. The inspiration you give to advocates is clear. You know the Occupy Wall Street movement that emerged in 2011 in New York City, right? Some are referring to you as the "Original Occupy Wall Streeter."

And earlier this year, you must have smiled upon the thousands of "occupying" Nigerians around the world — Africa, Europe, U.S. — vocalizing their anger with the hike in fuel prices. Protesters chanted your lyrics in those rallies. One guy even marched the streets in Lagos stripped down to his underwear. Did you enjoy his impersonation? Some say that he misrepresented you, but I can address that in another letter.

Actors brought you to life in a Tony-award winning musical production. Since it's off-Broadway run in 2008, the musical has astounded people all over the world. Of course, I saw it. After its illustrious debut on Broadway in 2009, I boarded a plane to New York with one of my sisters. I'm a bona fide fan, dearest Fela. I had no choice but to see it.
Your influence in the music industry is still expanding and artists of my generation– Santigold, D'Angelo, D'Banj, Nas, Common, Beyonce, Questlove — express admiration for your musical ingenuity.

You are still the most intriguing and radical artist to come out of Africa and your continuing relevance is astounding. But your critics are still here, still speaking their mind, and they have the right to do so. Some say (perhaps you view them as westernized feminists) you degraded women and songs like "Mattress" and "Lady" exemplify the typical African male chauvinism that calls for women to just shut up and do as they are told.

I know some say you used juju and people like you are enemies of God. One pastor looked at me from head to toe when I said I love your music.

To be honest Fela, the summation of all the criticism I've heard comes down to this: You were a womanizing, sex addicted, patriarchal, misogynistic, juju- practicing, paradoxical, chauvinistic pothead who is rotting in hell fire. I'm sure you know all this, anyway. Reportedly arrested more than 200 times, beaten and jailed, you should be a thick-skinned kind.

But, you know what? I don't believe that. I don't believe that you are rotting in hell. I think you're strutting heaven's streets of gold, roaming in and out of the many mansions that Jesus said his Father has. I think you're engaging Dr. Martin Luther King in discussions about life under Jim Crow segregation and political oppression and pan-Africanism. I want to believe you are teaching those famous dead people from what you called "that stupid book, The Bible" how to dance to afrobeat. People like Mary of Magdala, Matthew, John, Andrew, Simon Peter, James, Philip, Thomas, Simon, Thaddeus, that other James dude, Simon, Paul, Paul's friend Luke and Peter's guy Mark. (Do you know where Judas Iscariot is?)

I believe you've dined in heavenly halls with Mohandas Ghandi, Joan of Arc, Harriet Tubman and Patrice Lumumba.

Dearest Fela, I pity those imposing a view that reduces your character to a womanizing, sex addicted, patriarchal, misogynistic, juju- practicing, paradoxical, chauvinistic pothead who is rotting in hell fire because no one is blameless. We are all conflicted personas housed in nuanced souls. And we are all here working out those complexities and inconsistencies that exist within us.

That's why, the mark you left on earth, especially in Africa, cannot be underestimated. Like Jesus Christ, you denounced oppression with an evangelical intensity. You were a tireless voice for the ailing masses of Nigeria's populace subjugated in a corrupt political system; for a people who had succumbed to a life of "shuffering and shmiling."

And you changed my life. Remember? My friend, the Liberian janitor who worked at the high school I attended, gave me that cassette tape. He knew I loved Miriam Makeba (how is she by the way?), so I went home and listened to Mama Africa. Then, one day, I flipped to side 2 and that's when I heard it: a feisty symphony of horns accompanied by clanging keyboard notes. And, the vocals: shrill female voices screeching a chorus with a soothing tenor, clear and powerful and sensual. From that moment, I was enchanted.

You became a sort of mentor-teacher and you never taught me nonsense because I took the doctrine I wanted from you and refused the rest.

Authority Stealing was the first track I'd ever heard from you. It was the song I repeated on my cassette player up to seven hours daily. Your music, your voice, your lyrics, the beats and multi-layered compositions did something in my body and I wanted to share that with the world.

So I ran to my dad to play the song for him.

"Yeah, that's Fela."

"Dad, you know Fela?!"

I began to research. I went to the local library and checked out all the books I could find about you. I read articles, looked for more music, stared at the archival footage. I wanted to know you. At 17 years old, I had fallen in love with you and the one-sided affair continued for years.

Guess what? I've introduced many people to your music and they are all fans now.
Fela, you treaded a path that few dare to take, a path where one battles government-sized monsters. And as long as we are fighting to overcome evil with good, to inject justice into corrupt bodies, I reckon God will be pleased. I reckon God Almighty is grooving in the underground spiritual game. I reckon the angels would say, "yeah yeah."
Photo credit: fyeahblackhistory.tumblr.com; www.lifo.gr
____________________________________________________________________________________________
Chika Oduah is a journalist who resides in New York City. Follow her on Twitter: @chikaoduah