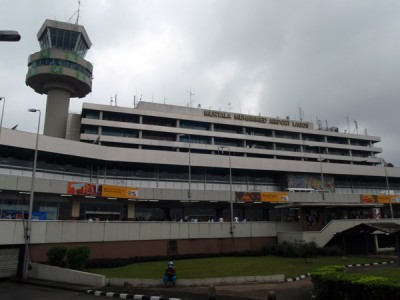 OK, now I have some good news for you which I sincerely hope will come to fulfillment very soon. After 52 years of independence, the state of our international airports is a total embarrassment which needs urgent attention.
The Minister of Aviation, Stella Oduah has disclosed that the Federal Government has  approved a sum of N106 billion, through the Federal Executive Council (FEC), to commence the construction of five new, world-class international airports.
Hmm, I like the sound of "world-class".
According to her, the first phase was to immediately give a face-lift to Nigerian Airports. This would commence with the simultaneous remodelling and construction of 11 airports across the country.
The second phase in the implementation strategy of the road map she said, would be the construction of five new international terminals in Lagos, Abuja, Port Harcourt, Kano and Enugu.
She explained that the FEC approved for the award of contracts for the immediate take-off of construction work on the terminals.
"Following the approval of FEC, we have concluded arrangement to commence construction of five brand new world class international airports. What we have today is not befitting of us as the giant of Africa", she told ThisDay.
She further disclosed that the contracts for the construction of the five airports have a life span of 24 months while the projects were to be executed with a concessionary loan of 22 years with 5 years moratorium at an interest rate of 2 per cent.
The minster added that she would soon return to China to sign a contract for the take off of construction work on the five new terminals.