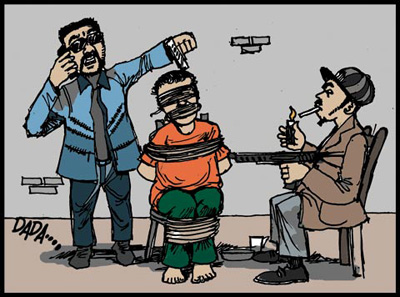 The spate of kidnappings in Nigeria has once again given the country an embarrassing reputation. Over the past few years, reported cases of kidnapping in the country has risen, with many cases remaining unsolved. In some instances, the victims are never found and the culprits are never apprehended.
The African Insurance Organisation (AIO), a non-governmental organization recognized by many governments has said that Nigeria accounts for a quarter of kidnap for ransom cases reported worldwide in the last one year.
The AIO disclosed in its newsletter at the 18th African Reinsurance Forum in Mauritius yesterday that Nigeria had been designated as the global capital for kidnap for ransom due to the huge record of kidnap cases reported in the country yearly.
In the report made available to Punch, the AIO stated, "The number of kidnaps for ransom in Africa continued to increase. In the first half of 2011, Africa's proportion of the global total increased from 23 per cent in 2010 to 34 per cent. Nigeria is now the kidnap for ransom capital of the world, accounting for a quarter of globally reported cases."
It further stated that kidnap and ransom insurance constituted the illegal taking and holding captive of an insured person and was triggered under the policy by a financial demand as a condition of the release of the captive.
Wow, what a reputation. It's really sad that Nigeria just seems to be getting these notorious recognitions. We are somewhere at the top of the list among the world's most corrupt nations. And now, we are getting recognized as the kidnap for ransom capital of the world. How shameful.