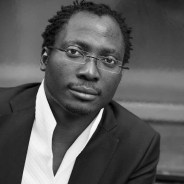 Some days ago, BN brought to you a story on the harsh reality faced by thousands of families living on the murky waters of Makoko slum in Lagos. The story which was inspired by a UK Daily Mail feature highlighted the difficulties of families fighting for survival on a sea of festering filth. The pictures showed the terrible living conditions the families have to cope with. And to compound their problems, they live in fear of having their homes demolished.
But in the midst of this despair, an architect, Kunle Adeyemi hopes to bring some light. He plans to build a three-story school out of 16 floating platforms lashed together, capable of holding 100 students and teachers in the iconic slum.
Mr. Adeyemi who works both in Lagos and in Amsterdam, Holland told Sun Herald that the project involves building the platforms out of locally sourced wood and empty plastic drums, then using wooded beams to build a structure that would have a common area for children to play on as its base, with two floors for classrooms above it. The building would also include bathroom facilities, something lacking in a slum where most relieve themselves by hovering over the water.
"If the people don't live here, they'll live somewhere else. What we're only trying to do is offer them a better solution," he said.
The school project will cost about $6,250, Mr Adeyemi said and has received support from international groups and government officials. One of which is Heinrich Boell Stiftung which is partnering with Mr Adeyemi's company NLÉ to make it a reality.
Curious to see what a floating school would look like, I visited the Heinrich Boell Stiftung website where I saw the confirmation of the partnership and a picture of the prototype of the floating school.
The Heinrich Boell Stiftung and its partner organisation NLE, led by the Nigerian architect Kunle Adeyemi, rather believe that people will cope better with the risks of erosion and flooding if they incorporate the water into their daily life instead of trying to dominate it. Just as the informal fishing community "Makoko", located in the lagoon waters of Lagos, has been doing it for over hundred years: It is a community without any government support or infrastructure, the traditional authorities are responsible for the social organisation of the over 100,000 members. They live in wooden houses on stilt, transportation is by canoe only.
Although the people of Makoko have their own schools, it is ill-equipped. Mr Adeyemi hopes that the floating school project would make the area less of an eyesore and would rid it of the constant smell of smoke and decay.
One of my major concerns was the risk of rising water levels and its effect on the school. However, the architect noted that "Particularly in view of climate change, there's a need to adapt buildings. We decided to use this as a prototype for developing something whether the water level rises or goes down, the building responds to that."
It would be such a relief to have improved educational facilities at Makoko.
Photos of the current state of schools and education in Makoko
Photos of the proposed floating school at Makoko
Photo Credit: Heinrich Boell Stiftung