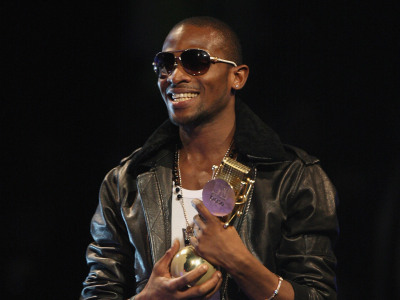 Nigerian superstar, D'Banj has been named the Best African Act of the 2012 MTV Europe Music Awards, having received the most votes from fans across sub-Saharan Africa.
D'Banj who has previously won Best African Act at the 2007 MTV Europe Music Awards, Artist of the Year at both the 2008 and 2009 MTV Africa Music Awards, and Best International Act: Africa at the 2011 BET Awards will now compete against India's Alobo Naga & the Band and Ahmed Soultan from the Middle East for the chance to represent the region in the Worldwide Act category.
The representative for the Africa/India/Middle East region will be announced on Tuesday 30 October, along with the other regional winners from Europe, Latin America, North America and Asia Pacific. These five regional nominees will then battle for votes for the "Worldwide Act" distinction, and the winner will be named at the show in Frankfurt.
Voting has already began on the official website www.mtvema.com.
The 19th  annual awards show will be broadcast live from Frankfurt on Sunday 11 November, 2012 and will be hosted by supermodel, TV host and entrepreneur Heidi Klum.
Here's how D'Banj was described on the MTV website:
D'Banj is a Nigerian singer and songwriter as well as harmonica guru. Winner of the 2007 Best African Act EMA, he brings Afrobeat into the 21st century.
Congratulations D'Banj!