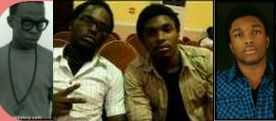 It was bad enough that there were gruesome photos going viral online to remind us about the murder of four undergraduate students of University of Port-Harcourt. Now, we hear that there is a video recording of how the boys were beaten to death and it just makes me sick to my stomach.
On Friday 5th October, 2012, the students were beaten to death by a mob in Aluu community, Port-Harcourt where they resided in off campus accomodation.  There have been several accounts of their offences. Some say the students were robbers, some say they were cultists, some say they were petty thieves, and some say they were innocent.
Regardless of what their crime was, the four young men, Lloyd, Tekena, Ugonna and Chidiaka were killed in a barbaric way and it is sad that some people stood by to take pictures and record the entire incident.  After seeing those pictures, I really don't have the nerve to watch the video but it pains me that there is actually a video somewhere of this sad event going viral on the internet.
However, the police in the police have arrested Aluu community leader, Alhaji Hassan Walewa and 12 other suspects including members of Walewa's family and some students of the institution, who lived off campus.
Punch reports that the state Police Public Relations Officer, Mr. Ben Ugwuegbulam, confirmed the arrests and advised students of the University not to take the law into their hands.
"Rivers State Police Command unequivocally condemns the gruesome killing of four UniPort students on October 5, by irate mob from Aluu community. The command sympathises with the families of the slain students and also appeals to them not to take the laws into their hands.  Students of the university are urged not to engage in any reprisal attack as such could lead to chaos and anarchy."
The immediate past President of UNIPORT's Students' Union, Mr. Rhino Owhorkire, also condemned their murder and expressed regrets that some students living within the community had also been arrested by the police.
"We totally condemn the act that was perpetrated by the Omokiri Aluu community. We ought to have gone beyond meting out jungle justice to anybody. They claimed the students were robbers, but nobody came out to say his property was stolen.
"We also heard that the students were cult members, who went to collect dues from other members. But the aggrieved colleagues decided to brand them thieves and this attracted some members of the community who killed them. We have been hearing a lot of rumours since the incident."
Although it's been a few days already, it's hard to shake off the sad feeling their death brings. What would be our definition of justice for these young men? To see their killers arrested? Killed? Sent to prison? The police must indeed continue with their investigations and bring their killers to pay for their acts, but somehow I feel that alone is not justice. Their deaths must serve as a reminder that we can't just take the law into our hands and murder people because we (and not the court of law) find them guilty of a crime. This sort of thing mustn't happen in our society again. They can't just die like that!
And for those who say they deserved to die in that manner because they were guilty, I say to them; if we as a society decide to see nothing wrong with jungle justice, one day, truly innocent people would be killed on the streets because we have accepted this barbaric kind of judgement.