Hello BellaNaijarians, happy Thursday!
BellaNaija Events is back again with this weekend's listing of the most buzzed about events and places of interests to be spotted with your loved ones. From Lagos to Abuja all the way to Asaba, Delta, BN has got you covered.
Sit back, relax, take a chilled drink and see for yourself events to head to this weekend.
Have Fun, Stay Safe and Keep on dreaming BIG.
Ciao!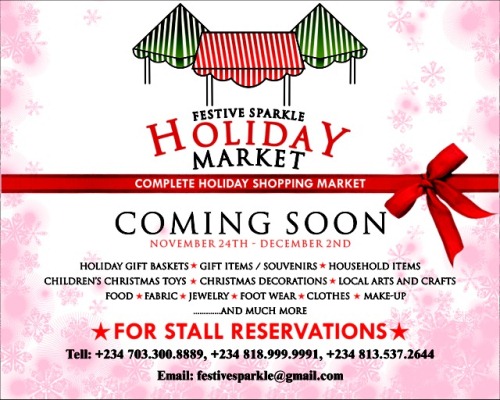 Festive Sparkle Holiday Market
Festive Sparkle presents its 1st Annual Holiday Market in Maitama, Abuja. The holiday market was created to usher the people of the city of Abuja into the spirit of the holidays and provide a platform to experience the opportunity of wholesale and retail shopping for their entire holiday needs.
Date: Thursday 29th November 2012 – Sunday 2nd December 2012
Time: 9:30 AM – 8 PM
Venue: Opposite Farmer's Market, Maitama, Abuja
Contact: For more info and general inquiries, call 08189999991 | 07033008889 | Add BB Pin 2A1E2AF6
________________________________________________________________________________________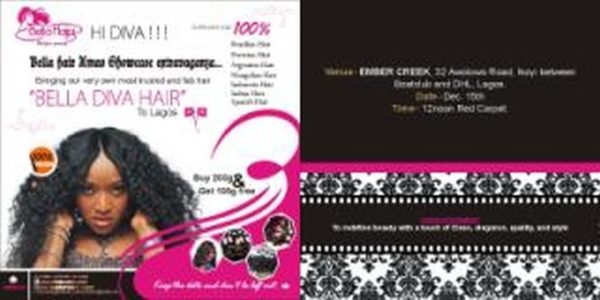 Bella Hair Christmas sales
Get ready Divas! It's the Bella Hair Christmas sales extravaganza – buy 200 gram and get a free 100 gram. Pick up your 100% Brazillian, Peruvian, Indonesian, Argentine and Mongolian hair, lace wigs, closures and invisible part.
Date: Thursday 29th November 2012 – Saturday 1st December 2012
Venue: METRO, 36 first ugbor Road, G.R.A, Benin City, Edo State
__________________________________________________________________________________________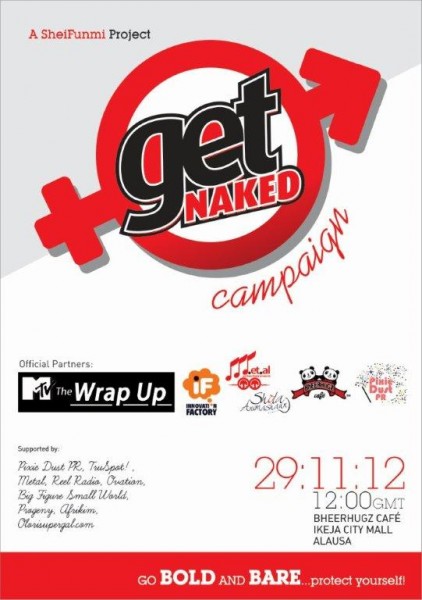 SheiFunmi Project presents the Get Naked Project
Get Naked is a campaign put together by media personality, SheiFunmi Yusuf to help raise awareness about the risks of HIV/Aids among teenagers and young adults. Tagged "Go BOLD and BARE….Protect Yourself", this event urges and seeks celebrities, top personalities and dignitaries that the Nigerian youth can identify with, to get naked in a photo campaign to encourage safe sex, disclosure and draw international attention to this disease through documentaries, TV shows and the print media. Dress code is red and admission is free for all.
Date: Thursday 29th November 2012
Time: 12 Noon
Venue: BheerHugz Cafe, Ikeja City Mall, Alausa, Ikeja
Contact: For more info and general inquiries, e-mail [email protected]
__________________________________________________________________________________________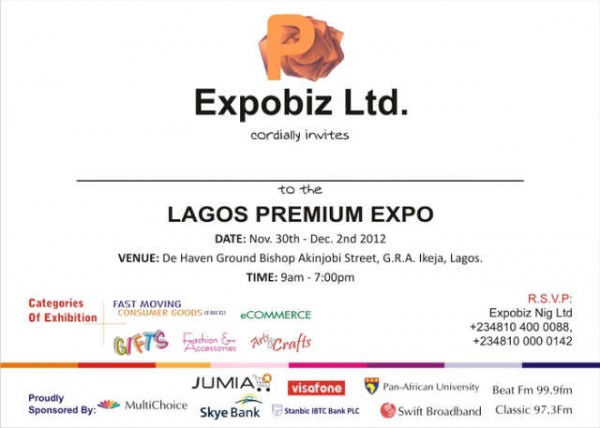 Expobiz Ltd presents the Lagos Premium Expo
From Friday to Sunday this weekend, Expobiz Ltd, an organisation with an objective to create a world class, top rated expo with opportunities to interact with leading brands and companies in Nigeria, cordially invites you for the Lagos Premium Expo taking place at De Haven, Ikeja, Lagos. Don't miss out on this fantastic opportunity to buy wonderful items for you and your loved ones, just in time for the holidays. With 3 Days of shopping experience, the event promises to be exciting and an avenue for buyers and vendors to interact. Admission is free for all.
Date: Friday 30th November 2012 – Sunday 2nd December 2012
Time: 9 AM – 7 PM
Venue: De Haven Ground Bishop Akinjobi Street, G.R.A, Ikeja, Lagos
Contact: For more info and general inquiries, call 081040000088 | 081000000142 | log on to their website – www.LagosPremiumExpo.com
__________________________________________________________________________________________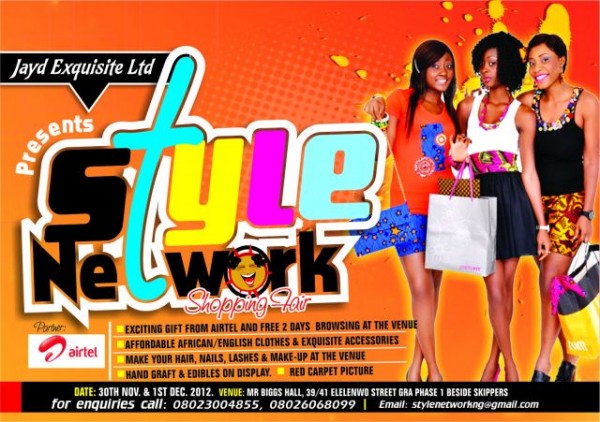 Jayd Exquisite Ltd presents Style Network Shopping Fair
Just before the holidays, Jayd Exquisite Ltd presents an opportunity for you to shop and mingle at very affordable prices at the Style Network Shopping Fair this weekend in Port Harcourt. On display would be African outfits for male, female and kids as well as Ankara inspired accessories and clothes from US, UK, Turkey and Italy. There would also be human hair extensions, hair products, total make over (fixing of hair, nails, eye lashes and make-up), finger foods, cocktails, hand craft, beads and wire work jewelry, home ware, gift items and lots more on display. Free internet browsing at the venue would be provided by Airtel and there would be amazing gift items for shoppers. Admission is free for all.
Date: Friday 30th November – Saturday 1st December 2012
Time: 10 AM – 6 PM
Venue: Mr. Biggs Hall 39/42 Elelewon Street GRA Phase 1, by Skippers Fast Food, Port-Harcourt, Rivers
Contact: For more info and general inquiries, call 08023004855 | 08026068099 | Email [email protected]
__________________________________________________________________________________________
Ladies Night Out at Zen Lounge
This Friday 30th  November 2012, another fabulous edition of Ladies Night Out will be held at Zen Lounge, Surulere. The event is the right place for all ladies to relax and unwind with their colleagues after work, celebrate birthdays and bridal showers. Admission is free for all.
Date: Friday 30th November 2012
Time: 6 PM
Venue: Zenith Water Margin Chinese Restaurant, 28 Adeniran Ogunsanya Street, Surulere, Lagos
________________________________________________________________________________________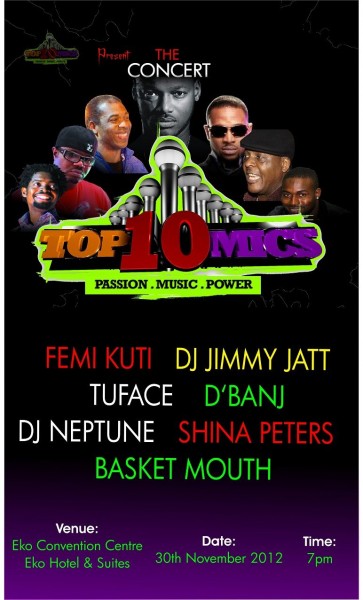 TOP 10 Mics
It promises to be a blend of music heavyweights on Friday November 30 2012 at the Eko Hotel and Suites, Victoria Island, Lagos. 2Face, D'banj, Femi Kuti and many others will rock the stage at this year's edition of the TOP10MICS concert. The concert will also feature performances from DJs Jimmy Jatt and Neptune, disc jockeys who know their onions in the industry. Ace comedian, Basketmouth will host the concert.
Date: Friday 30th November 2012
Time: 7 PM
Venue: Eko Convention Centre, Eko Hotel & Suites, Victoria Island, Lagos
Ticket Prices: Regular: N 5,000 | Premium Regular N 10,000 | Individual VIP N 50,000 | VIP Table For 10 N 500,000 | Individual VVIP N 100,000 | VVIP Table For 10 N 1 Million
Ticket Locations: Eko Hotel & Suites, Victoria Island, Lagos | Koko Lounge & Ozone Cinemas, E-Center Yaba, 1-11 Commercial Avenue, Yaba, Lagos | Shakara Clothing, Aromire, Ikeja, Lagos | BheerHugz Cafe, Ikeja City Mall, Alausa, Ikeja | Barcelos Branches in Victoria Island, Isolo Way, Isaac John, Ikeja & The International Airport, Ikeja, Lagps
__________________________________________________________________________________________
Erumu Creations presents e-ROBICS
e-ROBICS is a wellness club that focuses on life style, nutrition, fitness and skin care. It will create an experience that renews and rejuvenates the spirit, mind and body and you are invited. Admission is free for all.
Date: Saturday 1st December 2012
Time: 7 AM
Venue: Meros Plaza by Skye Bank, Omole Phase 2, Isheri, Lagos
________________________________________________________________________________________
Zumba Fitness Training
Are you looking to improve your cardiovascular system, lose weight, improve your coordination or simply boost your mood? Then join Zumba Fitness training taking place this Saturday and Monday.
Date: Saturday 1st December 2012 & Monday 3rd December 2012
Time: Saturday 9 AM | Monday 6: 30 PM
Venue: The Life Quest Gym, 37 Glover Court, off Glover Road, Ikoyi, Lagos
Fee: N 1500
Contact: For more information and general inquiries, call 07036572883 | Log on to their website
________________________________________________________________________________________
Designers Marketplace presents Dec 2 Remember
The monthly Abuja trade, marketing and networking event, Designers Marketplace is back with a fun filled edition tagged "Dec 2 Remember". This event will bring you the best of shopping with vendors stocked with loads of items including shoes, clothes, bags, accessories and home ware. There would also be a musical performance by E.T. Quake Multimedia featuring Laolu Senbanjo, Njideka, Epic, Lindsey and Tekno. Admission is free for all.
Date: Saturday 1st December 2012
Time: 12 Noon
Venue: City Park, Ahmadu Bello Way, Wuse II, Abuja
Contact: For more info and general inquiries, call 08179263720 | e-mail [email protected] | Log on to their website
________________________________________________________________________________________
Own the Night with Knight Whisky
Top Nigerian comedian, Basketmouth's club, emBARssy Lounge will hold another fun edition of its soiree tagged "Own the Night with Knights Whisky". Be sure to come and join Basketmouth and other celebrities at the party. Admission is free for all.
Date: Saturday 1st December 2012
Time: 7 PM
Venue: emBARssy Lounge, 12 University Road, Akoka, Lagos
__________________________________________________________________________________________________
The Lagos Premiere of A Wish
This Saturday, Nollywood actor/producer, Elvis Chucks will premiere his production company's latest movie, A Wish starring Funke Akindele-Oloyede, Patience Ozokwor, Chris Okagbue, Bishop Ime Umoh, Helen Paul and Ikay Ogbonna at the Genesis Deluxe Cinemas, Lekki, Lagos.
Date: Saturday 1st December 2012
Time: 7:30 PM
Venue: Genesis Deluxe Cinemas, The Palms Shopping Mall, Lekki, Lagos
______________________________________________________________________________
Fuego Latino presents Lagos Cuban Nights
The Fuego Latino Dance Company, alongside its official event managers Quorum EM presents The Lagos Cuban Night 2012. Performing live at this event is The Rey Sanor Latino Band, known for its variety and quality of music such as salsa, bachata, cumbia, rumba, meringue, reggaeton, son montuno, cha-cha and Carribean genres.
Date: Saturday 1st December 2012
Time: 8 PM
Venue: Lagoon Restaurant, Ozumba Mbadiwe, Victoria Island, Lagos
Ticket Prices: Regular N 25,000 | VIP  N 35,000 | Regular Tables N 250,000 (Seats 10) | VIP/Platinum Tables N 350,000 (Seats 10)
Ticket Locations: Afritickets.com | QBox | DealDey.com | Lagoons Restaurant & Bar, Ozumba Mbadiwe, Victoria Island, Lagos
__________________________________________________________________________________________
Bluberry Cakes presents 3rd Annual Charity Cake Auction and Exhibition: Timeless Elegance
Delta Confectionery outfit, Bluberry Cakes will hold the 3rd edition of its annual charity cake auction and exhibition themed Timeless Elegance this Sunday. The event is organized to raise funds towards the education of orphan children. There will be a variety of scrumptious cakes, iced novelty cakes, desserts, cupcakes, cookies, and other delicious treats on auction. There will also be an exhibition of cakes portraying the current trends in wedding cake design. Admission is free for all.
Date: Sunday 2nd December 2012
Time: 2 PM
Venue: Orchid Hotel, Asaba, Delta
________________________________________________________________________________________
The Wives
The Performing Arts Workshop and Studio is back at Terra Kulture with its thrilling stage play, The Wives, written by Ahmed Yerima and directed by Kenneth Uphopho.
Date: Sunday 2nd December 2012
Time: 3 PM & 6 PM
Venue: Terra Kulture, Plot 1376 Tiamiyu Savage off Ahmadu Bello Way, Victoria Island, Lagos
Ticket Prices: Students with ID N 1,500 | Regular N 3,000
________________________________________________________________________________________
The Corporate Elite Boxing and Music 
On Sunday, Upfront & Personal in conjunction with MTN Nigeria and Eko Hotel & Suites, will hold a black tie event, The Corporate Elite in Lagos. The event will being together, top dignitaries and individuals in the Nigerian corporate world with the aim of celebrating greatness, customers and partners as well as promoting brands. Attendees will have a splendid day and listen to rib cracking jokes by Alibaba, AY, Tee A, I go dye, Klint the Drunk, Basket Mouth, Gordons, Omo Baba, Julius Agwu, Bovi and Teju Babyface, while there would be musical performances by Davido, Tiwa Savage, Jesse Jagz, Dr Sid, Timi Dakolo and Sir Shina Peters. This event is strictly by invitation.
Date: Sunday 2nd December 2012
Time: 5 PM
Venue: The Convention Centre, Eko Hotel & Suites, Victoria Island, Lagos
Contact: For more information and general inquiries, call 08033886638
________________________________________________________________________________________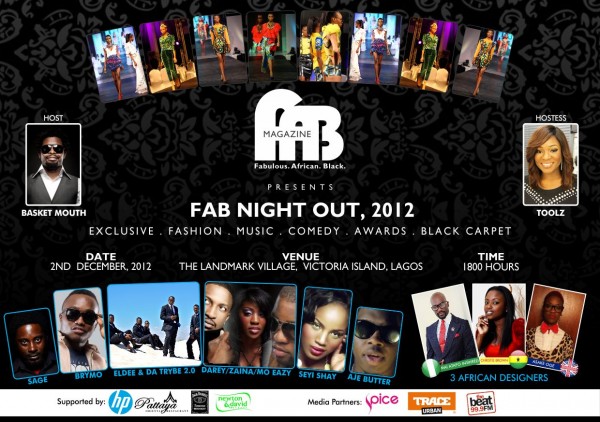 Fab Night Out 2012
This Sunday 2nd December 2012, FAB Magazine will host another stylish evening of celebration with the 3rd edition of its FAB Night Out at the Landmark Village, Victoria Island, Lagos. Hosted by Nigerian comedian, Basketmouth and media personality, Toolz, the event kicking off at 6 PM with a black carpet session, will host a lot of VIP guests from the world of entertainment, fashion, business and lifestyle including eLDee, Aramide, Sojay,  K9, Darey, Mo'Eazy, Seyi Shay, Zaina, Brymo and Aje Butter, who will perform their hit tracks live. You can watch the awards show live this Sunday at www.FabMagazineOnline.com/Fab-TV
Date: Sunday 2nd December 2012
Time: 6 PM
Venue: The Landmark Village, Victoria Island, Lagos
__________________________________________________________________________________________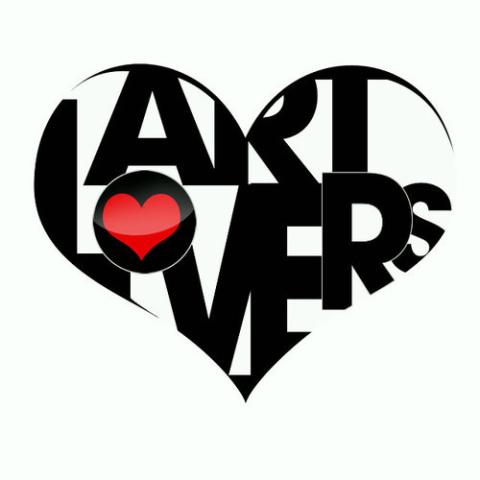 You are Invited to Kitschai's Art Lovers
Nigerian clothing line, Kitschai is cordially inviting you to another edition of its event, Art Lovers. This gathering which promises to be exciting is a night of spoken word and acoustic sounds which gives upcoming poets and artistes the opportunity to perform in front of an audience with a live band. Admission is free for all.
Date: Monday 3rd December 2012
Time: 6 PM – 10 PM
Venue: Bogobiri House, Maitama Sule, Ikoyi, Lagos
_____________________________________________________________________________________________
BellaNaija.com is not responsible for the organization or further promotion of these events, neither do we have a stake in their sales or popularity. Inclusion in "Events This Weekend" is Free. Contact – adsales (at) bellanaija.com on or before Wednesday every week if you will like your event to be included. Note that BN reserves the right to choose which events are featured. "Pay to attend" parties attract a fee