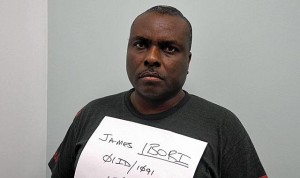 Yesterday was the 60th birthday of the former governor of Bayelsa state, Diepreye Alamieyeseigha and in a move which has been described as  preposterous by most Nigerians, he received a birthday message from imprisoned former Governor James Onafefe Ibori of Delta State  who is currently serving his jail term in the UK.
To congratulate him, Ibori bought a full-page advert in a Nigerian newspaper.  Ibori's birthday message to Alamieyeseigha appeared on page 16 of The Nation Newspaper of Saturday 17th November 2012, which is owned by former Governor Bola Tinubu of Lagos State.
Like Ibori, Alamieyeseigha has had a history of corrupt activities. In July 2007, he pleaded guilty to a six- count corruption charge before a Nigerian court and was sentenced to two years in prison on each count. He also once jumped bail in the UK in December 2005 and absconded by allegedly disguising as a woman. He was also charged with money laundering when the London Metropolitan Police found about N253 million in cash in his London home. He is still a wanted man in the UK.
The message described  Alamieyeseigha as the "Gov-General of the Ijaw Nation" and was signed "Chief James Onanefe Ibori, Former Governor of Delta State". In the four paragraph statement, Ibori sympathized with  Alamieyeseigha over the latter's ostensible persecution. He encouraged the former Bayelsa governor to seek solace in the purported confidence of Ijaw people in him, and expressed confidence that he would be vindicated in future. He concluded by wishing that Alamieyeseigha would enjoy the "rich and rewarding life" he has succeeded in making for himself.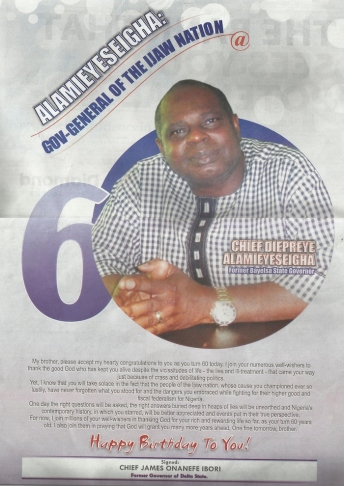 Does anyone also think this is  preposterous?