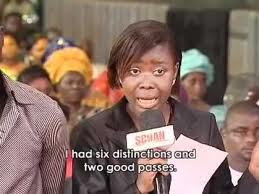 It seems that the activities of Nigerian Pastors have for the past few weeks been trending topics on social media. Today, news about the  the founder of  The Synagogue Church Of All Nations (SCOAN), T.B. Joshua's donation of N26 million to a member of the church for the completion of her PhD programme is creating a buzz.
On Sunday 18th November 2012 at his church, he announced that he had  taken up the responsibility of sponsoring a Nigerian student to complete her PhD programme at the University of Oxford to the tune of £100,000, approximately N26 million.
As reported on the Pastor's Facebook page, the beneficiary, Yinka Oduwole, has been a member of the church for many years. She  is a first-class graduate from the University of Lagos and was sponsored by Prophet T.B. Joshua for her Masters Degree in Broadband Communications at The University College London. She recently graduated with a distinction and was the best graduating student in her class.
She has now been granted a position to study her Doctorate Degree in Engineering Science at the prestigious Oxford University in the United Kingdom, also fully sponsored by Prophet T.B. Joshua. Her Doctorate degree studies will include extensive cancer research.
Yinka explained that after gaining admission to Oxford University, her tuition fees are 100,000 British pounds, which is an equivalent to N26 million. Prophet T.B. Joshua said that he is ready to sponsor her for her PhD in Engineering Science knowing that he is sponsoring a leader of tomorrow.
The young lady who has been a youth worker for many years at the church said "My advice to youth all over the world is that they should pray as if everything depends on God and work as if everything depends on them."
What are your thoughts on the Pastor's donation?