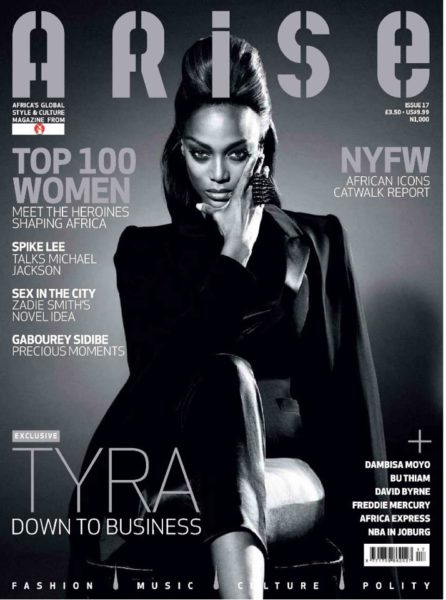 The new issue of ARISE Magazine (Issue 17 if you are keeping count) features American media mogul Tyra Banks on the cover. The Top 100 Women issue of ARISE celebrates women who are changing the world. The list includes Nkosazana DlaminiZuma, Melinda Gates, Oprah Winfrey, Genevieve Nnaji, Ellen Johnson Sirleaf, Angélique Kidjo, Sophie Okonedo and Diezani Alison-Madueke.
***
We did it again. ARISE killed it at New York Fashion Week with our fifth collective show, African Icons. Get the full lowdown this issue with our pick of the key looks from each of the five African designers, which The Guardian called "stunning" and "show stopping". We agree.
While we were in New York we met, shot and were totally charmed by the one and only Tyra Banks. The queen bee of America's Next Top Model worked her stuff in front of the lens, before sitting down with us for a chat about her awkward teenage years, making it as a black model ("I was constantly being told 'No no no, you can't have this job, you can't have that cover, you're not going to make as much money as the white girl next to you") and her confidence-building after-school programme.
She's not the only inspirational woman on the ARISE guestlist this issue. Far from it. In the first-ever ARISE 100 list, we introduce 100 amazing women who are changing the face of Africa in business, sport, fashion, politics and activism. From model/campaigner Waris Dirie to courageous journalist Serkalem Fasil, and South African actress Charlize Theron to Fatou Bensouda, chief prosecutor of the ICC, each and every one is doing their bit to change perceptions in and of Africa through their tireless and inspiring work. We applaud them.
Another strong African woman taking centre stage this issue is Dambisa Moyo. The Zambian economist breathes life, intelligence and humour into critical financial debates, sharing her thoughts on China, capitalism and "the world's most successful 50-year PR campaign against Africa".
In the fashion section, three dazzling shoots feature power pantsuits in the wilds of Botswana, go-faster metallics with Tanzanian model Herieth Paul, and war paint in our character-building menswear shoot.
In our music and culture sections, acclaimed filmmaker Spike Lee shares the story behind Bad25 – his new documentary celebrating a quarter century since Michael Jackson released his seminal album. We also have former Talking Headsfrontman David Byrne on Afro-Western cultural mashups; Senegalese music mogul Bu Thiam on working with Gaga, Rihanna and his brother, Akon; and Precious star Gabourey Sidibe on her idea of beauty.
We also go aboard the world's most unusual tour bus (or rather train), Africa Express, with Damon Albarn, Baaba Maal and friends; meet the African basketball players conquering the NBA; and find out how black south Africans are getting a taste for the grape thanks to the pioneering founder of Soweto Wine Festival.
Plus we share an extract from White Teeth author Zadie Smith's new book, NW; explore the controversial issue of land acquisitions in Africa; get a guided tour around Botswana's capital, Gaborone, with local hip hop star Zeus; and look back at the early years of Freddie Mercury, who in a little known fact was born and raised in Zanzibar. As Lorraine Hansbury wrote in her iconic play A Raisin In The Sun, "Africa sure is claiming her own tonight".


Photography: Seiji Fujimori
Styling: Ty-ron Mayes/Sabrina Henry