Behind The Heart With Chiadi Ndu: A "Dad Shaped" Hole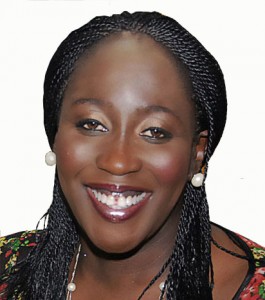 I easily relate to the concept of God as a tower of refuge because my favourite place as a little girl was on my father's shoulders. Each time I sat there towering above the world, I was confident nothing could harm   me.  For me, that was the safest place in the world. With my 'hero' father's hands clasped firmly around my dangling ankles, I felt I could take on the world.
I am able to appreciate the deep bond between Daddies and their little girls. This is why I  understood  perfectly why Chioma* was deeply resentful of her father and the men-folk in general.
I tried to establish rapport with her but she was clearly resistant. All she wanted was to rehash her vendetta. In very clear terms, she told me that with the help of some neighbourhood touts, she was planning to 'take out' her boss because he had sexually harassed her.
She was furious as she spoke, "How dare he touch me with those filthy hands? He thinks he can  have any woman he wants?  Is it not because of where I am? If my life had not become like this, will he dare? By the time I am done with him, he will know himself… just because he has money abi? He will soon see"
When I clarified that her boss hadn't succeeded in raping her, I felt that Chioma's reaction was both excessive and inordinate for a girl in her late twenties. When I delved further, I  found out that many years ago, after Chioma's father had made some money and he abandoned his family. His change in status made him start to feel that his wife and family were no longer good enough for him. He left them in Lagos and moved to Abuja where he married another woman. He cut off all contact with them, stopped paying their school fees and didn't bother at all with their upkeep.
Chioma's mother had struggled to raise her 3 children all by herself. As she was speaking, she broke down completely. Instead of the savage-looking girl I had met earlier I saw a little girl aching for her father. In between sobs she said, "I was so shocked he could do that to me. I was his only daughter and I loved him so much. He was my hero. I tried very hard to reach him but he even stopped picking my calls.  I can never ever trust any man again.They are all very wicked. I hate them" she said in between sobs.
In deed, Chioma's father had wounded her very badly and she was still hurting. As a result, she had drawn the line permanently between herself and men. She would never allow them close to her. She was so bitter  that she didn't realize the enormity of what she planned to do to her boss.
Bitterness is one of the most destructive and toxic emotions. It is the result of a long-term mismanagement of anger or rage and it permeates every relationship and every new experience. It tangles life up so tightly that one is unable to enjoy the present.
While I did not trivialize Chioma's pain, I pointed out to her that she must make a decision to let go of her bitterness and resentment- for her own sake! I explained to her that apart from developing physical symptoms like an increased blood pressure, she might become depressed or worse still lose valuable and enriching 'connectedness' with other people.
These are some of the TIPS I shared with Chioma to help her begin to mend the dad- shaped- hole in her heart:
Reflect on the facts of the situation, how she has reacted and how it  could affect HER health and well being.
Move away from  her role as victim and try to see her father as an imperfect man with weaknesses and his own perspective on life.
Reflect on the times she has hurt others and those that have had to forgive her.
Prayerfully break the control and power her Dad and this situation have had in her life.
Actively choose to forgive him.
I can't guarantee Chioma that her Dad will want to be reconciled   to her   but I know that even where reconciliation isn't possible, forgiveness suffices.
*No real names or   identifying details.
___________________________________________________________________________________________
Chiadi Ndu was called to the Nigerian Bar in 1987. She has a Master's Degree in Counselling Psychology and a Diploma in Stress management. She works as a Pre- Divorce Concilliator, hosts a radio programme – Behind the Heart on Inspiration FM and also writes a relationship Counselling column – Bridges on Sunday in Sunday Thisday newspaper. She's married with three lovely children.