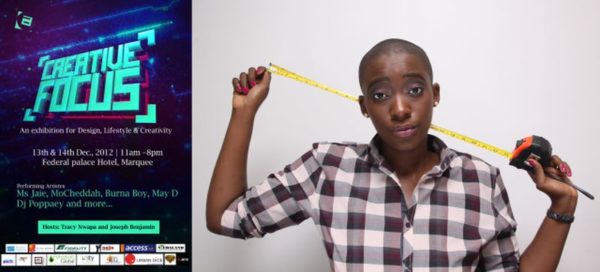 Creative Focus, an exhibition that showcases creative and growing innovative businesses in Nigeria, in a relaxed atmosphere that engenders positive interactions and feedback between the exhibitors and the general public is set for an unforgettable two-day experience for the budding entrepreneur.
Following on the heels of the last exhibition in 2011 at Federal Palace Hotel, Urban Dice Designs, organisers of Creative Focus are putting together a bigger event this year. According to Omowunmi Imoukhuede, the progenitor of the project, the event will play host to a number of exhibitors from various sectors of the economy.
Part of the proceeds of the sales generated from the event each year goes to support the cause to combat the spread of Noma (cancrumoris) and to help those infected by the disease to get medical help by partnering with Facing Africa – Noma, a Non-governmental Charitable Organization committed to the eradication of the disease.
In addition, Creative focus 2012 will have live performance from artistes like May D, Burna Boy, Mo'Cheddah and Ms Jaie.
Benefits to Exhibitors
• Platform to market products and services
• Extended exposure through media campaigns and promotional efforts directed
towards the supporters of Creative Focus.
• Exposure to SME (Small and Medium Scale Enterprise) Financiers ; Representatives from Access Bank, Guaranty Trust Bank, Union Bank & Unity Bank will be present.
• Exposure to professional bodies (Auditors, Tax consultants, Branding and Advertising Experts, Market Research Companies, Insurance Companies, Law Firms etc.)
• Networking Opportunities with Buyers, Suppliers, Service Providers, Media and Contemporaries.
Event Structure
Creative Focus will be broken into 8 Categories:
1. Interior Design, Architecture & Landscape
2. Fashion Design & Accessories
3. Publishing Industry
4. Photography & Arts
5. Food & Beverage
6. Beauty & Hair Care
7. Lifestyle Products
8. Graphic design/ Website & Blog Development
*But not limiting to these categories
Each category will have a group head in order to conduct breakout sessions for participants and the public attendees interested in the various fields.
You are invited to be part of an event that will celebrate and showcase the abundant talent in Nigeria and the enduring entrepreneurial spirit of the young Nigerian. Attendance is free for all!
Date: Thursday 13th & Friday 14th December 2012
Time: 11AM – 8PM daily
Venue: The Marquee, Federal Palace Hotel, Victoria Island, Lagos.
Contact: For more information and general enquiries call 07069599985, 018428662 | Email info@urbandice.com or buccipanama.fashionpr@gmail.com
___________________________________________________________________________________________
Sponsored Content