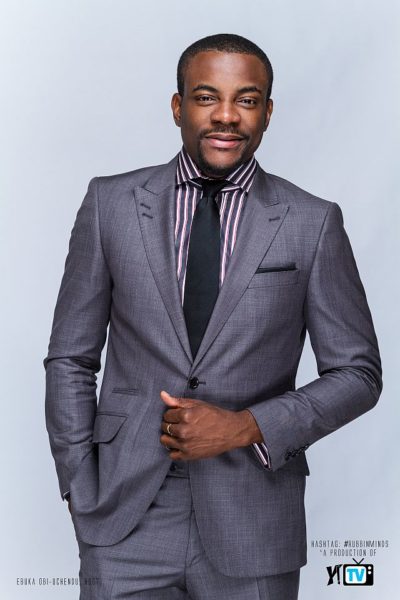 Just in time for the New Year, the producers of Rubbin' Minds, the influential TV talk-show for young Nigerians have announced major upgrades.
The first change to the show is the announcement of a new host: the lawyer on-air personality and event compere, Ebuka Obi-Uchendu. Ebuka who holds two Masters degrees in Intellectual Property as well as Communications Law both from the American University, Washington DC took over the presenter's chair, yesterday – on the first show of the year – Sunday, 6 January 2013.
Adebola Williams who is executive producer of the show shared the reasons for the change and why Ebuka was chosen as the new host "It's been five spectacular years, and we're excited to take this to a whole new level in 2013," says , …he has been an influential voice for young people across issues – from pop culture to politics – over the past few years." 
Ebuka will be joining the show along with a new set, and new segments on the show – broken into news analysis, discussion and culture interview.
Expressing his excitement about his new position, Ebuka said "I am very excited to be joining the A-team at Rubbin' Minds…This is the show to be on to know what young people are talking and thinking about at any time. If it's real and if it's topical and it concerns young people, we will be discussing it, and I look forward to that ongoing conversation."
Rubbin' Minds is a production of Y! TV. More information is available on www.ynaija.com, and on Twitter @YNaijaTV. The official website for the TV show will be unveiled at www.ynaija.com/tv on 11 January, 2013.
The ad campaign for the re-loaded show has also been released to the public – and will be deployed on social media, print, TV and outdoor.

For all of your who dislike "serious content", maybe the eye candy will motivate you to watch? Yes/No