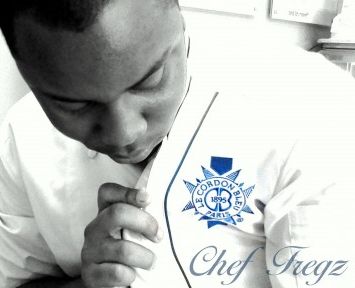 Salut a Touts!
I haven't gotten any pictures yet from last week so I'm assuming nobody wants that free pass to Chef Fregz Special! I'll keep my fingers crossed anyway.
Today's post was inspired by last week's comments. I got a lot of "Such a calorific meal' "Please could we get a lighter version" and so on. It was evident that those were the people who like me had sworn to win other war of dieting this year and of course January is always the month of high "Ginger"
Apart from the fact nothing can separate me from a good risotto no diet no nothing! But like a few of my amazing readers commented, you can leave out the cream, or use skimmed milk if you must. Then use a lighter oil instead of butter and use ore protein than rice and I think you would be fine. Life is too short not to enjoy its gifts like Risotto.
Well, today's post is an  ode to the person who needs delicious food and needs it fast with health consciousness in the background
I was thinking flat bread and hummus. Hummus is made from Tahina paste which is essentially ground seasoned chick peas or garbanzo bean pureed. It's packed with protein and  really good for you. For me hummus is one way I bear a diet.
However, I didn't want to do a "hummus post" and I remembered that middle eastern people and greeks as well also do a roast eggplant/aubergine dip/puree. So it was going to be a hummus eggplant dip for my dish.
I decided on chicken breast of course it's a dry cut but the sauces inside would help keep it moist. I knew I would add as many fresh vegetables and voila I have myself a sandwich that's more or less guilt free. To be honest I was going to do this long recipe of how to roast eggplants and make this dip/spread but I thought "Gbubemi really? people who are constantly on the go – You want them to start roasting aubergines at lunch break or wait till Saturday to be healthy? Cam'an!" So after some self judgement I decided that not all short cuts are necessarily bad so I picked a good freshly made Aubergine hummus dip from Goodies. They've sold this particular brand for many years since I was a kid! It's called DELICIOUS and it's made here by Lebanese people so you can be rest assured it's the real McCoy! If you live outside Nigeria you want to buy this dip from a good Middle eastern Deli or a good supermarket range.
There's no real recipe here, I'll just mention what I used. Below serves 1-2 people depending on your appetite.
What you need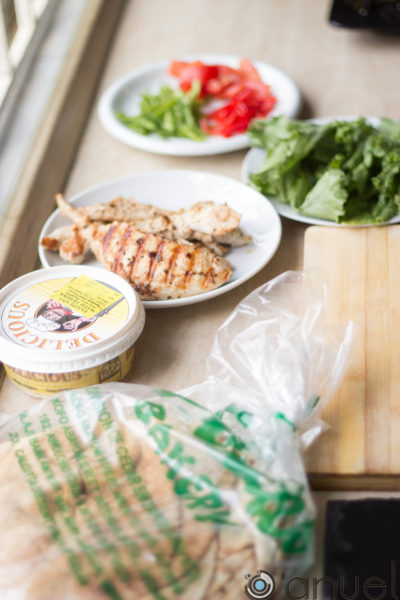 2 pieces flat bread
1 pack Good Eggplant Eggplant Dip
Some sliced green pepper
Some sliced red pepper
Torn lettuce leaves
Sliced tomatoes
Chicken Strips
1 medium sized chicken breast about 350 grams
Season with some garlic, a touch of curry powder, black pepper and a little salt. You could use some reduced sodium soy sauce or  if you'd rather the seasoning cubes, then you can go for it.
In a grill pan, sear them on each side for about 2 minutes aside and allow to be juicy in the centre but not raw.
To Serve
Spread some of the eggplant dip on the bread in the centre not allowing it get to the sides of the bread. Place some lettuce and whatever vegetables you're using; in my case I layered the green pepper, red pepper, tomatoes and placed the chicken strips on top then rolled it tightly. The rolling can be a bit of work if its over stuffed so maybe two separate wraps is your answer if your rolling skills are poor. I sliced mine in half with a bread knife that way it felt like I had 2 sandwiches on my plate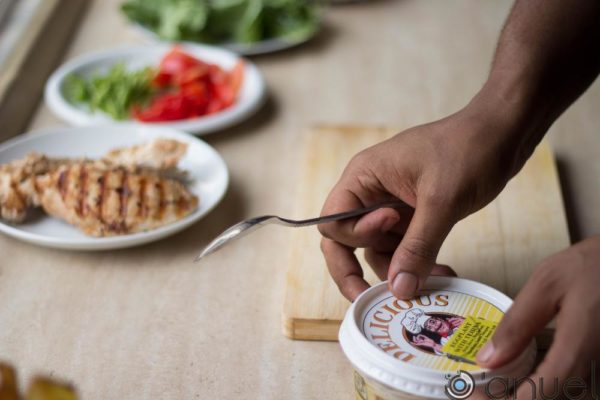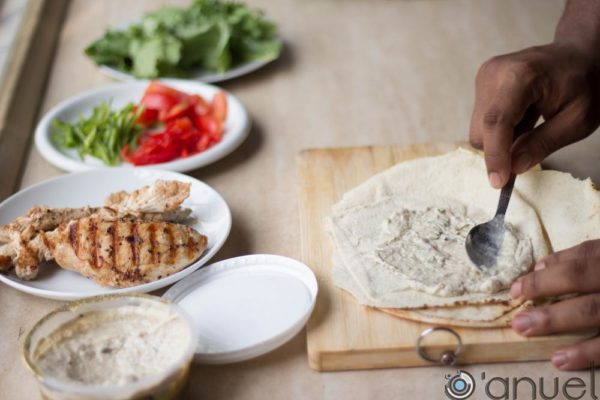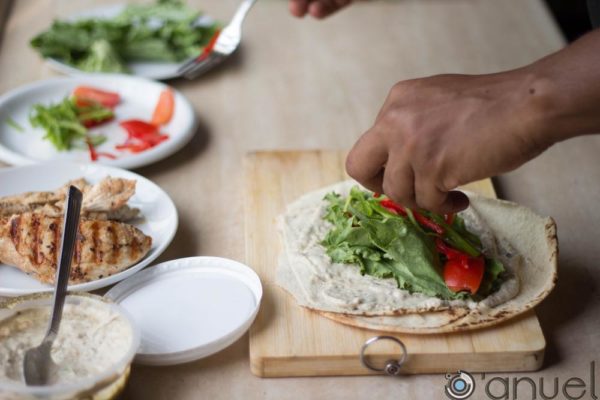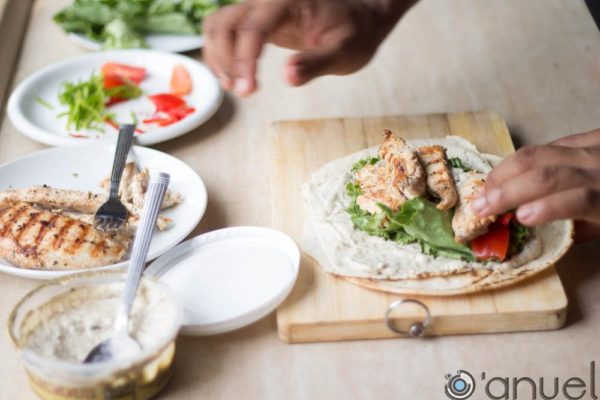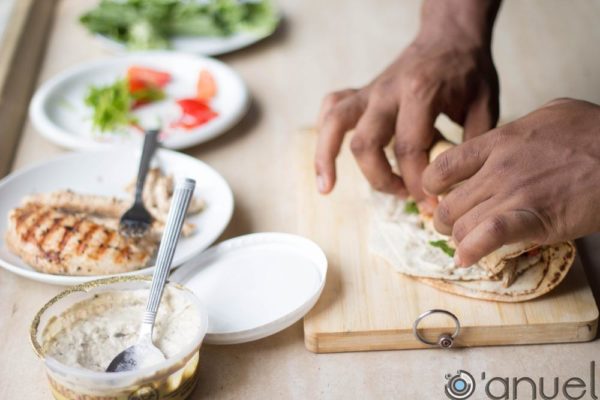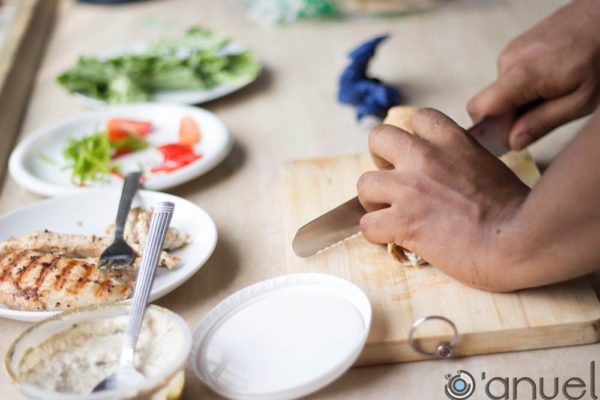 Sweet Potato Chips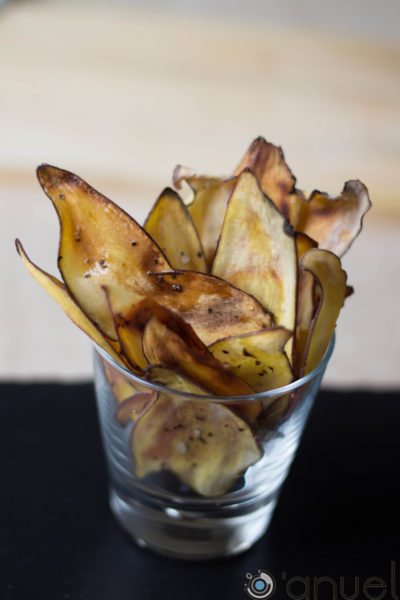 Frankly, you need a mandolin for this. These chips were made by simply washing a few purple skinned sweet potatoes and setting the mandolin to a fine thickness and sliced into paper thin strips that got a tossing in olive oil and sprinkling of sea salt along with coarsely ground black pepper. Lay it out in an oven tray and set in a hot oven for about 6 mins. It was allowed to dry out with the residual heat in the oven because it was preheated and turned of after 5 minutes because the chips don't take that long to cook.
These chips, if done right, come out with some really almost burnt parts that taste extra delicious because the sugars in the sweet potato have caramelised and they are so light and flaky reminds me of good "Pekere" (those long plantain chips they hawk) which are my absolute favourite!
If you don't have a mandolin just cut into whatever shape you can boil it first, drain and toss in olive oil and seasoning then flash grill them in the oven them for a fried effect without the guilt.
A small spoon of chilli Sauce went with it so my chips could get a little dippy dippy.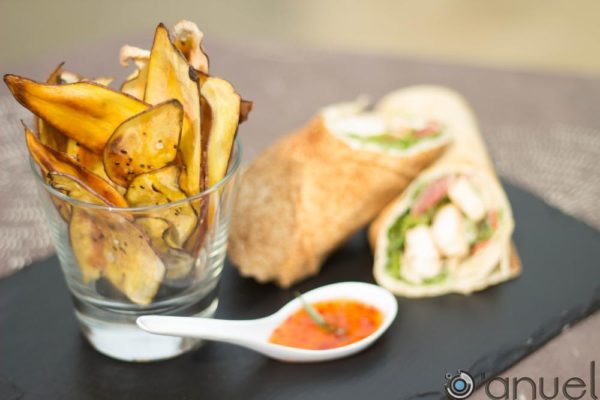 My photographer and friend Anuel gobbled this down and loved it but felt it needed a touch of ketchup. I agreed in a way but I just didn't want to use ketchup. However, if you feel the need to add ketchup I would rather a mild chilli sauce but whatever tickles your fancy. Go easy on ketchup because of the sugar in it (well to the weight watchers)
Before I sign off, I'm still expecting your pictures. A special shout out to Anuel.Thank you for the amazing photos and eating all my food! Please follow him on twitter @_anuel and vist his website www.anuelmodebe.com
Remember recipes are guidelines be unafraid to take an adventure in your kitchen!
Ciao!
___________________________________________________________________________________________________
Chef Fregz loves to cook! He is a graduate of Le Cordon Bleu Paris Culinary Arts School in France and hosts monthly "Chef Fregz Specials" where he whips up a yummy menu with a different theme each time then everyone enjoys a taste.He also caters special events and private dinners. To find out more, visit theskinnychefthatcould.com