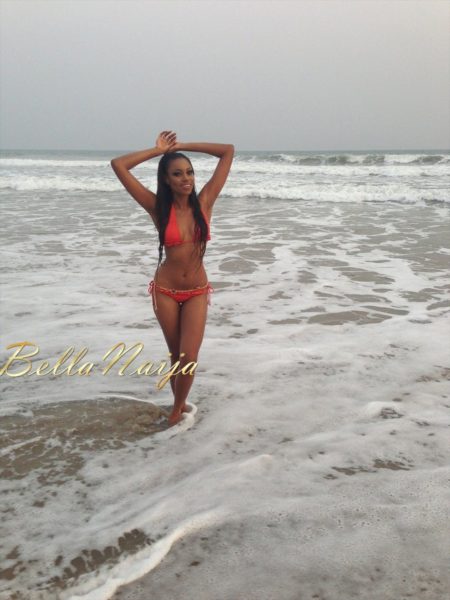 This girl is on FIRE!
Get ready to see more of Ghanaian sensation, Yvonne Nelson this 2013. The 27 year old Single and Married star was in Nigeria recently for an uber sexy photo shoot and yours truly has all the scoop and behind the scenes shots.
With her third movie titled House of Gold in the works, Yvonne takes time out with BN to gives us some details of her sizzling shoot for her website and promotional items and lots more.
On her 3rd Movie, House of Gold – I am producing my third movie, House of Gold. Pascal Amanfo is directing it and I am having an audition tomorrow (Friday 18th January 2013 at Le Baron Hotel, East Legon, Ghana by 1 PM). I discovered an upcoming actor in my last movie and I want to do the same with this one. I am trying to help others achieve their dreams and contribute to our fast growing industry.
Not revealing much about the cast but she says it will be an "interesting" set. "Especially the Nigerian cast", she adds.
On her Shoot – With top Ghanaian photographer, Bob Pixel and Nigerian make-up artiste, Maryjane of Zaron on board for the shoot, we expect nothing short of the best. "It's a personal shoot. Last time I did a personal shoot was 2 years ago. All others have been magazine covers." she tells us.
From posing on the shores of a beach in a racy orange bikini to rocking a pink mini dress with black sky high Louboutins, the shoot reflects Yvonne's fab style.
On how she relaxes–  Shutting off from the outside world is pretty easy for Yvonne. With her busy schedule, the actress says sleeping and going to the beach are the perfect ways to relax. She says "The beach is my favourite spot. It makes me appreciate God a lot more". Quiet beaches though, she concludes.
Keep refreshing BellaNaija.com for all the photos when they are officially released. Till then, check out BN's exclusive behind the scenes coverage.