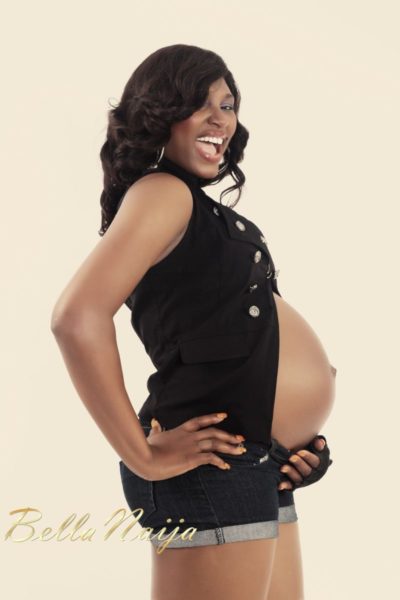 Just a few days ago, a friend who had just arrived in the US to give birth to her baby visited and was lamenting about what someone "did to her". Naturally, I was curious. So here is the story…she is pregnant with her first child and recently celebrated her baby shower before she left Nigeria. After her baby shower, a few friends put up the photos which showed her baby bump as their BlackBerry display photo and she was really upset. Basically, she was boiling mad!
In her own words, "we don't display baby bump in Africa until after the baby is born". When probed for an explanation, she could not come up with anything. Another friend  mentioned that she leaves the country once her bump starts showing and only returns after the baby is born. I asked one of my aunts and unsurprisingly, she like "No O! Better tell your friends not to put it on the Facebook, evil people are watching even on the internet". I sought a male opinion and my married friend told me (though I think he is wrong), "most African men do not find baby bumps sexy unlike men in other countries…especially with our first child, my wife was so ill and uncomfortable that we did not make love for months…talk less of to start snapping pictures"
International celebrities tend to be more open with their pregnancies. For example, despite previously going through a miscarriage, Amber Rose has pretty much tweeted photos of her baby bump everyday. Just yesterday, Shakira uploaded official photos of her, her bump and her Spanish footballer beau Gerard Piqué. On the other hand, majority of Nigerian celebrities keep out of the public space while pregnant. Actress Ufuoma Ejenobor released photos a few months after her baby was born. The major exception is Mercy Johnson who publicly confirmed her pregnancy before the 12 week mark and then continued taking on acting roles while in the later stages of her pregnancy while in South Africa, most of the photos of media personality Nonhle Thema's baby bump were released very late in her pregnancy.
My opinion, baby bumps are beautiful, even sexy, why not flaunt it! Check out celeb baby pumps for inspiration!
So what are your thoughts on this?
Photo Credit: BellaNaija.com | TMZ | Twitter | XXL | Facebook | Reze Bonna | Jaume de Laiguana