Good Morning BellaNajiarians, Happy Thursday!
Hope you are having a great day? BN Events is back with its listing of all the most buzzed about events and place interests to be spotted with your loved ones this weekend.
Have fun, keep dreaming BIG and all the best.
See you all next week.
Ciao!
Toju Foyeh Diffusion Line Sale
Shop for maxi dresses, cocktail dresses and more this weekend at the Toju Foyeh Diffusion Line Sale, where attendees will get up to 10-50% discount off fab pieces. Admission is free for all.
Date: Thursday 17th January 2013 – Saturday 2nd February 2013
Time: 10 AM – 7 PM
Venue: Toju Foyeh Flagship Store, 31 Adeola Odeku Street, Victoria Island, Lagos
_____________________________________________________________________________________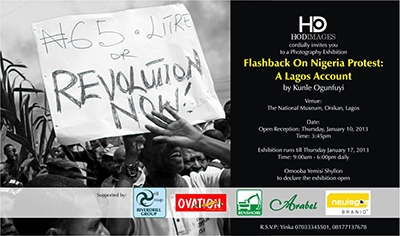 Flashback on Nigeria Protest: A Lagos Account by Kunle Ogunfuyi
Kunle Ogunfuyi's one week photography exhibition "Flashback on Nigeria Protest: A Lagos Account" will come to a close today at the National Museum, Onikan, Lagos. Admission is free for all.
Date: Thursday 17th January 2013
Time: 9 AM – 6 PM
Venue: The National Museum, Onikan, Lagos
_________________________________________________________________________________________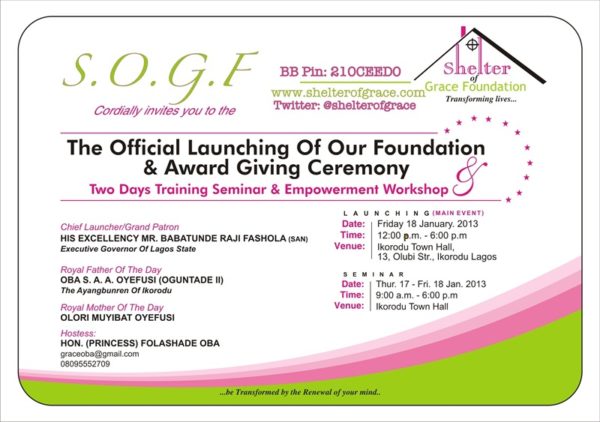 The Official Launch of the Shelter of Grace Foundation & Award Giving Ceremony
Shelter of Grace Foundation cordially invites you to the official launch of its foundation and awards giving ceremony as well as a 2-day empowerment seminar workshops in auto mechanics, fashion and beauty, printing, beads making, wire works, soap and candle making, poultry, snail farming, piggery, farming (vegetables), project management and family health. The event will be hosted by the foundation and chaired by Governor Babatunde Raji Fashola and the MC of the day is Nikky. It promises to be entertaining with lots of small chops and drinks. Admission is free for all.
Seminar
Date: Thursday 17th January 2013 – Friday 18th January 2013
Time: 9 AM – 6 PM
Venue: Ikorodu Town Hall, 13 Olubi Street, Ikorodu, Lagos
Launch
Date: Friday 18th January 2013
Time: 12 Noon – 6 PM
Venue: Ikorodu Town Hall, 13 Olubi Street, Ikorodu, Lagos
_________________________________________________________________________________________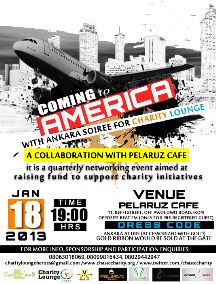 Coming to America with Ankara Soiree for Charity Lounge
The Charity Lounge Visitation and Induction evening will hold this Friday at the Children Cancer Ward, LUTH and Pelaruz Food Café, Ikoyi, Lagos. Charity Lounge International is a quarterly opportunity to consolidate efforts to bring meaningful change. Proceeds from the event will be specifically used to support the Cancer Children Ward in LUTH and Cook-Out for Obalende Street Kids as well as generate awareness for the C5W Real Philanthropy Contest, 234Give and Business Day Newspaper 'Dollar a Day'. Dress code is Ankara. Admission is free for all.
Date: Friday 18th January 2013
Time: 1 PM LUTH | 6 PM Pelaruz Food Cafe
Venue: Children Cancer Ward, Lagos University Teaching Hospital, Idi Araba, Lagos | Pelaruz Cafe, Ikoyi, Lagos
Contact: For more info and general inquiries, call 08063018069 | log on to their official webiste
_________________________________________________________________________________________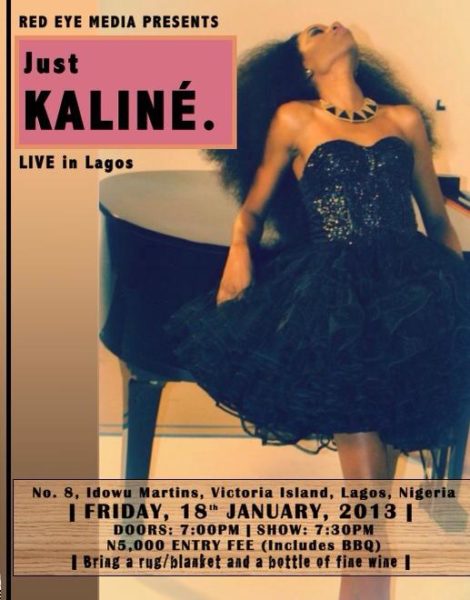 Red Eye Media presents Just Kaline LIVE in Lagos
You are cordially invited to the Just Kaline LIVE in Lagos show this Friday. It promises to be fun and exciting from the beginning to end.  The fee is N 5,000 and includes barbecue.
Date: Friday 18th January 2013
Time: 7 PM
Venue: 8 Idowu Martins, Victoria Island, Lagos
Entry Fee: N 5,000
_________________________________________________________________________________________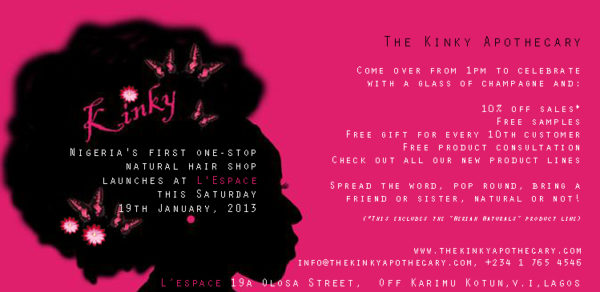 The Kinky Apothecary launches at L'Espace
Come celebrate with the Kinky Apothecary this Saturday as they launch at L'Espace, Lagos. Attendees will get 10% off sales, free sample, free gifts for the first 10 to attend and free product consultation.
Date: Saturday 19th January 2013
Time: 1 PM
Venue: L'Espace, 19A Olosa Street, Off Karimu Kotun, Victoria Island, Lagos
___________________________________________________________________________________________
ROF & Big 60 present Fashion's Night Out
Join Republic Of Foreigner at Big 60's Fashion's Night Out Party at Whitespace, Ikoyi, Lagos this Saturday. Shop for 40% off ROF merchandise, purchase Studio of Modé ipod/ipad covers, play dress up in their fashion photo booth, order some of Big 60's delicious dishes, plus compete in a contest to win ROF gift cards, a customized skin from Studio of Mode and an online feature of you. Attendees are requires to dress fashionably. Admission is free for all.
Date: Saturday 19th January 2013
Time: 4 PM – 1 AM
Venue:  White Space, 58 Raymond Njoku, Ikoyi, Lagos _____________________________________________________________________________________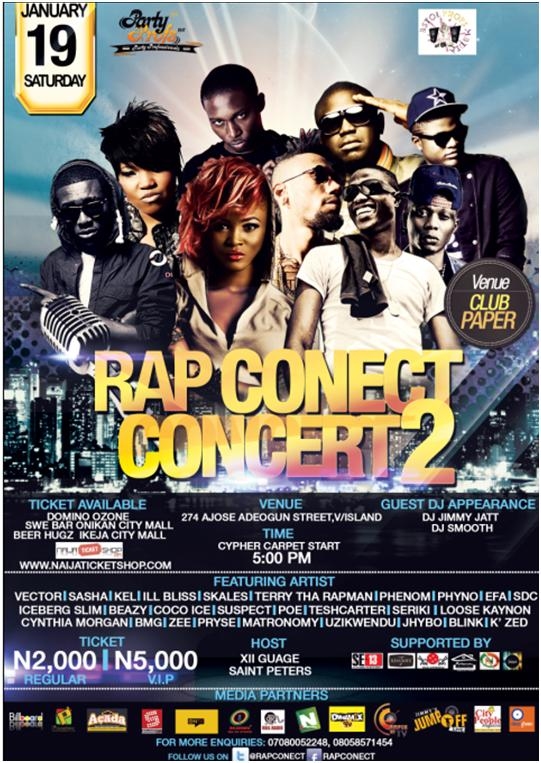 Rap Conect Concert 2
Party Profs Entertainment in conjunction with Estol Props Media presents Rap Conect Concert 2, a rap musical Show aimed at showcasing the talent of rap artistes who are making waves in the music industry as well as give upcoming rap artistes the opportunity to connect with major rap artistes in the country. The event will see performances by Vector, Eva, Sasha, Illbliss, Terry tha Rapman, Phyno, Phenom, Teshcarter, SDC, Coco Ice, Beazy, Iceberg Slim, Reminisce, Loose Kaynon, Seriki, Efa, Poe, Suspekt, Zee, Pryse, Uzikwendu, Shina Rambo, Blink, Jyhbo, Kzed and more.
Date: Saturday 19th January 2013
Time: 5 PM
Venue: Club Paper, 274 Ajose Adeogun Street, Victoria Island, Lagos
Ticket Prices: Regular N 2,000 | VIP N 5,000
Ticket Locations: BheerHugz Cafe, Ikeja City Mall, Lagos | Swe  Bar, Onikan Mall, Lagos | Domino Store, Ozone Cinemas, 1-11 E- Commercial Avenue, Yaba, Lagos | Online at www.NaijaTicketShop.com

________________________________________________________________________________________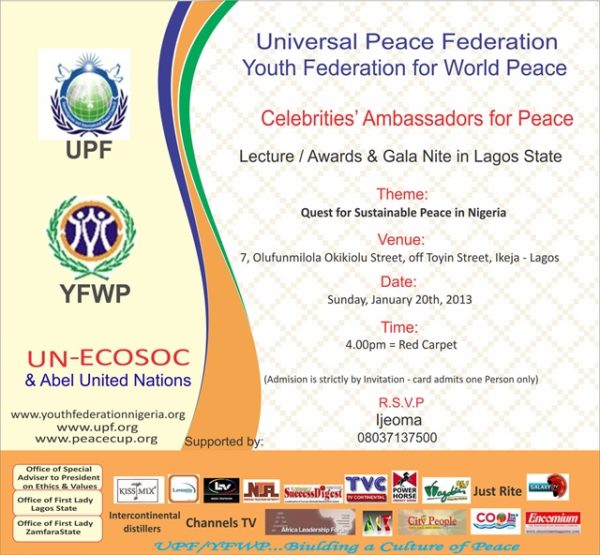 Universal Peace Federation Youth Federation for World Peace: Celebrities' Ambassadors for Peace Lecture/Awards & Gala Nite
This Sunday, Her Excellency Dame Abimbola Fashola, Halima Abubakar, Sunny Neji, J Martins, Zaaki Azzay, Osuji Emelda Ahunna (Madam Modesty), Dr. Sunny Obazu Ojeagbasen (Success Digest/Complete Sport), Seyi Kehinde, Stanley Okoronkwo will be honored as a Peace Ambassador by United Nations in Lagos.
Date: Sunday 20th January 2013
Time: 4 PM
Venue: 7 Olufunmilola Okikiolu Street off Toyin Street, Ikeja, Lagos
Contact: For more info and general inquiries, call 08037137500
________________________________________________________________________________________
Best of Both Worlds Networking Event
Join TV personality Ariyike Akinbobola this Wednesday at the 4th edition of Best of Both Worlds Networking event. There will be a fashion show by Perola, comedy by Extreme Comedy,  music by Pheel, Sewa, Doveman, 17 Voices and Isaac Geralds, Open Mic as well as a 15 mins talk with Nigerian business man, Nicholas Okoye (President/CEO Anabel Group Inc. & Anabel Mobile Ltd)
Date: Wednesday 23rd January 2013
Time: 6 PM – 10 PM
Venue: X'Quisite Lounge (Same Building as Jade's Place), 16 Adeola Odeku Street, Victoria Island, Lagos
________________________________________________________________________________________
Str8 Up Hip Hop: State of the Union Forum
Str8 Up Hip-Hop – a niche urban monthly networking event for hip hop artistes and intellectuals is back with a new edition tagged 'State of the Union Forum: A critical Breakdown of Issues Arising from Chinua Achebe's There Was a Country'. The event is hosted by Andre Blaze. The panelists at the event are Obi Asika, DJ Jimmy Jatt, Elajoe, Blaise, Kwame and M.I. Admission is free for all.
Date: Wednesday 23rd January 2013
Time: 7 PM
Venue: Pop, Saka Tinubu Street, Victoria Island, Lagos
___________________________________________________________________________________________________
BellaNaija.com is not responsible for the organization or further promotion of these events, neither do we have a stake in their sales or popularity. Inclusion in "Events This Weekend" is Free. Contact – adsales (at) bellanaija.com on or before Wednesday every week if you will like your event to be included. Note that BN reserves the right to choose which events are featured. "Pay to attend" parties attract a fee